Northeastern Illinois University's Reunion weekend is upon us—and some of the alumni are on stage! We've got details on the two-day festivities, the Northeastern-influenced band that will take the block party stage and lots more good news from around the University.
Around the Commons
Ready to rock Reunion
One of Chicago's hottest bands has deep roots at Northeastern. Willy Dynomite is fresh off performances at Double Door, Schubas and Navy Pier, and the 10-piece band is set to make a triumphant return, taking the stage Oct. 2 as part of the University's first Homecoming Block Party. "We play original soul music," guitarist and vocalist Stephanie Stahl said. "With 10 people, it's pretty loud, big and dynamic." The Homecoming Block Party is just one aspect of a busy Alumni Reunion weekend.
A fellowship in South Africa
Associate Professor of English Chielozona Eze has been named a fellow by the Stellenbosch Institute for Advanced Study. Eze was one of 60 scholars and researchers selected to receive this 2016 STIAS fellowship. Starting in January, he will spend six months at STIAS, located in Stellenbosch, South Africa, to work on the book project titled "Transcultural Affinity: Cosmopolitan Imagination in Post-Apartheid South Africa."
Northeastern and NSHMBA
President Sharon Hahs will be presented with an award Oct. 8 at the National Society of Hispanic MBAs Conference & Career Expo in Chicago. Hahs will receive the award after Northeastern established the first undergraduate chapter in NSHMBA history earlier this year. Northeastern also will serve as the academic co-lead of the event.
History team
Two students and two recent graduates joined Assistant Professor of History Joshua Salzmann at the Sept. 24-25 Conference on Illinois History that is attended by academics, archivists, museum staff and teachers. Salzmann presented a portion of a book he is writing titled "Safe Harbor: Space, Nature, and Capitalism on the Chicago Waterfront." Here are the students who presented original research performed in Salzmann's classes:
Christina M. Cogswell (B.A. '15 History), "Fire Codes in Twentieth Century Chicago: The Iroquois Theater Fire and the Perception of Public Safety"
Forrest Schroeder-Einwiller (B.A. '15 History), "Give Our Speechless Children the Power to Speak: Deaf Education and the Rise of Deaf Culture in Chicago in the Early 20th Century"
Robert Serb, "Lucky to Be Left Out of the Fair: 'Buffalo Bill' Cody and the 1893 Columbian Exposition"Eric Hudson, "WWII Living Memorial in Des Plaines, Park Ridge, and Evanston"
Northeastern students step up
Northeastern ranked fifth out of 71 colleges and universities in the Chicago area for student applications to participate as election judges in three elections from October 2014 to May 2015, according to a recent report released by the Chicago Lawyers' Committee for Civil Rights Under Law.
And there's more!
In the media
Walk for Hope
The Chicago Tribune published a story about Special Education Instructor Mindy Ugolini, who will head up the Walk for Hope to Cure Breast Cancer on Oct. 4 in Highland Park. "This is going to be a fun, family-oriented day that will be rewarding to those who attend because they will be giving back to the community and saving lives," Ugolini said.
Also in the media ...
DNAinfo Chicago previewed the College of Education's Oct. 5 screening of "Education, Inc." to be followed by a panel discussion.
The Salisbury (N.C.) Post reported that Frank A. Thomas (M.A. '82 Inner City Studies) will be the featured speaker for Hood Theological Seminary's annual Ruben L. Speaks Memorial Lecture Series on Oct. 2 and 3.
To do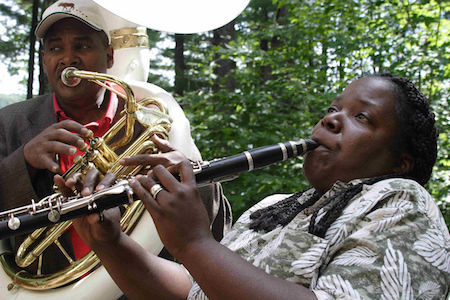 Bring on some jazz!
Critically acclaimed Doreen's Jazz New Orleans will perform at Northeastern on Oct. 16 as part of the Jewel Box Series. Led by clarinetist Doreen Ketchens, Doreen's Jazz New Orleans is a group whose primary interest lies in spreading the culture and traditional music of New Orleans all over the world through performances and education.
Mark your calendar!
"Becky Shaw," Oct. 2, 3, 8 and 9 at 7:30 p.m. and Oct. 10 at 2 and 7:30 p.m., Stage Center Theatre
"Education, Inc." screening and panel discussion, 4:15 p.m. Oct. 5, Alumni Hall
Brown is Beautiful Series, 3 p.m. Oct. 6, B 154
Becky Sarwate on your degree and the IWPA, 6 p.m. Oct. 5, Ronald Williams Library lower-level classroom
Los Profesores - Latino/a Faculty Spotlight Reception, 10:30 a.m. Oct. 7, Ronald Williams Library cafe
Diversity Community Job and Volunteer Fair, noon-3 p.m. Oct. 8, Alumni Hall
Top Chef competition, 3 p.m. Oct. 8, Cafeteria
Student Recital, 3:05 p.m. Oct. 8, Recital Hall
"The Homestretch" screening, 4:15 p.m. Oct. 8, BBH 101
Hip-Hop Comedy Takeover, 6 p.m. Oct. 8, Student Union 003
Faculty Artist Robert Heitzinger, 7:30 p.m. Oct. 8, Recital Hall
Thursday Night Live: The King-o-Keys, 10 p.m. Oct. 8, Student Lounge
#FollowFriday
Alumni Association
Ever wonder what the Alumni Association is up to—besides this weekend's Reunion festivities? Follow along and join its network of influential and outstanding alumni on LinkedIn, Facebook and Twitter. The accounts will keep you updated on fun events, class notes, membership benefits, scholarship opportunities and more!
El Centro rising
El Centro celebrated the one-year anniversary of the new building's grand opening on Sept. 30 by sharing videos, photos and stories on Facebook. Check out the time-lapse video of the building's construction above!
Do you have a story tip? Let the public relations office know!
Mike Hines, Director of Public Relations, m-hines@neiu.edu, (773) 442-4240