As Thanksgiving approaches, there is much to be thankful for at Northeastern Illinois University. With this week's edition of Noteworthy at Northeastern, we're thankful for the Student Travel Award program that pays for students to travel the globe to present their research, a new crop of national honor society members, the latest new book by a faculty member and for next week's ribbon-cutting for the expansion of the Pedroso Center.
Around the Commons
A world of opportunity
When Terrie Albano, an Interdisciplinary Studies undergraduate student, won four awards from the National Federation of Press Women for her writing and editing, she couldn't afford to go the annual conference in Anchorage, Alaska, to receive her awards and present her work. That's where the NEIU Foundation Student Travel Awards came in. The awards pay up to $600 or $1,000—depending on whether the conference is domestic or international—for a student to present his or her work. Almost $78,000 has been awarded since the program began in 2001. In the past five years alone, 89 students have won travel awards. Read more about the program and some of the students who have won those awards.
'Post-Racial Limits of Memorialization'
Assistant Professor of Philosophy Alfred Frankowski has published a new book, the first authored title in Lexington Books' new "Philosophy of Race" series. "The Post-Racial Limits of Memorialization: Toward a Political Sense of Mourning" attempts to show how post-racial discourse, in general, and post-racial memory, specifically, operate as a context through which the memorialization of anti-black violence and the production of new forms of this violence are connected.
Pedroso Center expansion ribbon-cutting
The Angelina Pedroso Center for Diversity and Intercultural Affairs will host a ribbon-cutting ceremony and reception for its expansion at 1:30 p.m. Nov. 30. The Pedroso Center is growing to include the Women's Resource Center and LGBTQA Resource Center, which have previously been housed outside of the Center. The physical expansion of the Center comes with additional programming space for students, a gender-inclusive restroom and a lactation room.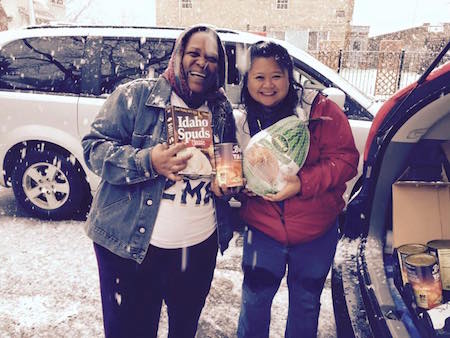 Meals for the community
Through donations from Northeastern students, faculty and staff, the Office of Student Leadership Development was able to sponsor and deliver meals to 40 families in the Rogers Park neighborhood of Chicago on Nov. 21 as part of National Hunger and Homelessness Awareness Week. The effort was in collaboration with A Just Harvest.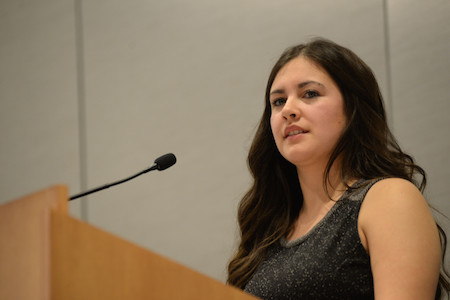 A new crop of scholars
Northeastern inducted 70 students in to the Illinois Zeta chapter of Alpha Chi, the national honor society, during a Nov. 16 ceremony. Alpha Chi has been at Northeastern for 34 years, and was founded on the principle of putting scholarship into action and using it to enact positive change in the world. The ceremony included new chapter President Nicole Velez (Anthropology, pictured above), Vice President Meztli Santamaria (Spanish, Honors Program, McNair Scholar), Secretary Jonathan Shub (Nontraditional Degree Program) and Treasurer Wendy De Leon (Psychology, McNair Scholar).
And there's more!
Northeastern will be closed Nov. 26-29 for Thanksgiving weekend.
Ensemble Español will participate in the annual McDonald's Thanksgiving Parade along Chicago's iconic State Street from 8-11 a.m. on Nov. 26.
The Center for College Access and Success will host an open house on Dec. 10 for guests to explore and experience new technologies through the equipment, software and tools in the new Center Space.
The Angelina Pedroso Center for Diversity and Intercultural Affairs has scheduled several events for World AIDS Day 2015 on Dec. 1. To commemorate the day, the Pedroso Center will host a series of events to recognize the ongoing commitment to HIV education and awareness.
Aaron Cortes, director of TRIO Upward Bound Math and Science and 21st CCLC Pathways at the Center for College Access and Success, has been selected as a Khan Academy ambassador for the Chicago pilot LearnStorm.
In the media
The Chicago Monitor quoted Assistant Professor of Educational Inquiry and Curriculum Studies Ann Aviles in a story about youth homelessness.
To do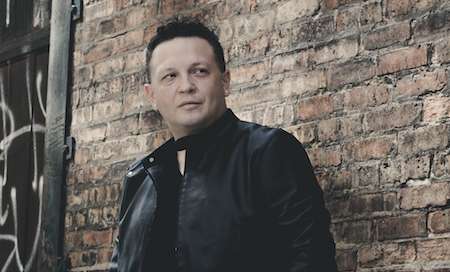 NEIU Alumni: All Access
Writer, producer and film director Carlos Jiménez Flores will return to Northeastern on Dec. 1 to deliver a lecture and screen his newest film, "Mi Princesa," which was released earlier this year, as part of the NEIU Alumni: All Access series. Flores (B.A. '06 Human Resource Development) is the first Puerto Rican director to have two films theatrically released in the same year. In total, he has finished nine feature films and is currently working on three more.
Long Night Against Procrastination
Students are invited to a special event designed to make it as easy as possible to get tutoring help ahead of final exams, writing assignments and projects. The Long Night Against Procrastination will take place from 7 p.m.-midnight on Dec. 1 on the fourth floor of the Ronald Williams Library and at El Centro.
'The Nutcracker'
The Ruth Page Civic Ballet will present its annual production of "The Nutcracker," choreographed by Ruth Page and co-directed by Victor Alexander and Dolores Lipinski Long. This production, celebrating its 50th anniversary this holiday season, will be performed at Northeastern at 7 p.m. Dec. 5 and at 1 p.m. and 5 p.m. on Dec. 6.
Mark your calendar!
"Ruggles of Red Gap" screening ($2/$5), 7 p.m. Nov. 25, Auditorium
Student Holiday Art Sale, Nov. 30-Dec. 4, Fine Arts Gallery
Voice Showcase, 7:30 p.m. Nov. 30, Recital Hall
NEIU Orchestra, 7:30 p.m. Dec. 1, Auditorium
Understanding the Fundamentals of Economic Inequality, 2:50 p.m. Dec. 2, BBH 101
NEIU Wind Ensemble, 7:30 p.m. Dec. 2, Auditorium
Guitar Showcase, 3:05 p.m. Dec. 3, Recital Hall
Academic Honors, 5 p.m. Dec. 3, Auditorium
Graduate Honors, 7:30 p.m. Dec. 3, Auditorium
Thursday Night Live: White Knight, 10 p.m. Dec. 3, Student Lounge
Senior Guitar Recital, 1 p.m. Dec. 5, Recital Hall
#FollowFriday

Giving Tuesday
#GivingTuesday is coming Dec. 1, and we are celebrating the day of giving with our new #ProudToBeNEIU campaign. Wear blue and gold and proudly display your Northeastern spirit. Join classmates, colleagues and alumni at Northeastern's locations and around the world by sharing your memories, stories and photos on Facebook, Twitter and Instagram. Use #ProudToBeNEIU and #GivingTuesday and let everyone know on Dec. 1 what you love the most.
Do you have a story tip? Let the public relations office know!
Mike Hines, Director of Public Relations, m-hines@neiu.edu, (773) 442-4240