Commencement is only a few days away—and will be streamed live—but that's not all Northeastern Illinois University has to celebrate. Check out all of the awards, scholarships, media appearances and event photos from the first week of May!
Around the Commons
Presidential Scholarships
Northeastern has awarded five Chicago-area high school students with its prestigious Presidential Scholarship. Presidential Scholars receive automatic admission into the University Honors Program, take advantage of study abroad opportunities, and are involved in a variety of student organizations.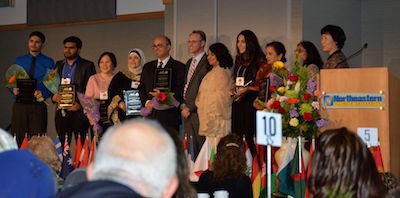 Photo call
Northeastern has hosted a number of celebratory events as the University closes in on the May 11 Commencement ceremony. Check out photos from Academic Honors, Salute to Graduates, the Dr. Mohammad Mossadegh Servant Leadership Lecture, the Pedroso Center Spring Congratulatory, the Student Awards and the Asian Gala (pictured above).
Fulbright Scholars
Two Northeastern faculty members have received Fulbright Scholars Awards for academic year 2015-2016. Assistant Professor of Spanish Brandon Bisbey has been awarded a Fulbright-García Robles grant to undertake research and teaching at the University of Guanajuato in Mexico. University Honors Program Coordinator and Associate Professor of English Kristen Over has been awarded a 10-month teaching and research grant at the University of Bergen in Norway.
More love for El Centro
El Centro is a finalist in the Chicago Building Congress awards competition for projects under $55 million. The winner will be announced during a May 20 awards dinner. Primera Engineers also recently won an award for Building/Technology Systems from the American Council of Engineering Companies' Engineering Excellence Awards Competition.
Travel to Spain
Assistant Professor of History Mateo Farzaneh has organized a four-week study abroad program for 21 students that begins May 29. For the first time in Northeastern's history, students will learn about the history of Islamic Spain, which is taught by Farzaneh at the University of Seville. The students will take a History course and participate in more than 10 extracurricular activities and excursions that include visits to Cordoba, Granada and Cadiz.
And there's more!
Sarah Vorpahl (B.S. '11 Chemistry) co-authored an article that has been published in the journal Science. Two years ago, Vorpahl's lab received $6 million from Washington Gov. Jay Inslee to establish a Clean Energy Institute at the University of Washington.
The Department of Gerontology will host informational sessions from 3:30-5:30 p.m. May 15 and 1-3 p.m. May 22 in BBH 311.
The Office of Admissions will host a Transfer Tuesday event on May 12 and a Jump Start Friday event on May 15. Click to send invites via Facebook!
In the media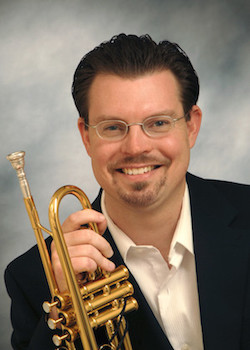 Ask him anything
Travis Heath, an associate professor of Music, was the latest faculty member featured in Northeastern's partnership with The Mash, the Chicago Tribune's weekly publication for teens. Heath answered questions about speaking up in class, academic advisers and the value of a music degree.
Immigrant student issues
The Associated Press quoted Associate Vice President for Student Affairs Daniel Lopez in a story about undocumented students. "The things we do for our undocumented students are no different than what we should do for all of our students, which is help them succeed," Lopez said. The story was published by more than 60 online news sites.
This alum rocks
Kaylee Preston (B.A. '13 Anthropology) is a finalist in the international Hit Like a Girl drumming contest. "I knew I wanted to be a drummer for as long as I can remember," Preston told DNAinfo Chciago. "The first time I heard Led Zeppelin, my whole body, just like, got goose bumps."
Also in the media ...
To do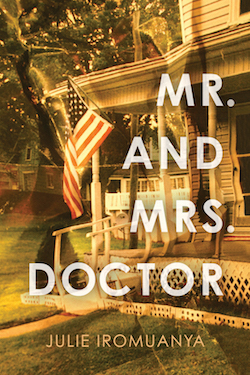 Book celebration
English Assistant Professor Julie Iromuanya will celebrate the launch of her new book, "Mr. and Mrs. Doctor," at Women & Children First bookstore on May 8. The book will be officially released May 12.
Mark your calendar!
#FollowFriday
#NEIUgrad
Before you post it, tweet it or share it—tag it! Tag your Commencement snaps and congratulatory messages with #NEIUgrad for a chance to be seen on the big screen at Commencement!
Do you have a story tip? Let the public relations office know!
Mike Hines, director of public relations, m-hines@neiu.edu, (773) 442-4240