Award season continues at Northeastern Illinois University. Find out which faculty members are earning accolades, taking students to Europe and delivering on a pledge to prepare Chicago's youth for college.
Around the Commons
A foundation for success
As a professor in the Department of Educational Inquiry and Curriculum Studies, Nicole Holland (pictured above) is passionate about the success of her students. But she knows firsthand that success in a university classroom doesn't happen without plenty of preparation. That's why she co-founded a three-year research project aimed at providing college planning interventions for female students of color.
Brommel Distinguished Research Professor
Brian Schulz, professor and chair of the Department of Educational Inquiry and Curriculum Studies, has been honored with Northeastern's 2016 Bernard J. Brommel Distinguished Research Professor award. The Brommel award is being presented this year for the 10th time, and will be formally presented at the May 2016 Commencement Ceremony.
Lerner Faculty Research Scholarship
Saba Ayman-Nolley, professor and chair of the Department of Psychology, has won the 2015-16 Janet Lerner Faculty Research Scholarship Award. Her project involves a scholarly review of the literature on social schema of children with autism as it pertains to facilitating friendships for these individuals.
An honor from Venezuela
Calling the experience "magic and priceless," Professor of Educational Leadership and Development Ana Gil-Garcia has been honored by her hometown in Venezuela in recognition of her career in education and civil service. Gil-Garcia returned to Porlamar, which is the largest city on Isla Margarita, Nueva Esparta State in Venezuela, to accept two special honors from the City Council of the Municipality of Marino on March 31.
To Europe and back
Led by Professor Emeritus of Economics Edward Stuart, a group of 14 undergraduate and graduate students recently returned from a 10-day academic trip to Europe. The students visited Amsterdam, Munich, Ljublijana and Budapest (pictured above) to learn about comparative economic systems. In Amsterdam, the students visited the Royal FloraHolland Market, where they watched a Dutch auction, the largest flower auction in the world.
And there's more!
Commencement, featuring speaker Evan Wolfson, will again be live-streamed. Check out this preview video, then tune in to neiu.edu at 4 p.m. May 9.
In the media
Airing on CAN TV
CAN TV broadcast the Ronald Williams Library's lecture-discussion with historian Elizabeth Tandy Shermer, "The Crisis of Public Higher Education in Historical Perspective," which was moderated by eResources and Systems Librarian Lisa Wallis. The video is available on YouTube, and will be broadcast on CAN TV at 9 a.m. May 5 and 1 p.m. May 6.
'Who Do You Think You Are?'
Chris Noth at Northeastern? Yes, an episode of TLC's ancestry show "Who Do You Think You Are?" featuring Mr. Big himself will premiere at 7 p.m. May 1. Part of the show was filmed in the Illinois Regional Archives Depository collection area of the Ronald Williams Library. According to TLC's official description of the episode: "Chris Noth tracks down family torn apart by a devastating disaster when he follows his relative's trail from Spain to Ireland and finds a man who endured oppression, but rose up to fight in one of the fiercest battles of all time to become a war hero."
Also in the media ...
The Chicago Sun-Times published an obituary for retired English instructor William Zayas, who was the longtime co-host of Channel 7's broadcast of Chicago's Puerto Rican Parade.
Baseball Prospectus published Department of Economics Coordinator Michael Wenz's review of Assistant Professor of History Josh Salzmann's paper, "Bionic Ballplayers: Risk, Profit and the Body as Commodity, 1964-2007."
To do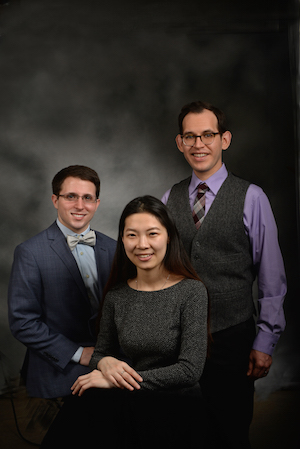 NEIU Orchestra
The NEIU Orchestra will perform at 7:30 p.m. April 29 in the Auditorium—this time with a special twist. Students Andrew Fath, Jierong Wang and Christopher Hatcher (pictured above, from left) will be honored with $500 Elyse Mach Concerto Competition Scholarships. The three scholarship winners will each perform a solo piece with the NEIU Orchestra under the direction of Brian Gorner. At the end of the concert, Mach will award the students with a check and a certificate.
Mark your calendar!
#FollowFriday
#NEIUtreehug
That's the hashtag the NEIU Green Fee Committee used to celebrate Arbor Day. Check out the Facebook page and the story about Northeastern's new Tree Campus USA status.
Do you have a story tip? Let the public relations office know!
Mike Hines, Director of Public Relations, m-hines@neiu.edu, (773) 442-4240