Did you know about the Daniel L. Goodwin College of Education's partnership with a local high school? Read about why it's been such a boon for the high school and for Northeastern, plus plans for a high-profile speaker and a busy week in the news media.
Around the Commons
Everyone wins
By virtually every measure, the Daniel L. Goodwin College of Education's partnership with Amundsen High School has been a success. Three and a half years since the partnership began, enrollment and attendance are up at Amundsen, more students are on track to graduate on time, the number of high-achieving students has grown, standardized test scores have improved, and students, faculty, staff and community members are once again talking about pride in Amundsen High School and what they call The Viking Way: "Accountable. Honorable. Scholarly. All day. Every day." Read the full In Common cover story online, or see the whole magazine!
Karen Lewis returning to Northeastern
Northeastern alumna and Chicago Teachers Union President Karen Lewis will deliver the keynote speech during the University's annual Rev. Dr. Martin Luther King Jr. tribute on Thursday, Jan. 21. Lewis, who earned her master's degree in Inner City Studies from Northeastern in 1993, will speak on the topic of social justice.
iMATHination Conference
The Center for College Access and Success will host its 10th Annual iMATHination Conference on Jan. 22-23 in St. Charles, Ill. This conference brings highly interactive and real-world approaches to the teaching and learning of mathematics and science.
Thank-a-Professor video
Remember Thank-a-Professor Day?Check out this new video of students thanking the professors who have supported and encouraged them in pursuit of their dreams.
And there's more!
Northeastern will be closed on Monday, Jan. 18, in observance of Martin Luther King Jr. Day.
Northeastern will host a free FAFSA Completion Challenge from 10 a.m.-3 p.m. Jan. 16 at El Centro.
Nominations for the Northeastern's Black Heritage Awards are open until noon on Jan. 22. Find the general criteria and fill out the nomination form online. The award recipients will be announced in advance of Black Heritage Awards Gala on Feb. 19 at the Carruthers Center for Inner City Studies.
As spring semester gets underway, Northeastern will offer extended hours on Jan. 16 for new, current and returning students to register for classes and conduct other business.
Special Education Associate Professor Mickie Wong-Lo has been elected to the Council for Exceptional Children Board of Directors.
In the media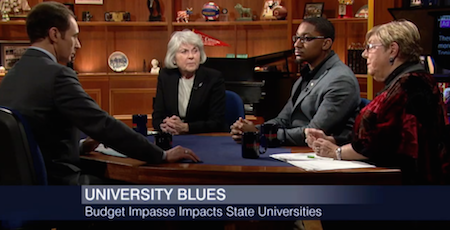 State budget talk
It was a busy week in the media for President Sharon Hahs, who appeared on CBS2 to talk about the state budget impasse and its effect on Northeastern. She also appeared on WTTW's "Chicago Tonight" with Governors State President Elaine Maimon and a Governors State student. And last but not least, ABC7 aired a segment about Hahs' purchase of a Powerball ticket after she pledged to donate all potential winnings to the University. Sadly, she did not win.
A moment in the spotlight
When U.S. Rep. Mike Quigley (D-Illinois) invited Northeastern alumna Alaa Basatneh (B.A. '15 Political Science) to attend President Barack Obama's final State of the Union Address, the news media in Chicago and beyond took notice. WGN TV, WGN Radio, Public Radio International, RedEye, the Chicago Tribune and the Journal Online all covered Basatneh's invitation to the historic speech. Basatneh also wrote pieces for the Muslim American Leadership Alliance and Fusion.
Also in the media ...
To do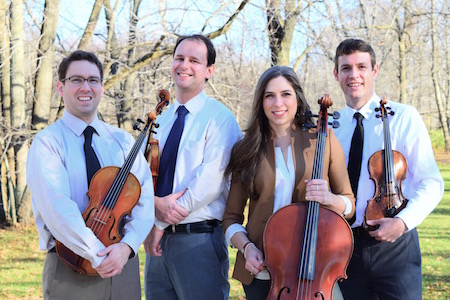 Jewel Box Series
The Kontras String Quartet will return to Northeastern to perform on Friday, Jan. 22, as part of the Jewel Box Series. Joining Kontras will be Northeastern faculty artists Susan Tang on piano and baritone Robert Heitzinger.
Mark your calendar!
Jennifer Yorke exhibition, through Feb. 5, Fine Arts Gallery
Jennifer Yorke reception, 6 p.m. Jan. 15, Fine Arts Gallery
Silent lunch, noon Jan. 20, Pedroso Center
"The Sacrifice" screening ($5/$2), 7:30 p.m. Jan. 20, Auditorium
Concerto Competition, 7 p.m. Jan. 21, Recital Hall
#FollowFriday
El Centro and Carruthers Center
Welcome to the spring 2016 semester at Northeastern Illinois University! Do you attend classes at our El Centro or Carruthers Center for Inner City Studies locations? Like them on Facebook to keep up with what they've got going on!
Do you have a story tip? Let the public relations office know!
Mike Hines, Director of Public Relations, m-hines@neiu.edu, (773) 442-4240