Well, this is a nice pick-me-up in the middle of winter: Two members of the Northeastern Illinois University faculty have earned Fulbright Scholars Awards! And that's not all: We're also looking ahead to the spring return of the community garden. Warm up with that news and more!
Around the Commons
Two Fulbright Scholars Awards
Professor of History Patrick Miller and Assistant Professor of Biology Cindy Voisine have received Fulbright Scholars Awards for the academic year 2016-17. Miller has been named the 2016–2017 Fulbright Bicentennial Chair in American Studies at the University of Helsinki, where he will teach in the Program in North American Studies/Department of World Cultures. Voisine will conduct research in Heidelberg, Germany, during the Fall 2016 semester. Voisine will conduct her research in the laboratory of Bernd Bukau, Research Group Leader of Zentrum für Molekulare Biologie and Division Head of Deutsches Konsortium für Translationale Krebforschung, at the University of Heidelberg.
SENCER grant for science courses
The National Center for Science & Civic Engagement has awarded Northeastern a Science Education for New Civic Engagements and Responsibilities (SENCER) Summer Institute 2015 Post-Institute Implementation Award. With its $3,000 grant, Northeastern will embed civic engagement components into two newly designed courses that support the preparation of middle school science teachers. The courses will be implemented in the 2016-2017 academic year.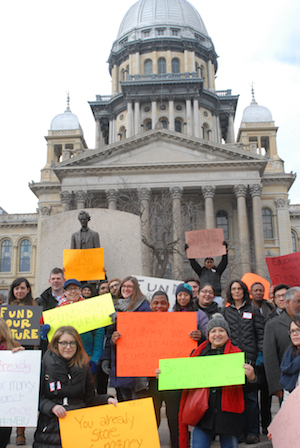 Call for funding
Northeastern participated in a regional press conference on Feb. 19 at the University of Illinois at Chicago as a member of the Illinois Coalition to Invest in Higher Education to urge lawmakers to end the budget impasse. Student Government Association President Nicholas Martinez delivered remarks as Northeastern's representative to the event that featured students, labor and business leaders, and alumni. On Feb. 17, more than 50 Northeastern students, faculty and staff traveled to Springfield to rally around funding for higher education and MAP with several other public universities.
Volunteers needed
Northeastern will host more than 100 of the state's smartest high school students for the 2016 Illinois Academic Decathlon on March 12. Organizers are seeking faculty, students, staff, alumni and community members who want to volunteer as judges, timekeepers and more. The event runs from 9:45 a.m.-3 p.m., and training and lunch will be provided the day of the event. Interested volunteers should contact the University Honors Program Office at (773) 442-6044 or honors@neiu.edu, or stop by the office in B 141.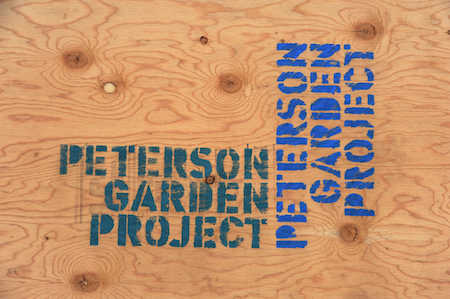 Get in on NEIUGround
Registration is now open for plots in the NEIUGround community garden. Learn how to grow your own food and share what you learn with fellow students, faculty, staff and neighbors in the community. People interested in gardening at NEIUGround do not need any gardening experience. Membership is $85 per year and includes a 4-by-8-foot plot, some supplies and gardening lessons.
And there's more!
In the media
Three-time All-Star
It's not just the NBA players who are honored with appearances in the All-Star Game. Northeastern alumnus and longtime referee Danny Crawford (B.A. '76 Secondary Education - Physical Education) was featured by the Chicago Tribune for making his third appearance in the annual showcase game on Feb. 14. "Everybody's dying to get to the All-Star break for rest. But you also have your fingers crossed saying, 'Maybe I'll get picked for the All-Star Game,' " Crawford told the Tribune. "When you get the call to actually work the game, you find that second wind. You say, 'Let me turn this energy up.' Because it's a fun game."
Also in the media ...
To do
Jacob H. Carruthers Conference
The Kemetic Institute's 11th annual Jacob H. Carruthers Conference will take place from Feb. 20 in Donn F. Bailey Legacy Hall at the Carruthers Center for Inner City Studies. Free and open to the public, the conference's theme is "Intellectual Warfare and African Liberation."
'In the Blood'
Stage Center Theatre will launch Suzan-Lori Parks' "In the Blood" on Feb. 25. Hester, a homeless mother of five, struggles to raise her children and escape the harsh world of poverty. While Hester's children fill her life with joy, rendered in lovingly comic moments, the adults she encounters ensure the play's tragic end.
Education Job Fair
Northeastern will host an Education Job Fair on Tuesday, Feb. 23. The free event is open to the public. Attendees should bring plenty of resumes, which are required for entry, and are encouraged to dress professionally.
Mark your calendar!
Jason Dunda exhibition reception, 6 p.m. Feb. 19, Fine Arts Gallery
Black Heritage Awards Gala, 6:30 p.m. Feb. 19, Carruthers Center
Jewel Box Series: Solas ($5-$25), 7:30 p.m. Feb. 19, Auditorium
Cranston Ramirez-Knight: "Mexico's First Black President & American Fugitive Slaves," 3 p.m. Feb. 22, Pedroso Center
Campus Recreation Wellness Fair, 10 a.m.-3 p.m. Feb. 23, P.E. Complex
Black Knowledge Bowl, 3 p.m. Feb. 23, Pedroso Center
Silent lunch, noon Feb. 24, Pedroso Center
Alison Fraunhar lecture on Identity and Desire in Contemporary Latin Art, 5:40 p.m. Feb. 24, Golden Eagles
Moment of Silence for African American Victims of Violence, noon Feb. 25, Village Square
Psychology Graduate Fair, 1:30 p.m. Feb. 25, Alumni Hall
Buya Drumming Workshop, 4 p.m. Feb. 25, Pedroso Center
NEIU Wind Ensemble, 7:30 p.m. Feb. 25, Auditorium
Thursday Night Live: Dan Whitaker & The Shinebenders, 10 p.m. Feb. 25, Student Lounge
#FollowFriday
Get theatrical
Follow Stage Center Theatre on Facebook and Twitter to get a sneak peek behind the curtain. You'll be the first to see photos and videos from rehearsal, and get all the details about upcoming productions. You'll also be the first to receive announcements about auditions and future seasons. 
Do you have a story tip? Let the public relations office know!
Mike Hines, Director of Public Relations, m-hines@neiu.edu, (773) 442-4240