You don't have to be a Music major to be interested in the speaker who is coming to Northeastern Illinois University next month. Find out more about top guitar shredder and alumnus Michael Angelo Batio, the Alumni Relations office's successful charity effort with the College of Education and an alum who is playing on the pro beach volleyball circuit!
Around the Commons
Rock star on campus
Internationally renowned guitarist, inventor and Northeastern alumnus Michael Angelo Batio will return to his alma mater to deliver a free lecture and demonstration that will cover his musical success, life lessons and, of course, his famous Double-Guitar. The free event is scheduled for 3 p.m. on Tuesday, Sept. 1.
NASPA selects Northeastern
Northeastern has been named one of nearly 80 colleges and universities in the nation as a Lead Institution by NASPA - Student Affairs Administrators in Higher Education, the leading voice for the student affairs profession. This is the fourth year Northeastern has been selected to participate.
Prepare for fall!
Attention, students: Registration for the fall 2015 semester ends Aug. 20. In preparation for the new semester, the Admissions and Transfer Center, Graduate Admissions, Financial Aid and Enrollment Services-Registration offices will be open from 9 a.m. to 2:30 p.m. on Saturday, Aug. 15. Academic Advising and the Bursar Services office will be open from 9 a.m. to noon. In addition, another One Stop Enrollment Express has been scheduled for Aug. 18.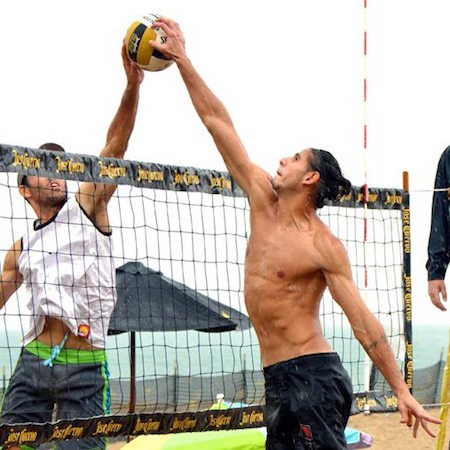 A day at the beach
Raffe Paulis left Chicago after receiving his Finance degree from Northeastern to pursue another kind of dream. He became a professional beach volleyball player. Paulis will return to his hometown Aug. 27-30 for the AVP Chicago Open at Oak Street Beach.
Three new minors
Northeastern will offer three new minors beginning in the fall 2015 semester. The College of Arts and Sciences will offer minors in Geographic Information Science and Mathematical and Statistical Modeling of Complex Systems, and the College of Business and Management will offer a minor in Entrepreneurship.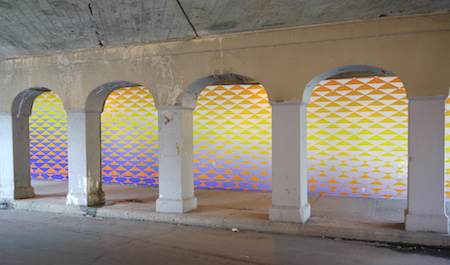 Rogers Park mural
Center for College Access and Success Video and Education Specialist Cole Pierce is one of five artists whose work has been selected to be displayed on the walls of CTA and Metra underpasses in the Rogers Park neighborhood of Chicago. If you'd like to see more of his art, Pierce has some of his work on display in a group show at The Mission (1431 W. Chicago Ave.) through Aug. 22.
And there's more!
The new, Web-based Academic Catalog 2015-2016 is live! It was developed to modernize the presentation of the catalog contents, and to better meet the informational needs of our prospective and current students.
The Office of Alumni Relations and College of Education donated 94 backpacks to children from Cornerstone Community Outreach who are without permanent housing during an Aug. 12 event.
In the media

Tune in to TLC
The Ronald Williams Library will appear in the Aug. 23 episode of "Who Do You Think You Are?" on TLC that features "Breaking Bad" star Bryan Cranston (pictured here with Northeastern alumna Lauren Jordan). Filming took place in June in the Illinois Regional Archives Depository collection area of the building. Here is the episode's official description: "Bryan Cranston's happy childhood shattered when his father abandoned the family when Bryan was just 11. Seeking answers, Bryan explores his paternal roots, finds a troubling pattern of desertion, a man of honor and an aunt he never even knew existed."
All that jazz
Chicago Tribune columnist Howard Reich profiled rising jazz singer and Northeastern grad Typhanie Monique (M.A. '14 Music), who will record her first solo album in the fall. "What I tell my students is: As you gain and advance technically—especially as a jazz musician—your freedom of expressivity is much more vast and open," Monique said. Watch her perform on Tuesdays in August at Andy's Jazz Club in Chicago.
Also in the media ...
To do
Meet Bobby Hull
Hockey Hall of Famer and former Chicago Blackhawks great Bobby Hull will be the celebrity guest at Northeastern's oldest philanthropic event, the Chuck Kane Scholarship Golf Event, on Monday, Aug. 17, at Traditions at Chevy Chase Golf Club in Wheeling. Sign up for a round of golf or for the dinner portion of the event to support student scholarships!
Golden Eagles on the stage
Willy Dynomite, a Chicago band that features Northeastern student Carson Hooley and alumni Josh Therriault (B.A. '07 Music), Matthew Bordoshuk (B.A. '10 Music) and Stephanie Stahl (B.A. '15 Interdisciplinary Studies) will perform a free show on Aug. 16 at Navy Pier. The band also will perform Aug. 26 at Schubas.
Mark your calendar!
#FollowFriday
Get on the right track
Back to school! Whether you are thinking about applying to Northeastern or you've already been admitted, follow the Office of Admissions Facebook page for enrollment information and special events designed to help students with the application and registration processes.
Do you have a story tip? Let the public relations office know!
Mike Hines, Director of Public Relations, m-hines@neiu.edu, (773) 442-4240