Beginning in Fall 2019, Northeastern Illinois University will offer a new Golden Opportunity Scholarship that will cover up to the full cost of tuition and fees for qualifying full-time freshmen. Read more about this exciting new program, new credentialing opportunities for Early Childhood Education majors, visiting speakers and much more in this week's edition of Noteworthy at Northeastern.
Around the Commons
Golden Opportunity Scholarship
Northeastern has founded the Golden Opportunity Scholarship that will cover up to the full cost of tuition and fees for qualifying freshmen beginning in Fall 2019. The scholarship has been founded with the assistance of the Illinois AIM HIGH grant program, which contributed $25 million to Illinois public universities. Of that total, $800,000 will go to Northeastern beginning in the 2019-2020 school year. The goal of the program is to increase enrollment and retention of Illinois residents within the state's public universities. Northeastern will match the state's contribution for a total of $1.6 million in new scholarship money for qualifying freshmen.
Gateways to Opportunity
Northeastern has been approved as an entitled institution for the Gateways to Opportunity ECE Credential Levels 2, 3, 4 and 5. The entitlement, which runs through 2023, means that effective immediately, Northeastern students have the opportunity to qualify for state-recognized credentials as they take courses or complete a degree through the Daniel L. Goodwin College of Education's Early Childhood program in the Department of Teacher Education. Northeastern is among a select group of institutions in Illinois to be entitled for the Gateways to Opportunity credentials.
Distinguished Teaching Award
Northeastern has selected Professor of Women's and Gender Studies Laurie Fuller as the 2018 recipient of the Audrey Reynolds Distinguished Teaching Award. Professor Emerita of Linguistics Audrey Reynolds established the award to be given annually to a tenured member of the Northeastern faculty who best demonstrates distinguished teaching. As the award recipient, Fuller will receive $5,000 and will give a presentation regarding teaching during the Spring 2019 semester.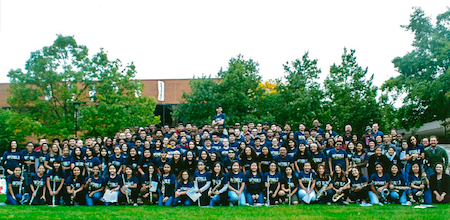 Band and Choir Festival
The Department of Music hosted about 360 students representing six high schools in the Noble Network of CPS Charter High Schools on Oct. 12 and 13 for a Band and Choir Festival that consisted of clinics and rehearsals, and culminated in a concert in the Auditorium. Additionally, Music Education majors and select graduate students visited the high schools the week prior to lead sectionals and work with students on the concert music prior to their arrival on campus.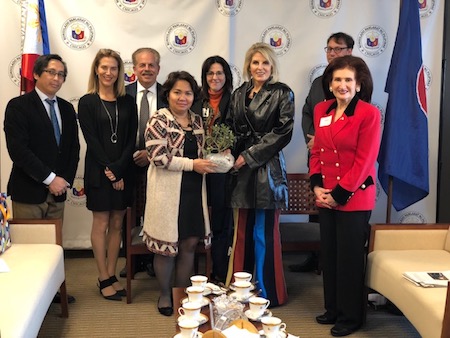 Published and on the road
Professor of Political Science Ellen Cannon has published an article titled "Contemporary Jewish Politics and Historiography: The Case of the BDS Movement" in the book "The Routledge Companion to Jewish History and Historiography." Cannon also recently earned a grant to support a March 2019 Academic Engagement Network program on Israel-India relations and participated in Midwest Diplomatic Marathon as a member of the American Jewish Committee's board of directors. (She is pictured above in the red jacket.)
And there's more!
In the media
Forward quoted Assistant Professor of Political Science William Adler in a story about research he participated in on the social website Gab.
The Chicago Tribune featured alumnus Elias Kasongo (B.A. '11 Business and Management) in a story and video about the effects of refugee limitations on Chicago employers.
NewsChannel 5 in Nashville interviewed Associate Professor of Justice Studies Adam Messinger for a story about domestic violence in the LGBTQ community.
To do
Genocide Research Symposium
The 5th Annual Symposium on Genocide and Human Rights Research in Africa and the Diaspora will take place Nov. 6 on the Main Campus. This year's symposium is titled "Genocide and Agency." Keynote speaker Timothy P. Longman from Boston University will deliver "Struggles Over Memory in Post-Genocide Rwanda."
Colorism in comics
The College of Arts and Sciences will host an event on colorism in comics on Nov. 6 as part of its Community Conversations series. Featuring Zoe Smith from the University of Chicago's English Department, this talk will outline the history of print technology, color and comic books to highlight the ways in which technologies of representation fail people of color.
Park Service talks
Northeastern alumna Kathleen Kelly will visit her alma mater on Nov. 6. Kelly, a volunteer program manager in the National Park Service's Alaska Region and Denali National Park and Preserve, will deliver a master class on navigating the federal hiring process and a campus talk on building a career in the federal government.
Bridging the geology gap
John Wakabayashi will present a lecture titled "Attempting to Bridge the Growing Gap Between Academic and Applied Geology: A Personal Odyssey" at 11 a.m. Nov. 9 in Bernard J. Brommel Hall Room 120. Wakabayashi is a professor of Earth and Environmental Sciences at Fresno State University and is the 2018 Richard H. Jahns Distinguished Lecturer in Applied Geology. Wakabayashi will discuss his days as an engineering and environmental geologist.
Mark your calendar!

#FollowFriday
Insta-NEIU
Explore Northeastern through Instagram! Follow us @neiulife for snaps of the faces and places of Northeastern Illinois University.
Do you have a story tip? Let the Office of Public Relations know!
Mike Hines, Director of Strategic Communications, m-hines@neiu.edu, (773) 442-4240