Northeastern Illinois University has its next president! Read all about Dr. Gloria Gibson, an important new digital collection released by the Ronald Williams Library and more in this week's edition of Noteworthy at Northeastern.
Around the Commons
Welcome to the family!
The Board of Trustees has appointed Gloria Gibson the next president of Northeastern, effective June 1. Gibson has been serving as provost and senior vice president for Academic Affairs at Morgan State University in Baltimore. "I am truly honored to be named president at Northeastern Illinois University, a place I have developed a strong and heartfelt appreciation for since setting foot on campus," said Gibson, who will become Northeastern's seventh president. "Among the things I found most impressive about Northeastern are its resiliency during the past 150 years and its diverse community. I am so honored to be a part of Northeastern's history and to be following the footsteps of strong leaders who preceded me." News of Gibson's appointment was reported by the Chicago Tribune and The Associated Press.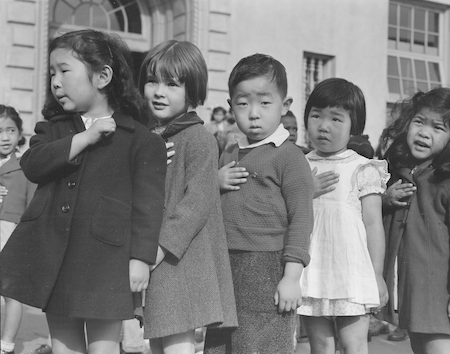 Japanese American Redress Collection
The Ronald William Library has digitally released a Japanese American Redress Collection of documents that focus on the Commission on the Wartime Relocation and Internment of Civilians (CWRIC) hearings that took place on the University's Main Campus on September 22-23, 1981. The CWRIC hearings investigated the legality of Executive Order 9066, a mandate issued by President Franklin D. Roosevelt during World War II that led to the detainment of more than 120,000 people of Japanese ancestry, two-thirds of whom were American citizens.
Early voting
As Illinois gears up for the March 20 primary election, two Northeastern locations are serving as early voting sites for Chicago residents who want to register or cast their ballots in advance. Early voting is underway at El Centro through March 19. Hours for El Centro voting are listed online. Early voting is also available on the Main Campus in SU 003 through March 16. It is open between 10 a.m. and 5 p.m.
Whitney Young wins
Whitney M. Young Magnet High School won the Illinois Academic Decathlon State Competition, which Northeastern hosted on the Main Campus on March 10. The team will represent Illinois at the United States Academic Decathlon National Competition in Frisco, Texas, on April 19–21. Second place went to Lane Tech College Prep, and third place went to Northside College Prep.
And there's more!
Signup is now open for the Graduate Open House on April 11.
Anja Claus (M.A. '12 Geography and Environmental Studies) published an essay in the Center for Humans and Nature's winter issue of Minding Nature journal titled "An Ethical Journey Into Deep Time."
The NEIU Shuttle will not operate during spring break.
In the media
An interview with Eze
African literary blog Brittle Paper interviewed English Professor Chielozona Eze about the themes of his poetry, his personal experiences and his next project. "Poetry is my effort to dialogue with a part of me that questions the sanity of the world," Eze said. "Poetry can never (or perhaps hardly) stop the horrors of the world. It can, however, teach some people to begin to feel the world differently and to have enough dose of humanity to nip such horrors in the bud."
Also in the media ...
Univision reported live from Northeastern during coverage of a march in support of undocumented students. The march ended in Northeastern's University Commons.
WTTW reported on a study published in the journal Applications in Plant Sciences that demonstrates how biologists can crowdsource data collection with the help of regular citizens. Northeastern students were credited in the story and in the publication with assisting in the research.
Eurasianet quoted Anthropology Professor Russell Zanca in a story about a Turkish soap opera that was removed from television by Uzbekistan morality guardians.
To do
Mark your calendar!
Thursday Night Live: Toxic Rocket, 10 p.m. March 22, Student Lounge
#FollowFriday
NEIU Students
From photos of the recent International Day to reminders about future events and deadlines, NEIU Students is a must-follow account for current students.
Do you have a story tip? Let the public relations office know!
Mike Hines, Director of Public Relations and Web Communications, m-hines@neiu.edu, (773) 442-4240