Northeastern Illinois University has a new leader, and Richard Helldobler's first week as Interim President was packed with exciting announcements. We've got the latest on another top ranking, two high-profile grants and this year's Art in Response to Violence Conference.
Around the Commons
Another major grant
The United States Department of Education has awarded Northeastern a five-year, $5.6 million Hispanic-Serving Institutions - Science, Technology, Engineering, or Mathematics (HSI-STEM) and Articulation Programs grant to enhance the institution's efforts to increase retention of Hispanic and low-income students and to increase the number of Hispanic and low-income STEM majors. The grant is in partnership with Triton College.
A destination for adult learners
Washington Monthly magazine has named Northeastern one of the nation's Best Colleges for Adult Learners in its September/October 2016 issue. Northeastern ranks 32nd on the list of four-year universities. "As an institution that takes great pride in all of its diversity, Northeastern Illinois University is proud to be recognized for serving a segment of the student population that often is ignored," Interim President Richard J. Helldobler said.
Computer Science for All
The National Science Foundation's STEM+Computing Partnership (STEM+C) program has awarded Northeastern a three-year, $700,608 grant to promote computational thinking among students who are preparing to become teachers. The grant, which takes effect in October 2016, will fund a project titled Computer Science For All: Coding for Educators in STEM, which seeks to advance new approaches to—and evidence-based understanding of—the integration of computing in STEM (science, technology, engineering and mathematics) teaching and learning, as well as broadening participation in computing and computing-intensive fields.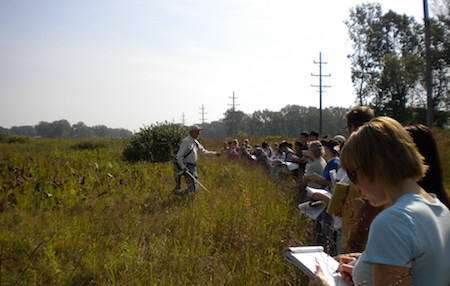 Field trip
As they do each fall, Biology professors recently took several classes to Gensburg-Markham Prairie, which is managed by Northeastern and the Nature Conservancy. In the prairie on the south side of the Chicago metropolitan area, students learn about the actions prairie managers are taking to maintain the rare ecosystem. Gensburg-Markham Prairie is a remnant of the long-grass prairie that once covered the state of Illinois. It is home to endangered plants such as the white fringed orchid that survives only in prairies, and rare animals such as the regal fritillary butterfly that depend upon prairie plants.
And there's more!
Fall Break is scheduled for Oct. 8-11. Classes will not meet on these dates but the University will remain open.
If you missed former Chicago Bulls great Bob Love's moving speech at the 44th Annual Chuck Kane Scholarship Golf Event in August, be sure to watch it on YouTube. Prepare to be moved and inspired.
Thank-a-Professor Day is scheduled for Oct. 13. Look for the table in Village Square and the posts on social media.
El Centro has been awarded the Platinum Award from the prestigious American Architecture Awards. The building also is a finalist for this year's Colombian PAD Awards. Vote now!
The 2016–2017 Guide to Student Affairs Programs and Services has been published online.
In the media
'Exhilarating discovery'
The Sun-Times published a glowing review of Ensemble Español's Sept. 29 performance that capped the group's 40th-year celebrations. Critic Hedy Weiss began her review like this: "There is simply no other way to describe it: Ensemble Espanol Spanish Dance Theater set the Auditorium Theatre on fire Thursday night as it celebrated the conclusion of its 40th anniversary season with a concert that not only drove a packed house to its feet, but left those experiencing the Chicago-based company for the first time with a sense of exhilarating discovery."
Also in the media ...
DNAinfo Chicago reported that Instructor Benneth Lee will participate in a discussion after the screening of "Lord Thing" on Oct. 18 at the Washington Park Arts Incubator.
The Chicago Tribune and Chicago Sun-Times published obituaries for LGBT culture historian Marie Kuda, who worked at Northeastern in various roles from 1988 through 1995.
To do
'November'
Stage Center Theatre will launch David Mamet's "November" on Oct. 13. The Oval Office satire depicts one day in the life of a beleaguered American commander-in-chief. "November" runs Oct. 13, 14, 20, 21 and 22 at 7:30 p.m., and Oct. 15 at 2 and 7:30 p.m.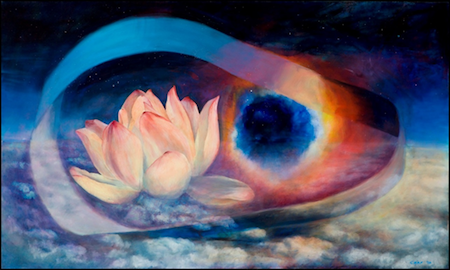 Art in Response to Violence Conference
Northeastern will host the 7th Annual International Art in Response to Violence Conference on Oct. 13 and 14. Open to both professionals and students, the two-day, interdisciplinary conference will reflect on ways that visual art and art making express, communicate and document violence in its many forms. This year's keynote speakers are Linda Chapman, director of the Art Therapy Institute of the Redwoods, and Chicago artist Paula Henderson. Their talks, respectively, will be "Art, Violence and Neurobiology in the Clinical Setting: Healing Experiences of Violence in Youth" and "The Industry of Beauty: A Bridge to Human Trafficking."
'Allá en San Fernando'
English Instructors Raúl Dorantes and Emily Maso are involved in Colectivo El Pozo's production of "Allá en San Fernando" at the Citlalin Gallery from Oct. 13-30. It will be performed in Spanish with English supertitles. Dorantes wrote the play, and Maso translated the supertitles.
Mark your calendar!
Millicent Kennedy and Rachelle Hill exhibition, through Oct. 21, Fine Arts Gallery
"The Hired Hand" screening, 7:30 p.m. Oct. 11, Auditorium
"Pariah" screening, 1 p.m. Oct. 12, Pedroso Center
Millicent Kennedy and Rachelle Hill artist talk, 3 p.m. Oct. 12, Fine Arts Gallery
Las Comadres womyn's group, noon Oct. 13, Pedroso Center
National Coming Out Day, 12:30 p.m. Oct. 13, Pedroso Center
Thursday Night Live: Galaxxu, 10 p.m. Oct. 13, Student Lounge
Millicent Kennedy and Rachelle Hill artist reception, 6-9 p.m. Oct. 14, Fine Arts Gallery
#FollowFriday
#Thankaprof
We all have one or more professors to whom we owe a big thank you. Who is yours? Tell them on or before Thank-A-Professor Day, Oct. 13! Join the Facebook event for more details, and use #Thankaprof on social media. 
Do you have a story tip? Let the public relations office know!
Mike Hines, Director of Public Relations, m-hines@neiu.edu, (773) 442-4240