Congratulations are in order for Northeastern Illinois University Interim President Richard Helldobler, who will take over as President of William Paterson University on July 1. We've got more on that development, early primary voting at two Northeastern locations and much more in this week's edition of Noteworthy.
Around the Commons
Helldobler named President at William Paterson
Interim President Richard Helldobler has been appointed the eighth President of William Paterson University in Wayne, N.J., effective July 1. "It has been an honor to serve both as Provost and Interim President during my tenure here at Northeastern Illinois University," Helldobler said in a letter to the University community. "Together we should be proud of our many accomplishments."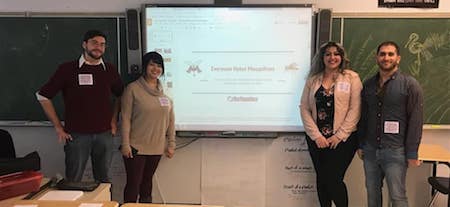 Chicago River Student Congress
Seven Northeastern undergraduate students joined environmental professionals last month to teach high school students during the Chicago River Student Congress. Angelica Adams, Nureen Ansari and Georgia Tiniakos presented fun facts about freshwater sponges and helped the high school students identify specimens with the microscope. Cameo Chilcutt, Michael Konecki, Assil Shawkat and Samah Slim (pictured above) demonstrated a computer simulation that shows how mosquito-borne epidemics develop. Both presentations were related to the students' undergraduate research projects, conducted under the direction of Biology Professor Jennifer Slate.
Accreditation extension
The Council for Accreditation of Counseling and Related Educational Programs (CACREP), a specialized accrediting body recognized by the Council for Higher Education Accreditation (CHEA), has extended the accreditation of the following programs in the Department of Counselor Education through October 2024: Clinical Mental Health Counseling (M.A.), Family Counseling (M.A.) and School Counseling (M.A.). This accreditation decision reflects the efforts of faculty members in the Department of Counselor Education during a rigorous self-study process over the past two years, and is an assurance of quality education and training for graduate students in the field of counseling.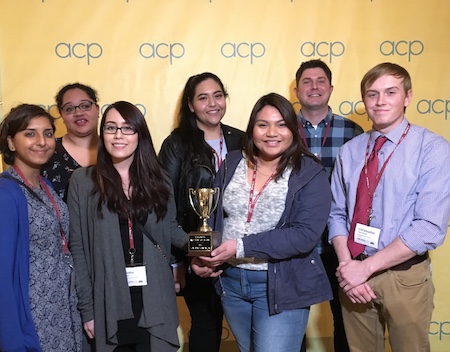 Best in Show
The Independent student newspaper won Best of Show for the Feb. 13 issue during the Associated Collegiate Press (ACP) 2018 Midwinter National College Journalism Convention in Long Beach, Calif., on March 3. Six students from The Independent attended the event. ACP recognized seven schools in the Less Than Weekly competition, with The Independent winning Best of Show for the first time since 2007.
Beekeeping on campus
The Office of Community and Professional Education launched in 2014, and it's safe to say there's a real buzz these days around the program that offers a wide variety of non-credit courses and workshops. That buzz comes in the form of a series of beekeeping classes taught by alumna Moneen Jones, founder of the Midwestern Master Beekeeper Program (MMBP). The first class, offered in February, was a near sell-out, and seats are filling up fast for the next in the series on March 31.
Early voting
As Illinois gears up for the March 20 primary election, two Northeastern locations will serve as early voting sites for Chicago residents who want to register or cast their ballots in advance. Early voting is currently underway at El Centro through March 19. Hours for El Centro voting are listed online. Early voting will also be available on the Main Campus in SU 003 from March 14-16. It will be open between 10 a.m. and 5 p.m. during all three days.
Most influential
Literacy, Leadership and Development Instructor Kristopher Newbauer was recognized as one of the "100 Most Influential Global HR Leaders" during the 26th annual World Human Resource Development Congress convened in Mumbai, India, last month. Newbauer serves as Rotary International's head of Global People and Talent. In addition to earning the award, Newbauer delivered a talk titled "Reimagining Performance Management: Improving Performance, Strengthening Relationships, and Engaging Talent Through the Power of Conversation."
And there's more!
In the media
'Wise but unhappy?'
The University of Chicago Center for Practical Wisdom published a video of Psychology Professor Masami Takahashi's talk during its August 2017 research forum. Masami's talk was titled "Wise but unhappy? The complicated relationship between wisdom and happiness." The talk will be highlighted in the center's March newsletter.
Also in the media ...
WTTW featured CAPE's new beekeeping classes.
To do
Women's Health Fair
Assistant Professor of Educational Inquiry and Curriculum Studies Kimya Barden will deliver a talk about managing transition during a Women's Health Fair on March 14 at the Carruthers Center. The talk will start at 11 a.m., and a Pilates session is scheduled for noon-1 p.m. The Women's Health Fair will also include blood pressure screening, breast cancer awareness, and HIV and cholesterol testing.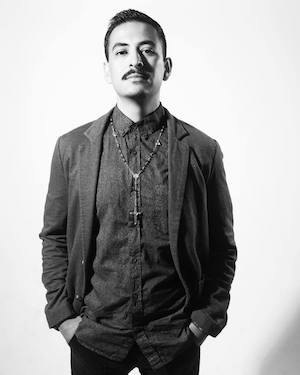 Marcelo Hernandez Castillo
Renowned poet and immigration activist Marcelo Hernandez Castillo will deliver a public talk and reading, with a Q&A session and book signing to follow, at 5 p.m. March 12 in the Pedroso Center. Earlier in the day, Hernandez Castillo will have lunch with undocumented students and conduct a student creative writing workshop. The event coincides with the annual observance of Coming Out of the Shadows on March 15.
International Business Conference
The student-run International Business Conference will take place March 12-13 in Alumni Hall. The annual conference gives an opportunity for students to learn about business on an international scale, network with students and professionals from the U.S. and abroad, and increase their knowledge and understanding of our diverse world.
Jewel Box Series
The East Pointers, with special guest Liz Carroll, will perform March 9 as part of Jewel Box Series. There's a reason—beyond their dazzling musicianship and wildly entertaining live shows—that The East Pointers have connected with audiences across the globe, making new, original roots music the hippest, most vibrant thing going. ​Fiddler/singer Tim Chaisson, banjoist Koady Chaisson and guitarist Jake Charron write about real life, sketching out its joys and sorrows in vivid strokes. That palpable authenticity makes their instrumental tunes practically cartwheel and infuses their lyric-driven songs with poignancy.
Mark your calendar!
"Thou and I" exhibition, through March 16, Fine Arts Center
"Out in the Night" screening, 9:25 a.m. March 13, Golden Eagles
Community Conversations: Fake News in the Age of Trump, 6:30 p.m. March 13, Golden Eagles
Education and Human Services Career Fair, noon-4 p.m. March 14, Alumni Hall
Pi Day Celebration, 4:30 p.m. March 14, BBH 364
Wellness Fair, 10 a.m.-3 p.m. March 15, P.E. Complex
Campus Rec Open House, March 15-7, P.E. Complex
Thursday Night Live: Lili Trifillio, 10 p.m. March 15, Student Lounge
#FollowFriday
COMMUNITY AND PROFESSIONAL EDUCATION
It's not just beekeeping! The Office of Community and Professional Education offers non-credit classes in subject areas such as professional development, business and technology, arts and culture, and test preparation. Follow along on Facebook to be the first to find out what's coming next!
Do you have a story tip? Let the public relations office know!
Mike Hines, Director of Public Relations and Web Communications, m-hines@neiu.edu, (773) 442-4240