It doesn't matter who crunches the numbers. They all come up with the same result: Northeastern Illinois University is the most diverse institution in the Midwest. Read about the latest high-profile recognition for the University's diversity, the results of two major fundraising campaigns and a research trip to Japan for a Biology professor and three of her students.
Around the Commons
The most diverse
Northeastern is the most diverse university in the Midwest, according to a new report from The Wall Street Journal/Times Higher Education College Ranking. Nationally, Northeastern ranks 22nd. "Northeastern Illinois University is proud and honored to be the most diverse institution in the Midwest," Interim President Richard Helldobler said. "Now more than ever, we must embrace our differences and learn from one another."
Giving Tuesday record
The NEIU Foundation set the goal to raise $10,000 on Giving Tuesday, and students, faculty, staff and friends responded with record generosity. With the help of a $5,000 matching pledge from alumnus A. Michael Drachler, M.D., (B.A. '68), the NEIU Foundation beat its previous Giving Tuesday record and smashed the $10,000 goal. The grand total: $18,714 in donations that will directly support Northeastern students! To celebrate, check out the thank-you video. And if you missed it, be sure to watch the original Giving Tuesday video.
Goodwin Gift Challenge success
With more than a month to spare, Northeastern has raised $500,000 in contributions to the NEIU Foundation to meet the first-year goal of the Goodwin Gift Challenge. Those philanthropic donations will be matched by Daniel L. Goodwin for a total contribution of $1 million. "When we announced the Challenge a little more than a year ago, I viewed it as an opportunity to honor my core values in partnership with a university that has been an important part of my own life and a symbol of hope, success and excellence for families in Chicago and beyond," Goodwin said. "More than 900 donors demonstrated with their generous contributions that they feel the same way. I could not be more proud."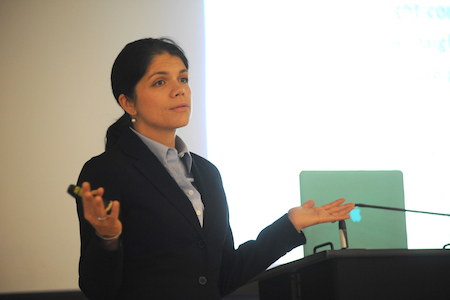 Research trip to Japan
With the assistance of a National Science Foundation research grant, Associate Professor of Biology Emina Stojkovic (pictured above delivering her Bernard J. Brommel Distinguished Research Professor talk on Nov. 29) will be joined by three Northeastern students for a visit to SACLA in Japan from Dec. 5-12 as part of an international collaborative project and meeting research groups from Sweden, Finland, Germany and the University of Wisconsin-Milwaukee. Stojkovic's team will provide the sample that will be analyzed: a protein photoreceptor from unusual and unique microorganism, myxobacteria Stigmatella aurantiaca. SACLA is the most compact X-ray Free Electron Laser facility in the world. Conducting experiments at SACLA enables the observation of living organisms and materials at the atomic level.
And there's more!
Associate Professor of Biology Emina Stojkovic co-authored a new article in Scientific Reports, "The room temperature crystal structure of a bacterial phytochrome determined by serial femtosecond crystallography."
President Obama announced his intent to appoint Phil Fuentes (B.A. '81 Business and Management, Economics) as a member of the President's Advisory Commission on Educational Excellence for Hispanics.
Interim President Richard Helldobler has signed a petition among college and university presidents calling for the United States to uphold and continue the Deferred Action for Childhood Arrivals (DACA) Program.
The College of Business and Management will host a Business Students Trade Show on Dec. 5 from 12:55-2:10 p.m. and from 7:05-8:20 p.m. in Mossadegh Servant Leaders Hall.
JGMA Architects has won a Colombian Diaspora Architecture Award for El Centro.
In the media
Polvision covered the Polish-American Heritage celebration that was hosted by Northeastern on Oct. 27.
Assistant Professor of Political Science William Adler wrote an article for Vox about President-elect Donald Trump's commonalities with President Teddy Roosevelt.
To do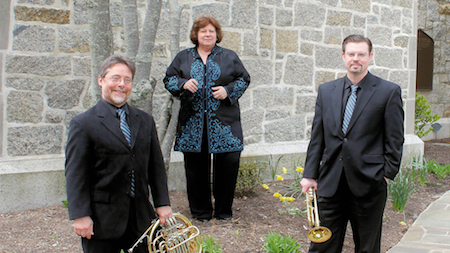 Jewel Box Series
Brass Roots Trio will present "A Winter's Eve" on Dec. 2 as part of the Jewel Box Series. Founded in 2004, Brass Roots Trio captivates audiences with breathtaking virtuosity and artistic passion. With Northeastern Associate Professor Travis Heath on trumpet, Douglas Lundeen on French horn and Rosetta Senkus Bacon on piano, the trio creates symphonic sounds that melt into sultry jazz, making three instruments sound like a small orchestra.
'Real Women Have Curves'
Stage Center Theatre has launched Josefina López's "Real Women Have Curves." Set in a tiny sewing factory in East L.A., "Real Women Have Curves" is the comedic story of five full-figured Mexican-American women who are racing to meet nearly impossible production deadlines in order to keep their tiny factory from going under. After the Dec. 2 performance, the theater will host a discussion on Latinas in Chicago theater featuring three actresses who are part of UrbanTheater Company. "Real Women Have Curves" runs Dec. 2, 3, 8 and 9 at 7:30 p.m., and Dec. 10 at 2 and 7:30 p.m.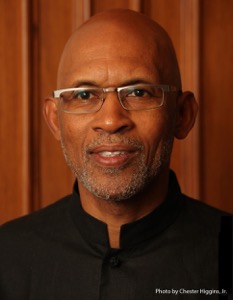 Anthony Browder lecture
Author, cultural historian and artist Anthony Browder will deliver a lecture on the ASA Restoration Project on Dec. 10 at the Carruthers Center. Browder is the founder and director of the IKG Cultural Resource Center in Washington, D.C., and has devoted 35 years to researching ancient Egyptian history, science, philosophy and culture.
Leslie Jordan stand-up
Emmy Award-winning actor and comedian Leslie Jordan will perform his stand-up at Northeastern on Dec. 8 to conclude NEIU Gives Back Week. Proceeds will benefit a new scholarship for students who belong to the LGBTQ community. In its first year, NEIU Gives Back Week is being organized by the Student Government Association and co-sponsored by Student Leadership Development, French Club, Pre-Law Society, Pride Alliance, Theta Pi Sigma, Justice Studies Club, Sociology Club, Sigma Gamma Rho, Presidential Scholars, Slam Open Mic Club and Alpha Psi Lambda.
'The Laramie Project'
The Department of Communication, Media and Theatre's Children's Theatre Workshop will stage a special performance of "The Laramie Project" at 8:30 p.m. Dec. 6 in the Stage Center Theatre. "The Laramie Project" examines the issues of class, economics, religion, education and non-traditional lifestyles through the raw responses to the 1998 killing of Matthew Shepard, a 21-year-old gay student at the University of Wyoming. The event is free and open to students, faculty and staff. For reservations, contact Ann Hartdegen at a-hartdegen@neiu.edu or (773) 442-5971.
Mark your calendar!
Student Holiday Art Sale, through Dec. 9, Fine Arts Gallery
"The Nutcracker," Dec. 3 at 7 p.m. and Dec. 4 at 1 and 5 p.m., Auditorium
Percussion Studio Showcase, 3:05 p.m. Dec. 6, Recital Hall
NEIU Chamber Singers and Chorus, 7:30 p.m. Dec. 6, Recital Hall
"Comfort & Joy" screening, 7:30 p.m. Dec. 6, Auditorium
Kwanzaa Program, noon Dec. 8, Village Square
Guitar Studio Showcase, 3:05 p.m. Dec. 8, Recital Hall
NEIU Wind Ensemble, 7:30 p.m. Dec. 8, Auditorium
Thursday Night Live: Hit School, 10 p.m. Dec. 8, Student Lounge
Commencement, 2 p.m. Dec. 11, UIC Pavilion
#FollowFriday
Stage Center Theatre
Follow Stage Center on Facebook and Twitter to get a sneak peek behind the curtain. You'll be the first to see photos and videos from rehearsal, and get all the details about upcoming productions. You'll also be the first to receive announcements about auditions and future seasons.
Do you have a story tip? Let the public relations office know!
Mike Hines, Director of Public Relations, m-hines@neiu.edu, (773) 442-4240