The underpass mural project that Northeastern Illinois University headed up near El Centro is now complete. Read more about the eye-catching work of art, an impressive new grant for the Center for College Access and Success and lots more!
Around the Commons
A grant for computational think
ing
The Center for College Access and Success, in collaboration with the University of Illinois at Chicago's Department of Educational Psychology, the Chicago Public Library and the Museum of Science and Industry, has been awarded a two-year, $898,564 grant from the National Science Foundation. The grant will fund the Assessing Computational Thinking in Maker Activities exploratory project, which seeks to study computational thinking in makerspace activities aligned with physics curricula and build tools to assess aspects of computational thinking. Developed throughout the process is a teacher protocol for instruction to elicit computational thinking skills.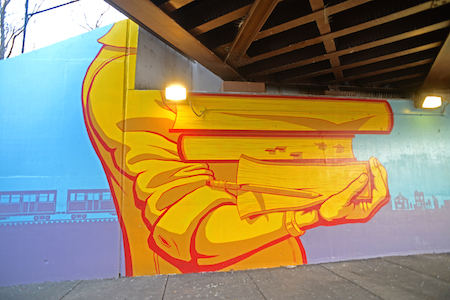 MURAL PROJECT FINISHED
The underpass mural near El Centro has been finished! Chicago artist Nick Goettling completed the project, which was co-sponsored by Northeastern, the National Museum of Mexican Art and the Puerto Rican Arts Alliance. It uses iconic imagery to communicate a peoples' history and features two mirroring designs.
Hunger and Homelessness Awareness Week
The Office of Student Leadership Development will host Hunger and Homelessness Awareness Week from Nov. 16 through Nov. 21. The office has planned a letter-writing campaign, a "hunger banquet" and is encouraging students to fast and then donate the money they save to charity. Volunteers also will deliver food to low-income families, families in crisis and senior citizens on Nov. 21. Donations of $40 will provide a local family in need with all the components of a Thanksgiving meal. Download the donation form online.
Citizenship workshop
Chicago Alderman Carlos Ramirez-Rosa and Congressman Luis V. Gutierrez will hold a daylong citizenship workshop and information session on immigration at El Centro on Nov. 16. Next week marks the first anniversary of President Barack Obama's executive actions on immigration, which have been partially blocked by a lawsuit in federal court.
And there's more!
Northeastern will host a One Stop Enrollment Express event on the Main Campus on Nov. 18. Departments from across the University will come together to help students prepare for the spring 2016 semester.
Daniel L. Goodwin, who recently made a historic matching pledge of $2.5 million to Northeastern, has received the Lifetime Achievement Award from the Investment Program Association.
The Department of Justice Studies and Women's Resource Center will host a panel discussion about harassment and threats against women in the world of online video gaming on Nov. 24.
The Special Olympics of Illinois will host a regional floor hockey tournament in the P.E. Complex on Nov. 14.
Dean of Libraries Carlos Melian gave a presentation on Nov. 13 at the Consortium of Academic and Research Libraries in Illinois annual meeting in Champaign titled "A Vision for Online Academic Library Cooperation in Illinois, Past and Present."
A ribbon-cutting ceremony for the expansion of the Pedroso Center for Diversity and Intercultural Affairs has been scheduled for 1:30 p.m. Nov. 30.
Pedroso Center Interim Executive Director Maria Genao-Homs and Student Disability Services Director Doug Lawson presented "The (Dis)ability Project: Creating a Welcoming Campus for All Learners" at the NASPA IV-East Regional Conference on Nov. 8-10 in Schaumburg.
The Undocumented Student Project presented Nov. 12-13 at the University of Wisconsin-Milwaukee and will present Nov. 16-17 at the Educational Opportunity Association Professional Conference in Grand Rapids, Mich.
In the media
Debate over teacher testing
Daniel L. Goodwin College of Education faculty members Alison Dover, Brian Schultz, Katy Smith and Tim Duggan are gaining national attention for their research on the new Education Teacher Performance Assessment test. The latest evidence: Their work was cited in a Huffington Post story about the controversy over the new test.
Also in the media ...
To do
NEIU Alumni: All Access
Writer, producer and film director Carlos Jiménez Flores will return to Northeastern on Dec. 1 to deliver a lecture and screen his newest film, "Mi Princesa," which was released earlier this year, as part of the NEIU Alumni: All Access series. Flores (B.A. '06 Human Resource Development) is the first Puerto Rican director to have two films theatrically released in the same year. In total, he has finished nine feature films and is currently working on three more.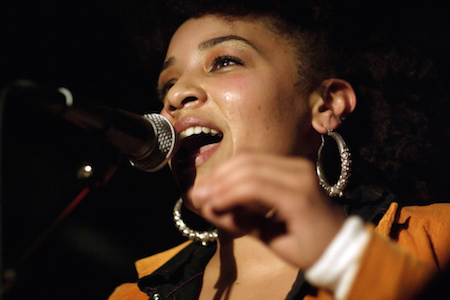 Visiting Writers Series
"TwERK" author LaTasha N. Nevada Diggs will read from and sign her book of poems on Nov. 17 as part of the Visiting Writers Series. Diggs is also the author of several chapbooks, as well as the album "Television" (2003).
Mark your calendar!
"Wealth," Nov. 13, 14, 19 and 20 at 7:30 p.m. and Nov. 21 at 2 p.m. and 7:30 p.m.
Rose Sperrazza and Guest Artists, 7:30 p.m. Nov. 13, Recital Hall
Student Dance Concert, 8 p.m. Nov. 13, Auditorium
Birth Rights in America debate, 3:30 p.m. Nov. 16, Golden Eagles
Pandora's Box: Healthy Relationships, 1:40 p.m. Nov. 17, Pedroso Center
Brass Showcase, 3:05 p.m. Nov. 17, Recital Hall
Chemistry Capstone Seminar Series: John Albazi, 7 p.m. Nov. 17, BBH 102
Songwriters Showcase, 7:30 p.m. Nov. 17, Auditorium
Woodwind Showcase, 7:30 p.m. Nov. 18, Recital Hall
Biology Department Fall Plant Sale, 10 a.m.-4 p.m. Nov. 19, Village Square
Trans Day of Remembrance Ceremony, noon Nov. 19, Pedroso Center
String Showcase, 3:05 p.m. Nov. 19, Recital Hall
Thursday Night Live, 10 p.m. Nov. 19, Student Lounge
Show Closing Reception, 6 p.m. Nov. 20, Fine Arts Gallery
MUNTU Dance Theatre of Chicago performance, 6 p.m. Nov. 20, Carruthers Center
Jewel Box Series: Josué Tacoronte with Ensemble Español ($17.50/$25), 7:30 p.m. Nov. 20, Recital Hall
NEIU Opera Workshop Fall Scene Recital, 7:30 p.m. Nov. 20 and Nov. 21, Auditorium
#FollowFriday
Meet The Nest
Thinking about student housing at Northeastern? Let the Nest at Northeastern tell you all about the benefits and conveniences of living at Northeastern Illinois University. Find and follow them on Facebook, Instagram and Twitter for construction updates and application information.
Do you have a story tip? Let the public relations office know!
Mike Hines, Director of Public Relations, m-hines@neiu.edu, (773) 442-4240