Labor Day weekend has arrived! You can use your extra free time to read about the fall season of films, an educational trip to Peru, college advice from a rock star and plenty more.
Around the Commons
Fall schedule of films
The Northwest Chicago Film Society has announced its fall lineup of films that will be shown beginning Sept. 7 on the Main Campus. Similar to the spring screenings, there will be a silent film ("The Silent Enemy") with live accompaniment on Sept. 28.
Reflections: Part 5
The presidency has changed in a number of ways during the decade that Sharon Hahs has led the University. Interim President Richard Helldobler asks her to elaborate on that in this week's installment of videos reflecting Hahs' decade as Northeastern's president.
To Peru and back
The TRIO Upward Bound Math and Science program that is housed in the Center for College Access and Success recently returned from a trip with five local high school students to the International STEM Academy in Lima, Peru. During their time in Peru, the students delivered hands-on Science, Technology, Engineering and Mathematics (STEM) activities to Peruvian students and led workshop sessions. They also traveled to Machu Picchu and interacted with indigenous students through underwater robotics activities.
Rock your way to the top
If you ask Michael Angelo Batio about achieving success, he'll tell you it boils down to one thing: choosing to finish. And he would know. Batio, who finished his bachelor's degree in Music from Northeastern in 1979, has gone on to a long career as a celebrated guitarist. But that's not all: He is the inventor of the V-shaped Twin Double-Guitar and the four-necked Quad Guitar. He is internationally recognized as one of the world's top "shred" guitarists. And one of his Dean Double-Guitars was inducted into the Rock and Roll Hall of Fame in 2012. "There's the old Nike commercial that said, 'Just Do It.' I like it. 'Just Do It!' " he said.  "It sounds good, but I'm not exactly a firm believer in just doing something. I have a different way. Here's the Michael Angelo Batio modified version: 'Just Finish It.' "
And there's more!
The University will be closed on Monday, Sept. 5, in observance of Labor Day.
Northeastern students and employees are encouraged to sign up for N-Safe, the University's new and enhanced emergency notification system.
Department of Earth Science Professors Ken Voglesonger, Jean Hemzacek and Laura Sanders published a paper, "The Muddy Waters Environmental Geology Course," in the summer edition of Science Education & Civic Engagement: An International Journal.
The grand opening and ribbon-cutting ceremony for the new Math Community Center is scheduled for 2 p.m. on Sept. 7 in BBH 364.
Professor of Educational Leadership and Development Ana Gil-Garcia will be the Nokia-US Hispanic Heritage Month keynote speaker during the opening ceremony on Sept. 8.
The Golden Eagles Nest cafeteria in the Student Union now serves breakfast daily, from 7:30-10 a.m. on Monday through Friday. It is also now open from 10 a.m.-4 p.m. on weekends.
In the media
Back from Spain
Ensemble Español has returned from its first tour of Spain, where the dance company garnered plenty of media attention for its work presenting, preserving and promoting Spanish dance in the United States for the past 40 years. The tour was covered by El Mundo, Europa Press, Madrid Actual and El Buzon, to name just a few news outlets that took interest in the company.
Spotlight on Uzbekistan
When speculation arose about the death of Uzbekistan President Islam Karimov, WBEZ's "Worldview" program invited Anthropology Professor Russell Zanca to talk about the topic. "There's a high probability that he's died," Zanca said. "It's not certain, obviously, but some of the really prominent opposition websites have said that he died, and they've been very specific about the time he died." Zanca also addressed the status of the country, the region, and possible successors.
Also in the media ...
To do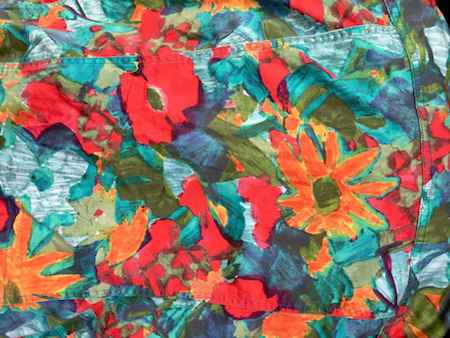 Alzheimer's and art
The Department of Psychology and the Gerontology program will host "Mainly Markers" from Sept. 7-21 in the Ronald Williams Library Gallery. "Mainly Markers" showcases the artwork of the late Betty Z., who lived with Alzheimer's disease before her death earlier this year. The exhibit is curated by Betty's daughter and Northeastern alumna Val McCune and is meant to raise awareness that September is World Alzheimer's Month.
Kosciuszko Foundation Lecture
The Department of World Languages and Cultures and the Polish and European Academic Center for Exchange & Research will host the Kosciuszko Foundation (KF) Lecture, "News from the Regenerative Medicine," by KF fellow Anna Domaszewska-Szostek of the Department of Human Epigenetics, Mossakowski Medical Research Centre, Polish Academy of Sciences in Warsaw, Poland. The event, scheduled for 7 p.m. Sept. 8 in Student Union Room 214, is free and open to the public.
Mark your calendar!
Jeffrey Abt exhibition, through Sept. 16, Fine Arts Gallery
Student Involvement Fair, noon-4 p.m. Sept. 6, University Commons
Student Involvement Fair, noon-4 p.m. Sept. 7, University Commons
Pedroso Center Open House, 2-3:30 p.m. Sept. 7, Pedroso Center
Trivia Night, 6 p.m. Sept. 7, University Commons
"Sweetie" screening, 7:30 p.m. Sept. 7, Auditorium
Greek Life fair, noon-7 p.m. Sept. 8, University Commons
Meet the Media Night, 5:30 p.m. Sept. 8, Student Lounge
Thursday Night Live: Old Style Rascals, 10 p.m. Sept. 8, Student Lounge
#FollowFriday
NEIU on Instagram
Story time! We've been exploring Instagram's new Story feature this week. Check us out at @NEIUlife, but don't wait! Stories disappear after 24 hours. 
Do you have a story tip? Let the public relations office know!
Mike Hines, Director of Public Relations, m-hines@neiu.edu, (773) 442-4240