For the first time in its history, Northeastern Illinois University has named a college. Read more about the official Daniel L. Goodwin dedication, rally and fundraising challenge. Plus, the University announced a new endorsement program, hosted a speech by the Rev. Jesse Jackson Sr. and lots more!
Around the Commons
A reason to celebrate
In recognition of Daniel L. Goodwin's extraordinary philanthropic support and leadership, Northeastern officially dedicated the Daniel L. Goodwin College of Education and launched the Goodwin Gift Challenge during a rally in Alumni Hall. "This is an historic day," President Sharon Hahs said. "This is the day we declare a new name for Northeastern's oldest academic program. And we do this in recognition of an act of philanthropy that changes the future for the College and for our University."
A visit from Rev. Jesse Jackson Sr.
Civil rights activist and Rainbow PUSH Coalition President Rev. Jesse Jackson Sr. urged voter registration and participation—particularly among the student population—during Jan. 25 speech in Alumni Hall. Jackson's speech came as the state's public universities approach their eighth month without an appropriation. "Those of you who are not registered to vote have nothing to say," Jackson said to the standing-room-only audience. The event was attended by the Sun-Times, Univision and WGN.
Gifted Teacher Endorsement
Beginning in the summer of 2016, the Department of Special Education in the Daniel L. Goodwin College of Education will offer a Gifted Teacher Endorsement to students pursuing a Master of Arts in Gifted Education. Northeastern is the state's first university to offer the endorsement.
Illinois Coalition to Invest in Higher Education
Northeastern has joined the Illinois Coalition to Invest in Higher Education, which last week hosted a news conference in Springfield to outline what's at stake in the ongoing funding stalemate and how that is affecting and will affect campuses around the state. The Coalition is a collection of business, labor and organizations representing public and private colleges and universities coming together to urge immediate action.
America's Urban Campus
Northeastern is one of 20 colleges and universities to establish America's Urban Campus to collaborate on a range of initiatives and investigate the economic, educational and cultural impact of Chicago's higher education systems.
And there's more!
Northeastern will host free FAFSA Completion Challenge events from 5-6:30 p.m. Feb. 3 at the Carruthers Center and from 10 a.m.-2 p.m. Feb. 6 on the Main Campus.
Northeastern will host the DREAMers Resource Conference on the Main Campus on Jan. 30.
The video of Northeastern alumna and Chicago Teachers Union President Karen Lewis' keynote speech for the University's annual tribute to Dr. Martin Luther King Jr. is now on YouTube.
In the media
More with Rev. Jesse Jackson Sr.
After Monday's speech at Northeastern, the Rev. Jesse Jackson Sr. invited the Northeastern community to attend "The Rainbow PUSH Saturday Morning Forum" from 10-11 a.m. on Jan. 30. The program will be dedicated to discussing the state's funding issues within the context of higher education, and Provost Richard J. Helldobler and Student Government Association President Nicholas Martinez will be speakers. Northeastern will organize a bus ride for students, faculty and staff from the Main Campus to the event and back, or you can watch the program live online.
Pairing youth with veterans
Eddie Bocanegra (B.A. '12 Social Work) has earned national attention for his innovative program, Urban Warriors, that connects at-risk Chicago teens with combat veterans to help deal with their stresses. This week, NPR's "All Things Considered" featured Bocanegra and his program. "Kids identify themselves as soldiers, because they live in war zone communities," Bocanegra told NPR. "They make the parallels between, veterans, you know, carry guns, we carry guns. They got ranks, we got ranks. They got their Army uniforms, we got our gang colors. And the list went on and on."
Also in the media ...
WFMT (98.7-FM) will feature Ensemble Español during the 5-6 p.m. hour on Jan. 30 as part of its Arts Month programming.
The Examiner previewed the Feb. 19 performance by Irish-American band Solas as part of Northeastern's Jewel Box Series.
To do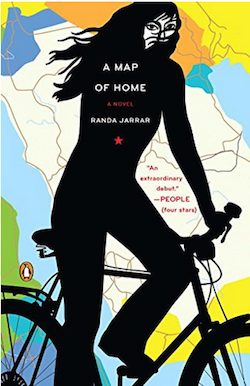 Visiting Writers Series
Randa Jarrar will read from and sign her debut novel, "A Map of Home," on Feb. 4 as part of the Visiting Writers Series. Jarrar is an award-winning novelist, short story writer, essayist and translator who grew up in Kuwait and Egypt, and moved to the U.S. after the Gulf War. Her work has appeared in the New York Times Magazine, the Utne Reader and Salon.com, among other publications.
Student Success Week
The Student Advisory Council of the College of Business and Management will host Student Success Week on the Main Campus from Feb. 1-5. The week will feature a Dress for Success Fashion Show, a prominent speaker and the annual etiquette gala.
Mark your calendar!
#FollowFriday
Daniel L. Goodwin College of Education
What's a newly renamed college without a spiffy Facebook page to go with it? Be sure to follow the Daniel L. Goodwin College of Education to stay in the loop on all of the College's events, photos, news and more!
Do you have a story tip? Let the public relations office know!
Mike Hines, Director of Public Relations, m-hines@neiu.edu, (773) 442-4240