Northeastern Illinois University's week took on an international feel with the publication of a faculty member's book on archaeology in Mexico and a visit from a former U.S. ambassador to Ireland. Read those stories and more—including details on Food Truck Fridays!—in Noteworthy at Northeastern.
Around the Commons
A special guest lecture
The Department of Economics hosted former U.S. Ambassador to Ireland James Kenny (pictured above) for a guest lecture on Oct. 18. Kenny shared his experiences working on trade agreements with multinationals such as Intel and Apple in Ireland, diplomatic relations with Libya and Cyprus, and working on political campaigns at the state and national levels in the U.S.  He also shared his thoughts from the front line on Brexit, the European Union and the critical importance of effective global institutions.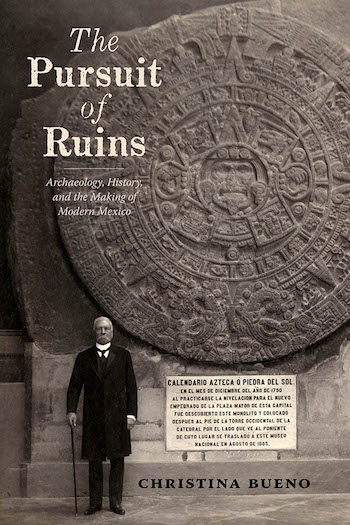 'The Pursuit of Ruins'
Associate Professor of History and Latino/Latin American Studies Christina Bueno has published her first book, "The Pursuit of Ruins: Archaeology, History, and the Making of Modern Mexico." Based on years of archival research, "The Pursuit of Ruins" examines the archaeological project carried out under the dictatorship of Porfirio Diaz and underscores the contradictory place of indigenous identity in modern Mexico. It also looks at how this project affected the Indians who lived near the ruins.
NETT Day
Northeastern will host the seventh annual NETT Day on Oct. 27. NETT Day celebrates technology, the ways in which we interact with it, and how we use it to improve society. The keynote speakers will be Gustavo Pospischel from Sears Holdings Corporation, Emily Graslie from The Field Musuem, and Ann Kalayil from the General Services Administration's Great Lakes Region.
Listening to and Learning From Students
Brian Schultz, professor and chair of the Department of Educational Inquiry and Curriculum Studies, will deliver a lecture titled "Of Kids and Cokes: Theorizing about Listening to and Learning from Students" at 4:15 p.m. Oct. 25 in the Golden Eagles Room. The lecture is part of Schultz's award for the 2016 Bernard J. Brommel Distinguished Research Professor Award, presented annually to a tenured or tenure-track member of the faculty who best demonstrates excellence in research and scholarship.
Day of the Dead fundraiser
The Department of Social Work will host a Day of the Dead activity and silent auction to raise funds for Imago Dei, a youth gang prevention program in the Little Village community. The teens from the program will auction their artwork, and there will be raffles. All proceeds go to the organization. The opening night activity will take place from 6-9 p.m. Oct. 26. The event is co-sponsored by El Centro and the Alliance for Student Social Workers. Day of the Dead altars will remain on display until Nov. 15.
And there's more!
Northeastern will host its Fall Open House for prospective students on Oct. 26.
Ensemble Español will perform in the Flamenco Without Borders Festival on Oct. 29.
World Languages and Cultures Instructor Jeong Soon Lee will represent Northeastern at Korea High School Day at Taft High School in Chicago on Oct. 22. Lee will deliver a lecture about Korean culture and literature.
In the media
The University Herald highlighted El Centro in a story about innovative architecture at Chicago's universities.
WAND-TV reported that Assistant Professor of Social Work Aimee Hilado will participate in a panel discussion about the role of conversation in early childhood development on Oct. 21.
DNAinfo Chicago reported on the launch of Food Truck Fridays.
To do
Food Truck Fridays
In partnership with neighbors and the Hollywood-North Park Community Association, Northeastern is making space available for Food Truck Fridays at NEIU from 4-6 p.m. Oct. 21. Trucks will be located in Lot D of the Main Campus along Bryn Mawr Avenue. Food trucks from Aztec Dave's and Porkchop will be on hand this week.
Our Chance to Dance
Ensemble Español Spanish Dance Youth Company will perform in the Our Chance to Dance Youth Festival on Nov. 5 in the Auditorium. The concert program will feature performances by local dance companies ChiArts, Chicago Lights Dance Academy, Kuumba Lynx and Move Me Soul.
Mark your calendar!
PHILADANCO, 7:30 p.m. Oct. 21, Auditorium
Tyler Bohm exhition, Oct. 24 through Nov. 18, Fine Arts Gallery
Woodwind Ensemble Competition, 3 p.m. Oct. 22, Auditorium
Tyler Bohm artist talk and reception, 3-6 p.m. Oct. 25, Fine Arts Gallery
NEIU Jazz Combo, 3:05 p.m. Oct. 25, Recital Hall
"The Velvet Vampire" screening, 7:30 p.m. Oct. 25, Auditorium
"Gun Hill Road" screening, 1 p.m. Oct. 26, Pedroso Center
"In the Game" screening, 6 p.m. Oct. 26, El Centro
Las Comadres womyn's group, noon Oct. 27, Pedroso Center
Math Open House, 12:30-4 p.m. Oct. 27, BBH 364
Underground Politics of Housing in Chicago discussion, 1:40 p.m. Oct. 27, Pedroso Center
Guitar Studio Showcase, 3:05 p.m. Oct. 27, Recital Hall
Alumni Association Open House Tailgate, 4-7 p.m. Oct. 27, Building I
Thursday Night Live: Jason Wayne Sneed, 10 p.m. Oct. 27, Student Lounge
Senior Piano Recital, 7:30 p.m. Oct. 28, Recital Hall
#FollowFriday
NEIU Undergraduate Admissions
Thinking about applying to Northeastern? Follow the Office of Undergraduate Admissions Facebook page for enrollment information and special events like the Oct. 26 Open House! All are welcome; invite your friends!
Do you have a story tip? Let the public relations office know!
Mike Hines, Director of Public Relations, m-hines@neiu.edu, (773) 442-4240