One of Northeastern Illinois University's most high-profile alums returned to the University to deliver the keynote speech for the annual Rev. Dr. Martin Luther King Jr. tribute. Read more about the Chicago Teachers Union president's appearance and plan for next week's official dedication ceremony of the Daniel L. Goodwin College of Education in this edition of Noteworthy at Northeastern.
Around the Commons
'Be a change agent'
Alumna and Chicago Teachers Union President Karen Lewis (M.A. '93 Inner City Studies) issued that challenge as she delivered the keynote speech during the University's "The Meaning of Social Justice" tribute to Martin Luther King Jr. "In celebrating the life of Rev. Dr. Martin Luther King Jr., it is also fitting that we ask ourselves the reflective question: What does social justice mean to me?" she said.
Goodwin College dedication
The Daniel L. Goodwin College of Education will be officially dedicated at a ceremony in Alumni Hall on Jan. 26 at 3 p.m. In a University first, the College was named for Goodwin in recognition of his extraordinary philanthropic support and leadership. In October 2015, Goodwin made a historic matching pledge of $2.5 million to Northeastern. The Goodwin Gift Challenge seeks to match gifts made to the University in 2016, 2017 and 2018, up to $500,000 per year. This event is free and open to students, faculty, alumni, staff and friends.
And there's more!
In the media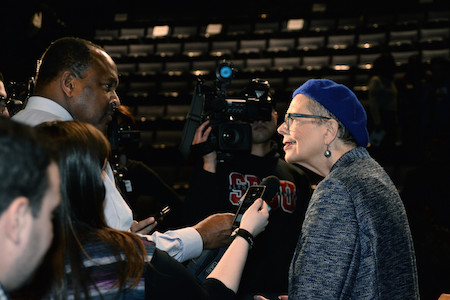 More from Karen Lewis
As one of the most high-profile figures in Illinois politics, Karen Lewis always attracts a crowd. The Chicago Tribune, CBS Chicago, DNAinfo Chicago, Univision and more attended her speech and followed up with questions about the turmoil over control of the Chicago Public Schools. Before the event, DNAinfo Chicago and the Chicago Tribune published stories publicizing her appearance at Northeastern.
Also in the media ...
The Chicago Tribune published a story announcing that Slava Elkin (M.A. '03 English) has been elected to partnership at Marshall, Gerstein & Borun LLP.
Crain's Chicago Business listed the Northwest Chicago Film Society's Jan. 27 screening of "Moontide" among its top cultural picks for the week.
The Chicago Tribune listed the Jan. 22 Jewel Box Series performance by Kontras String Quartet among its recommended classical music concerts.
To do
Wade Nobles book lecture
Wade Nobles, professor emeritus in Africana Studies and Black Psychology at San Francisco State University, will lecture on his new book, "The Island of Memes: Haiti's Unfinished Revolution," on Jan. 22 at the Carruthers Center for Inner City Studies.
Mark your calendar!
#FollowFriday
Attention all students!
Are you a student? Are you following NEIU Students on Facebook? Get all of the information you need—from resources to recreation—on the Facebook page that is for and about Northeastern's students.
Do you have a story tip? Let the public relations office know!
Mike Hines, Director of Public Relations, m-hines@neiu.edu, (773) 442-4240