Under a cloudless sky, Northeastern Illinois University inaugurated Gloria J. Gibson as its seventh president on Thursday. Read about the celebration, the University's latest U.S. News & World Report rankings and much more in this week's edition of Noteworthy at Northeastern.
Around the Commons
'Northeastern embodies our hope for the future'
Before a crowd of more than 600 people, Gloria J. Gibson declared an unwavering commitment to the future of Northeastern during an Inauguration Ceremony that took place on the University Commons. "I pledge to you to do everything that I can to create impactful pathways to the brightest future possible for Northeastern and for our students," Gibson told the crowd of students, faculty, staff, visiting dignitaries, family and community members. "We all recognize that Northeastern embodies our hope for the future."
Another top ranking
Northeastern graduates its students with the least amount of student debt among Midwest regional universities, according to the 2019 edition of U.S. News & World Report's annual "Best Colleges" publication. The report also showed Northeastern in a tie for second for diverse student population among Midwest regional universities. This marks the fifth year in a row that Northeastern has earned the No. 1 spot for students who graduate with the least amount of debt among Midwest regional universities.
Illinois Ed Prep Impact Network
Daniel L. Goodwin College of Education Dean Sandra Beyda-Lorie is one of five Illinois education deans who have launched the Illinois Ed Prep Impact Network. Facilitated by Deans for Impact, the network addresses a need identified by the state's school superintendents and the Illinois State Board of Education to ensure that every child has access to effective teachers. "As a Hispanic-Serving university, we are very excited to participate in this effort to improve the readiness of our teacher candidates for culturally diverse schools and contexts," Beyda-Lorie said.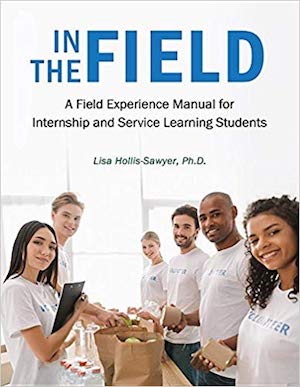 A guide for students in the field
Associate Professor of Psychology Lisa Hollis-Sawyer has written a book that provides students with practical advice for preparing and conducting on-site field training in a variety of applied professions. "In the Field: A Field Experience Manual for Internship and Service Learning Students" was published in March by Academic Publishers. The book offers students weekly learning goals, case studies, informational asides, exercises and discussion questions to engage them throughout their internship or service-learning placement.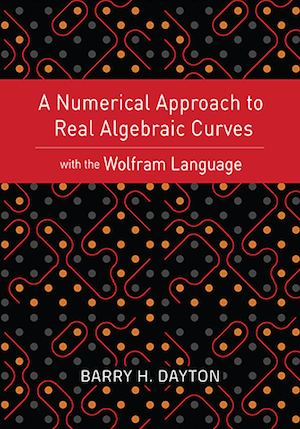 'A Numerical Approach'
Professor Emeritus of Mathematics Barry Dayton has published a book titled "A Numerical Approach to Real Algebraic Curves With the Wolfram Language." Bridging the gap between the sophisticated topic of real algebraic curve theory and on-the-spot computation and visualization of real algebraic curves, Dayton uses the Wolfram Language to explore and analyze real curves that often do not have rational points on them. The book is intended for those with some understanding of calculus and partial derivatives and with basic knowledge of the Wolfram Language.
And there's more!
In the media
A visit from an Olympic champion
Jackie Joyner-Kersee was the latest speaker in the Daniel L. Goodwin Distinguished Lecture Series, and she sat down for an interview with WTTW's "Chicago Tonight" before taking the Auditorium stage. Joyner-Kersee talked about women's sport and her foundation's work with children. Asked about teaching kids the lessons of overcoming life's hurdles, Joyner-Kersee said, "You've got to stay true to who you are. To me, that's very important, to always elevate."
To do
'Retrospective'
At 91 years old, Professor Emeritus of Art Leopold Segedin will open his latest art exhibition on Sept. 15 at Rare Nest Gallery in Chicago. Titled "Retrospective," the exhibition will share more than 40 works spanning seven decades. "The dream-like settings of Leo's work evoke vernacular Chicago architecture—streetscapes and train stations of Chicago's west side from the 1930s to the present," according to the gallery. Segedin also is on the verge of releasing a book titled "Leopold Segedin: A Habit of Art." The book addresses his remarkable life through his own words and from more than 100 works of art. The book includes an essay by historian David M. Sokol and an introduction by writer/publisher Richard Cahan.
ChicagoCHEC Community Forum
Northeastern will participate in the Chicago Cancer Health Equity Collaborative's (ChicagoCHEC) Third Annual Community Forum, "Healing Together: From Surviving to Thriving," on Sept. 21. The keynote speaker will be University of Chicago Assistant Professor of Medicine Sonia Kupfer. ChicagoCHEC is a National Cancer Institute comprehensive cancer partnership led by the Robert H. Lurie Comprehensive Cancer Center of Northwestern University, Northeastern Illinois University, and the University of Illinois at Chicago.
Mark your calendar!
#FollowFriday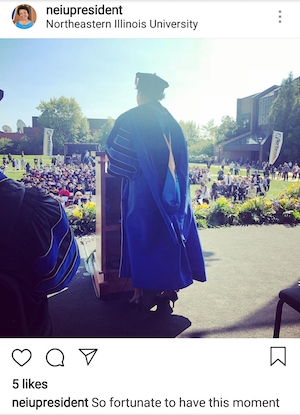 President on Instagram
Look who's on Instagram! Follow President Gloria J. Gibson's journey at Northeastern through her @neiupresident account.
Do you have a story tip? Let the Office of Public Relations know!
Mike Hines, Director of Strategic Communications, m-hines@neiu.edu, (773) 442-4240