The WNBA's Chicago Sky honored a Northeastern Illinois University Social Work major during a recent game. Read about U.S. Navy veteran Stephen Joseph's game experience and background, the newest group of faculty members to earn tenure and much more in Noteworthy at Northeastern.
Around the Commons
'A heartfelt moment'
Social Work major Stephen Joseph was selected to be honored during a Chicago Sky WNBA game on June 3 for his 20 years of service to the U.S. Navy and his outstanding work as a Northeastern student. During a fourth-quarter break in the game, the team escorted Joseph onto the court and presented him with a plaque in front of the more than 5,000 fans in attendance. "The whole crowd just started cheering," Joseph (pictured above with Sky Guy) said. "I'd never experienced anything like that before. The biggest thing for us as veterans is hearing someone say thank you. This was a thank you. It was a really heartfelt moment for all of us." Read about Joseph's service and his plans to use his degree to help fellow veterans and their families.
Newly tenured faculty members
Northeastern has awarded tenure and promotions to associate professor for 11 members of the faculty, who were introduced during the June 14 Board of Trustees meeting. "I congratulate the newest members of our faculty to earn tenure," Acting Provost Wamucii Njogu said. "This accomplishment recognizes their value as teachers, researchers, mentors and role models for Northeastern's current and future students—and also builds on Northeastern's tradition of teaching and research excellence."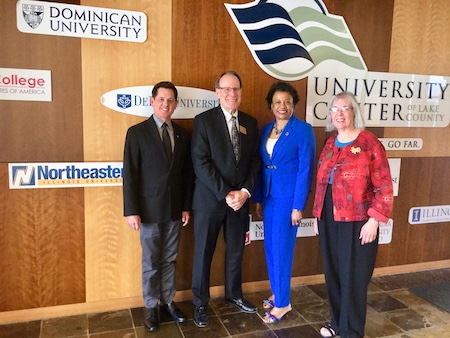 Master of Public Health approval
The Illinois Board of Higher Education approved a Master of Public Health program for Northeastern during its June 6 meeting at the University Center of Lake County (UCLC), where Northeastern offers number of undergrad and graduate courses. Northeastern President Gloria J. Gibson received a warm welcome at her first IBHE meeting. She is pictured above (left to right) with Shayne Cofer, NEIU-UCLC representative; Gary Grace, UCLC dean; and Hillary Ward Schnadt, UCLC associate dean.
And there's more!
In the media
Shanghai Cooperation Organization Summit commentary
As part of its coverage of China's Shanghai Cooperation Organization (SCO) Summit in Qingdao, the China Global Television Network invited Anthropology Professor Russell Zanca to join a panel discussion about the summit's takeaways. "The lion's share of security to this point with the SCO has been more or less handled by Russia in terms of Central Asia," Zanca said. "So what we're going to be looking forward to in the future is more coordination between countries like Pakistan, India, China and Russia, to say nothing of the Central Asian countries themselves being able to handle more of their own security." The SCO's mission, in part, is to strengthen trust among member states and promote cooperation in politics, trade, research, education and other areas.
Behind the scenes
As Ensemble Español prepares for this weekend's Flamenco Passion: A Tribute to Jose Greco's 100th Anniversary performances, WTTW's "Chicago Tonight" went behind the scenes of the dance company. Artistic Director Irma Suarez Ruiz was asked about the Ensemble's 2016 visit to Spain. "Spain loved Ensemble Español," she told "Chicago Tonight." "You would think that going to Spain, how are they going to receive us when they are the pillars of Spanish dance? Yet here we have an American company going to Spain to show them what we do. Well, we blew them away."
Also in the media ...
To do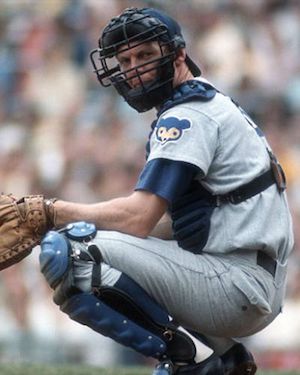 Kane Scholarship Golf Event speaker
Legendary Chicago Cubs catcher Randy Hundley will be the featured speaker during the 46th Annual Chuck Kane Scholarship Golf Event. Northeastern's longest-running fundraiser will take place on June 18 at Chevy Chase Country Club in Wheeling. Nicknamed "The Rebel," Hundley was the field general for the Cubs under manager Leo Durocher and became one of the game's biggest stars with his durability, leadership and skills behind the plate. This year's golf event includes 18 holes of golf, lunch on the course, Hole-in-One and other contests, cocktail hour after play, and a silent auction and dinner program featuring Hundley. Guests can attend the all-day festivities for $200 per person, golf and lunch for $135 or dinner for $75.
American Spanish Dance & Music Festival
Ensemble Español's popular live dance and music performances return to the North Shore Center for the Performing Arts with Flamenco Passion: A Tribute to Jose Greco's 100th Anniversary from June 15-17. These performances are part of the company's 2018 American Spanish Dance & Music Festival, exploring the theme Jose Greco: An American Immigrant in Spain. The Festival, now in its 42nd year, features performances, concerts, classes, seminars and lectures showcasing the elegance and passion of Spain's dance, music and culture.
High School Band Camp
The Department of Music and Dance will host its first Summer High School Band Camp from July 22-27. Northeastern faculty, staff, students and alumni will work together to provide a weeklong day camp with a spectacular experience. Registrants may use promo code BCscholar100 to receive a full tuition scholarship. The University community is invited to the camp's final concert at 5 p.m. July 27 in the Auditorium.
Mark your calendar!
#FollowFriday
FOLLOW THE COLLEGES
What's going on in the Daniel L. Goodwin College of Education, the College of Arts and Sciences and the College of Business and Management? Stay up to date on events and opportunities by following one or more on Facebook.
Do you have a story tip? Let the public relations office know!
Mike Hines, Director of Public Relations and Web Communications, m-hines@neiu.edu, (773) 442-4240