Phew! The first week of the fall semester is in the books ... and there's lots more where that came from. Check out the news of the week, plus all of the activities scheduled for next week!
Around the Commons
One book
The Ronald Williams Library is supporting the College of Business and Management's One Book Per Semester initiative during the fall 2015 semester. This semester's book is "Drive: The Surprising Truth About What Motivates Us," by Daniel H. Pink. The book is on two-hour reserve at the circulation desk on the north side of the library's first floor.
Learn in the city
Northeastern has released a sleek new video. Through interviews with a number of faculty members, students and alumni, the video highlights Northeastern's diversity, affordability, welcoming environment and, of course, quality of education.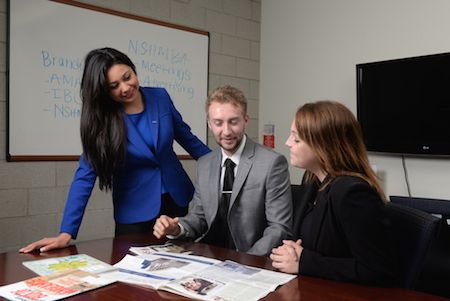 Meet Alicia Mendoza
To reach her dream job, Alicia Mendoza is thriving as a senior Marketing major at Northeastern, where she has become a student leader and academic all-star. She was elected to serve as the first president of Northeastern's National Society of Hispanic MBAs undergraduate chapter. She is also involved in the Student Advisory Council of the College of Business and Management, serves as president of the American Marketing Association student chapter and has worked with the annual, student-run International Business Conference.
And there's more!
Northeastern will be closed Sept. 7 in observance of Labor Day.
In the media
Preserving an art form
Is film dead at the movies? Absolutely not. Chicago Tribune movie critic Michael Phillips visited a Northwest Chicago Film Society screening in Northeastern's Auditorium in August and found the traditional form of film projection has staying power.
Is the stock market important?
WTTW's "Chicago Tonight" hosted Economics Professor Emeritus Edward Stuart to talk about the world economy. After hearing Stuart say the stock market, which had just experienced a severe drop, "isn't that important," Chicago Tribune columnist Mary Schmich contacted him to explain.
Also in the media ...
To do
Dancing in Grant Park
Ensemble Español Artistic Director and Northeastern Spanish dance instructor Irma Suarez Ruiz will teach a Flamenco Rumba class Aug. 29 for Chicago SummerDance at Spirit of Music Garden in Grant Park. The class will be followed by a performance by company dancer and Northeastern alumna Leticia Aravena.
Let it rock!
Internationally renowned guitarist, inventor and Northeastern alumnus Michael Angelo Batio will return to his alma mater to deliver a free lecture and demonstration that will cover his musical success, life lessons and, of course, his famous Double-Guitar. The event is scheduled for 3 p.m. on Sept. 1 in the Auditorium.
Movies for fall
The Northwest Chicago Film Society (NWCFS) has announced its fall slate of movies that will be shown on Northeastern's Main Campus. The Nov. 4 screening of "Cooley High" is part of Chicago Artists Month, the 20th annual celebration of Chicago's vibrant art community presented by the Chicago Department of Cultural Affairs and Special Events. The schedule also includes a silent film with live accompaniment and a film that will be introduced by a Northeastern faculty member. DNAinfo Chicago published a story about the new season.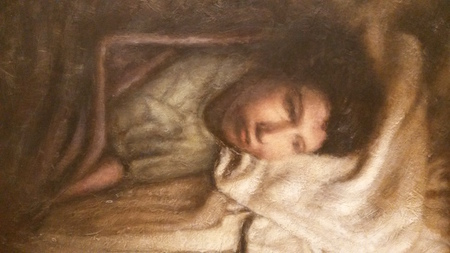 A new gallery exhibit
The Fine Arts Gallery will showcase selected works from Chicago-based artist, curator, musician and teacher Tim Lowly through Sept. 18. "Rainbow Girl" features a pictorial conversation of Lowly's 30-year project centered on his daughter Temma, who is disabled. As with other works that Lowly has made related to Temma, his intentions are complex, including approaching painting as a kind of material poetry and as a catalyst for viewers' self-reflection.
Mark your calendar!
Paint n' Sip (free), 11 a.m.-4 p.m. Aug. 31, Village Square
Student Involvement Fair (free), noon-4 p.m. Sept. 1 and Sept. 2, Commons
Student Involvement Fair (free), 5-7 p.m. Sept. 1, El Centro
Greek Carnival (free), 5-7 p.m. Sept. 2, Commons
"Marnie" screening ($5/$2), 7 p.m. Sept. 2, Auditorium
Pedroso Center Open House (free), 2-4 p.m. Sept. 3, Pedroso Center
Ice Cream Social (free), 3-4 p.m. Sept. 3, Village Square
Meet the Media Night with Sun-Times reporter/editor Maudlyne Ihejirka (free), 5:30-7 p.m. Sept. 3, Student Lounge
#FollowFriday
Back to school
Round out your college experience by getting involved! The Office of Student Leadership Development has it all, from student clubs and organizations to civic engagement opportunities. Like them on Facebook and keep up with what they've got going on!
Do you have a story tip? Let the public relations office know!
Mike Hines, Director of Public Relations, m-hines@neiu.edu, (773) 442-4240