If the excitement over this weekend's Commencement ceremony doesn't put a smile on your face, then be sure to check out a holiday greeting from President Sharon Hahs.
This week's edition of Noteworthy at Northeastern also includes Commencement information, news of two major grants and an exciting announcement about a January speaker.
Around the Commons
A message from the president
As classes wrap up for the year, President Sharon Hahs wishes the Northeastern community a happy holiday season.
Commencement is coming!
Commencement is still a couple of days away, but the celebrations began Dec. 3 with the Academic Honors and Graduate Recognition ceremonies. Ann Withey, who is earning her Master of Business Administration, reflected on her time at Northeastern by looking forward. "What I would like to emphasize about what I'm taking away from the M.B.A. program is not only that these newly acquired skills can be applied directly in my current job—and potentially in future jobs—but also in life beyond my career," she said during her speech at the Graduate Recognition Ceremony. Commencement is scheduled for Dec. 13 at the UIC Pavilion in Chicago. It will be streamed live online at 2 p.m. at neiu.edu.
NEA grant for prison project
The National Endowment for the Arts has announced a Challenge America award of $10,000 to Northeastern to support a visiting artist project at Stateville Correctional Center in Crest Hill, Ill. Prison and Neighborhood Arts Project (PNAP) has provided arts programming at Stateville since 2012. The project includes independent scholars and artists in addition to faculty from Northeastern, the University of Illinois at Chicago, Northwestern University, the University of Chicago and the School of the Art Institute of Chicago (SAIC), and is housed at Northeastern.
MLK tribute speaker: Karen Lewis
The African, African American Resource Center has announced that Chicago Teachers Union President and Northeastern alumna Karen Lewis will be the keynote speaker during the annual Rev. Dr. Martin Luther King Jr. tribute on Jan. 21 from 2:30 p.m. to 4 p.m. in the Auditorium. Student performances and a Q&A will also be a part of the program.
International dance connection
Ensemble Español has been awarded a $20,000 grant by the John T. and Catherine D. MacArthur Foundation's prestigious International Connections Fund. The grant will help fund the Ensemble's special collaboration with world-renowned Spanish dancers and choreographers Ángel Rojas and Carlos Rodríguez, who will work with the Ensemble's professional company, perform at the historic 40th Annual American Spanish Dance and Music Festival, and set a new choreography on the company.
And there's more!
Registrar Daniel Weber co-authored the "AACRAO 2016 Academic Record and Transcript Guide" that aids registrars in their task of preserving the integrity of their institution's academic records. The American Association of Collegiate Registrars and Admissions Officers publication makes recommendations for the placement of 54 database and transcript components, along with discussions of current issues including name and gender changes, notating disciplinary actions, and the use of Social Security numbers in the database and on the transcript.
All materials are due back to the Ronald Williams Library by Dec. 14. More information about the library's hours during the semester break is online.
In the media

From Germany, with music
Campus magazine from Germany's Offenburg University published a story about Professor Hans-Ulrich Werner's visit to Northeastern in April for a screening of the 1931 black-and-white documentary "Chicago: A World City Stretches Its Wings." The film featured a new music soundtrack created and performed live by the NEIU Jazz Combo and directed by Mayo Tiana with contributions from faculty members Jeff Kowalkowski and Kathy Cowan as well as students.
Also in the media ...
To do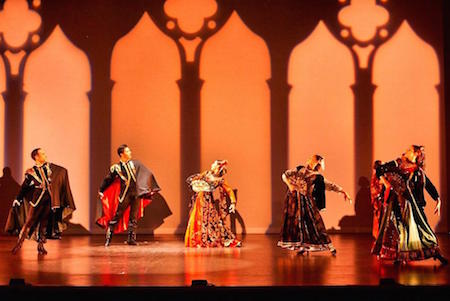 Ensemble Español holiday concerts
Ensemble Español will present its annual Concierto Familiar on Dec. 18 at 7:30 p.m. in the Auditorium on the Main Campus. The Ensemble's full company of 40 dancers will perform the dances of Spain in all three styles of Spanish dance.
Mark your calendar!
Community Music Program Recital, 11 a.m. Dec. 12, Recital Hall
#FollowFriday
#NEIUgrad
Before you post it, tweet it or share it—tag it! Tag your Commencement snaps and congratulatory messages with #NEIUgrad for a chance to be seen on the big screen at Commencement!
Do you have a story tip? Let the public relations office know!
Mike Hines, director of Public Relations, m-hines@neiu.edu, (773) 442-4240