Northeastern Illinois University's cultural calendar is packed with plays, concerts and lectures in the coming weeks. Check out all of your options, meet the University's new vice president and see the first promotional video for The Nest in this edition of Noteworthy at Northeastern.
Around the Commons
Vice President for Institutional Advancement
Liesl Downey has been named Vice President for Institutional Advancement and Executive Director of the Northeastern Illinois University Foundation. Downey, who previously served as the executive director for the Office of Development, had been serving as the acting vice president since the summer of 2015.
The Nest is coming!
The University is only four months away from opening the doors of its first residence hall. Check out the first video from inside The Nest, and look for more to come soon!
A resolution from the Board
The Board of Trustees has passed a resolution expressing "deep concern" about the lack of state funding for higher education in Illinois and encouraging a "swift and thoughtful approval" of a Fiscal Year 2016 budget. Meanwhile, Northeastern will participate in the Illinois Coalition to Invest in Higher Education rally in Springfield on April 20. Students, alumni and employees will receive more information about the rally soon.
And there's more!
In the media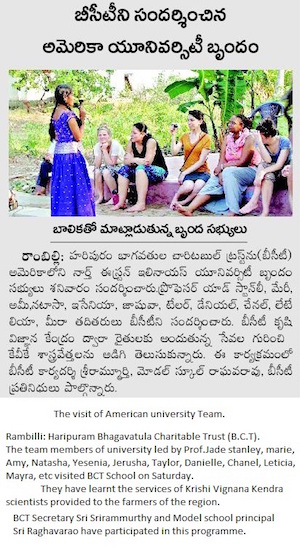 Making headlines in India
A group of Northeastern students in the Social Work program were featured in a newspaper in Haripuram, India, after their visit to a local high school as part of a two-week, faculty-led study tour. The students in the picture are Amy Fitzgerard, Natasha Pagan, Yesenia Roman, Jerusha Evans and Taylor Turco. They were joined by Marie Gandy, Chanel Vasquez, Letecia Vargas, Mayra Anguiano and Danielle Wilberschied under the leadership of Social Work Chair Jade Stanley.
Also in the media ...
NIU Today quoted Vice President for Student Affairs Daniel López in a story about the April 29 conference of Illinois Latino Council on Higher Education. López is president of ILACHE.
WCLO-AM in Janesville, Wis., hosted Assistant Professor of Economics Scott Hegerty to talk about the global strength of the dollar and the presidential election.
Negocios Now featured Ensemble Español with a full-page story.
WTTW and DNAinfo Chicago reported that the Chicago Herpetological Society will host ReptileFest in the P.E. Complex on April 9.
To do
The Kruger Brothers
Bluegrass trio The Kruger Brothers will perform music from their latest release, "Lucid Dreamer," and will be joined by Chicago's Kontras String Quartet on April 19 as part of the Jewel Box Series.
Visiting Writers Series
Rob Spillman, the author of "All Tomorrow's Parties," will read from and sign his book on April 12 as part of the Visiting Writers Series. Spillman is the award-winning, cofounding editor of Tin House magazine.
'Death Defying Acts'
Stage Center Theatre will launch "Death Defying Acts" on April 14. Directed by Professor Rodney Higginbotham, "Death Defying Acts" combines comedies by three playwrights. In David Mamet's "An Interview," a lawyer is questioned prior to admittance into hell. "Hotline," by Elaine May, is a comic encounter between a crisis hotline counselor and a caller. Woody Allen's "Central Park West" is a confrontation between friends and spouses set in a New York apartment.
Presenting Patti Vasquez
Patti Vasquez, host of WGN radio's "Pretty Late With Patti Vasquez," will host A Variety Show, a showcase of comedy, dance and music on the Main Campus on April 16. The show will be presented by the Chicago Clarinet Ensemble, in residence at Northeastern since 2007.
Mark your calendar!
Juried Student Art Exhibition, through April 29, Fine Arts Gallery
Asian, Asian American Heritage Awards, 5:30 p.m. April 8, Alumni Hall
Die Fledermaus, 7 p.m. April 8-9, Auditorium
Pronoun event, 3 p.m. April 12, Pedroso Center
Brass Showcase, 3:05 p.m. April 12, Recital Hall
The Intersection of Politics, Culture and Sexual Identity, 7 p.m. April 12, Pedroso Center
Songwriters Showcase, 7:30 p.m. April 12, Auditorium
Silent Lunch, noon April 13, Pedroso Center
Junior Recital, 3 p.m. April 13, Recital Hall
NEIU Jazz Lab Band and Varsity Big Band, 7:30 p.m. April 13, Auditorium
Computer Science Alumni Career Panel and Job Fair, 3-5:30 p.m. April 14, Alumni Hall
NEIU Guitar Ensemble, 7:30 p.m. April 14, Auditorium
Thursday Night Live, 10 p.m. April 14, Student Lounge
Juried Student Art Exhibition Awards, 6 p.m. April 15, Fine Arts Gallery
Junior Recitals, 7:30 p.m. April 15, Recital Hall
#FollowFriday
Stage Center Theatre
Follow Stage Center on Facebook and Twitter to get a sneak peek behind the curtain. You'll be the first to see photos and videos from rehearsal, and get all the details about upcoming productions. You'll also be the first to receive announcements about auditions and future seasons.
Do you have a story tip? Let the public relations office know!
Mike Hines, Director of Public Relations, m-hines@neiu.edu, (773) 442-4240