You've seen construction of The Nest, Northeastern Illinois University's first residence hall, from the outside. Now you can take a hardhat tour of the inside! Find out how to get a sneak peek of a residence hall suite, which professor is showing his art at the Flower and Garden Show this weekend and more.
Around the Commons
The Nest tours
Northeastern first residence hall has begun offering walking hardhat tours! The Nest, which will open in August 2016, is offering the tours from 3-5 p.m. on Tuesdays and Thursdays. Prospective residents can register for the tours on The Nest's website.
Chicago Flower and Garden Show
The plants won't be the only focus of attention at the Flower and Garden Show. Art Professor Shencheng Xu's "Dream Seeker" will be one of six large-scale art pieces featured in this year's event, which runs from March 12-20 at Navy Pier.
From the field to the classroom
When Luis Ortiz graduated from Northeastern, one of his first calls to the field took him back to his family's roots in Puerto Rico in the wake of a hurricane. Ortiz looks back on that time in his life as the true start of his journey into the social work profession. Now, decades later, his life has come full circle. Ortiz is not only an accomplished social worker back in Chicago, where he was born and raised, but he also is a well-liked and well-respected instructor in Northeastern's Social Work program. Read the full story online.
And there's more!
In the media
Europe and the European Union
Polish-language TV station Polvision visited Northeastern to cover Pawel Pietrasienski's talk during the two-day, student-run International Business Conference. Pietrasienski, Minister Counselor in the Trade and Investment Section of the Polish Embassy in Washington, D.C., was the second-day keynote speaker for the conference, whose theme was Europe and the European Union.
Also in the media ...
To do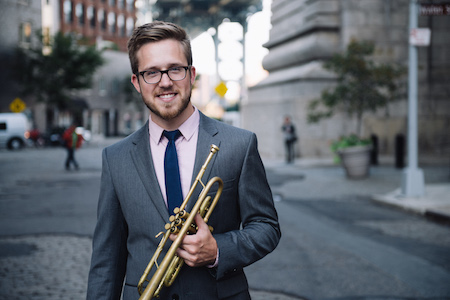 Chicago Brass Festival
Virtuoso trumpeter, pianist and composer Brandon Ridenour will open the Chicago Brass Festival on March 11. Now in its eighth year, the Chicago Brass Festival is an annual, two-day event at Northeastern. In addition to Ridenour, whose performance also is part of the Jewel Box Series, the festival will include performances by The Maniacal 4 Trombone Quartet and other exceptional brass musicians.
Business job fair
Northeastern will host a College of Business and Management Job and Internship Fair on March 15. The free event, which will draw more than 30 employers, is open to the public. Attendees are encouraged to bring a resume to enter and are encouraged to dress professionally.
Mini-Kane Mini-Golf
Want to play some mini-golf and raise money for student scholarships in the process? The Mini-Kane Mini-Golf tournament returns to Alumni Hall from noon-5 p.m. on March 17.
Health Disparities Discussion Panel
Three Chicago experts who are working in the health care field to study and address disparities in health care access and outcomes will participate in a Health Disparities Panel Discussion on March 15 as part of HERstory Month. The event and reception will run from 3-4:30 p.m. in the Pedroso Center. More details on HERstory Month are available online.
Mark your calendar!
Jason Dunda exhibition, through March 18, Fine Arts Gallery
Noche Cultural Concert ($5/$10), 6:30 p.m. March 11, Alumni Hall
Women of Color and Trans Activists, 12:15 p.m. March 14, Pedroso Center
Student Recital, 3:05 p.m. March 15, Recital Hall
"Watermelon Woman" screening, 7:05 p.m. March 15, Alumni Hall North
Silent lunch, noon March 16, Pedroso Center
Pandora's Box: What is Feminism?, 1 p.m. March 16, Pedroso Center
Junior Recital, 3 p.m. March 16, Recital Hall
Woodwind Showcase, 7:30 p.m. March 16, Recital Hall
Italian Recitative Master Class, 6 p.m. March 17, Recital Hall
Thursday Night Live: Texas Toast Chainsaw Massacre, 10 p.m. March 17, Student Lounge
Senior Recital, 7:30 p.m. March 18, Recital Hall
Spring Student Dance Concert, 8 p.m. March 18 and March 19, Auditorium
#FollowFriday
Meet The Nest
Even if you can't tour The Nest in person, you can get all of the latest about the residence hall on Facebook, Instagram and Twitter. Follow along for construction pics and application information!
Do you have a story tip? Let the public relations office know!
Mike Hines, Director of Public Relations, m-hines@neiu.edu, (773) 442-4240