If it feels like you're seeing more freshmen around Northeastern Illinois University this semester, you're not imagining things. And the freshmen aren't the only growing group of students! Find out more about enrollment, the new Mathematics Community Center and a multimillion-dollar grant from the U.S. Department of Education.
Around the Commons       
Good news on enrollment
The Fall 2016 numbers are official: The incoming class of new freshmen is the biggest since 2013. The numbers also are up for new graduate students, new transfer students, new African-American freshmen and new international students. "Northeastern continues to show its strength not only in how well we respond to students' needs but also in the diverse makeup of our student body," President Sharon Hahs said.
A focus on retention
The United States Department of Education has awarded Northeastern a five-year, $2.625 million Developing Hispanic-Serving Institutions Program grant that will help the University implement a comprehensive system of support to increase retention of first-time, full-time students into their third year of enrollment. Northeastern was the only institution in Illinois awarded one of the 23 individual development grants.
Reflections: Part 6
Before she begins her retirement at the end of the month, President Sharon Hahs sat down to chat with Interim President Richard Helldobler for a series of brief discussions about her decade as president. This week, Helldobler asks about the area in which Hahs felt she had the largest learning curve to overcome.

'Threads of Empire'
Associate Professor of History Charles Steinwedel has published his first book, "Threads of Empire: Loyalty and Tsarist Authority in Bashkiria, 1552-1917." The book, published by Indiana University Press, examines how Russia's imperial officials and intellectual elites made and maintained their authority among the changing intellectual and political currents in Eurasia from the mid-16th century to the revolution of 1917. "Threads of Empire" focuses on a region 750 miles east of Moscow known as Bashkiria before 1917 and as Bashkortostan after the collapse of the Soviet Union.
NEIU Weekend 2016
The first big party of the fall semester is coming on Sept. 16-17! Northeastern is pulling out all the stops for a weekend packed with live music, outdoor games and inflatables, kids activities, lots of food and drink, and even a fancy gala. Check out the full two-day schedule, and see more invitations from retired faculty members!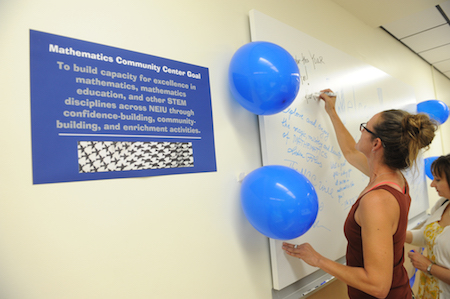 Math Community Center
Northeastern has opened the Mathematics Community Center, providing a central location for students of all disciplines to seek support and guidance for their mathematics needs, and to showcase the successes and accomplishments of students and faculty in the field of mathematics. The center will provide students from all disciplines with multiple opportunities for participation, leadership and success in mathematics through the use of peer-to-peer support, team learning, workshops and seminars.
And there's more!
Northeastern students and employees are encouraged to sign up for N-Safe, the University's new and enhanced emergency notification system.
The Art in Response to Violence Conference is now accepting submissions for this year's event, scheduled for Oct. 13-14. The deadline for submissions is Sept. 15.
In the media
Presidential praise
Another alumnus of the Daniel L. Goodwin College of Education has earned a prestigious award for his efforts in the classroom. The Chicago Tribune reported that James O'Malley (B.A. '94 Elementary Ed - Teacher Ed and M.A. '98 Teaching Children with Learning Disabilities) has won a Presidential Award for Excellence in Mathematics and Science Teaching.
Examining the violence
As part of its in-depth report on Chicago violence, the PBS program "NewsHour" interviewed Associate Professor of Educational Inquiry and Curriculum Studies Lance Williams. He spoke specifically to the experiences of young African-American men. "You can hire all of the police that you want, you're not going to solve this problem because these young men are acting in alignment with their cultural value system," Williams told "NewsHour." "They just see their lives, you know, just passing them by."
Who's who
Crain's Chicago Business named two Northeastern alumni on its 2016 Who's Who in Chicago list: Inland Real Estate Group of Companies President and CEO Daniel Goodwin and Chicago Teachers Union President Karen Lewis. Additionally, the research director for the story was alumna Sabrina Gasulla.
Also in the media ...
WBEZ quoted retired Professor Charles Shabica in a story about how Chicago maintains the fine sand on its beaches.
The Polish Daily News published a preview story for the Kosciuszko Foundation Lecture on Sept. 8.
The Chicago Sun-Times published a story about Brenda Ford (M.A. '84 Inner City Studies), a longtime teacher who worked hard to help her students see the world.
To do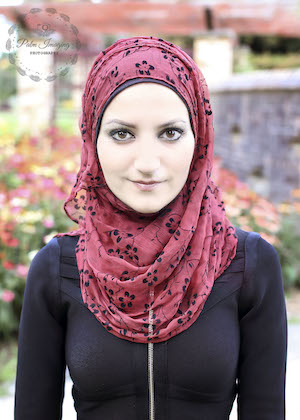 Poetry for Peace
Poet Najwa Zebian will read from her "Mind Platter" collection during a Poetry for Peace event from noon-1 p.m. Sept. 13 in the cafeteria. Zebian's reading via Skype will be followed by peace poem readings by a number of other student groups. The event was organized by a coalition of student organizations.
Celebrating the Carruthers Center
Greg Kimathi Carr, associate professor of Africana Studies and chair of the Department of Afro-American Studies at Howard University, will deliver a lecture titled "CCICS: Celebrating 50 Years of Work and Study, Its Impact and Meaning" on Sept. 15 at the Jacob H. Carruthers Center for Inner City Studies.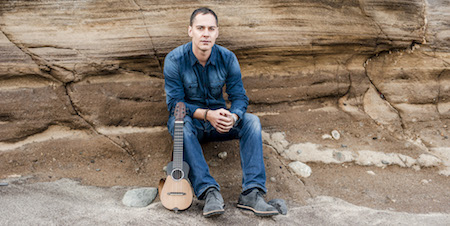 Jewel Box Series opener
Esteemed timple player Germán López will open the 2016-17 season of the Jewel Box Series with a performance on Sept. 16. López has collaborated with the symphony orchestra of Gran Canaria, and performed at festivals such as WOMAD, Circuits INJUVE and Expozaragoza, among others. As a conservatory-trained musician, López blends the ancient traditions of the Canary Islands with musical virtuosity.
Mark your calendar!
Jeffrey Abt exhibition, through Sept. 16, Fine Arts Gallery
"Mainly Markers" art exhibit, through Sept. 21, Ronald Williams Library
Jazzy Monday: Corey Wilkes, 6:30 p.m. Sept. 12, Carruthers Center
"Mainly Markers" opening reception, 6:30 p.m. Sept. 13, Ronald Williams Library Gallery
"The Bridges at Toko-Ri" screening, 7:30 p.m. Sept. 14, Auditorium
Hispanic Heritage Month Kickoff, 11:30 a.m.-1:30 p.m. Sept. 15, University Commons
Welcome Back to NEIU, 4-6 p.m. Sept. 15, Carruthers Center
Jeffrey Abt artist talk, 7 p.m. Sept. 15, Fine Arts Gallery
Thursday Night Live: Comfort Food, 10 p.m. Sept. 15, Student Lounge
Jeffrey Abt reception, 6-9 p.m. Sept. 16, Fine Arts Gallery
#FollowFriday
Ronald Williams Library
Follow the library on Facebook, Twitter and Instagram to find out about new resources, programs, library hours and interesting finds from the collections. Also, check out the library's YouTube page full of videos that will help anyone become a better researcher.
Do you have a story tip? Let the public relations office know!
Mike Hines, Director of Public Relations, m-hines@neiu.edu, (773) 442-4240