For the first time in its history, Northeastern Illinois University will name a college after an alumnus and donor. Get all of the details on Daniel L. Goodwin's extraordinary pledge to the University, plus news of a groundbreaking new partnership to address cancer-related health inequities in Chicago.
Around the Commons
Historic pledge to Northeastern
With a grant of $1 million, plus up to $1.5 million for an additional matching challenge over the next three years, Daniel L. Goodwin has provided an unprecedented commitment to Northeastern. Mr. Goodwin, Chairman and CEO of The Inland Real Estate Group of Companies, is a graduate of Northeastern who served as Chairman of the Board of Trustees from 1996 to 2006. In recognition of Mr. Goodwin's extraordinary philanthropic support and leadership, Northeastern will name a college after an alumnus and donor for the first time in its 148-year history. The Daniel L. Goodwin College of Education will be dedicated during a ceremony and fundraising kickoff event in January 2016.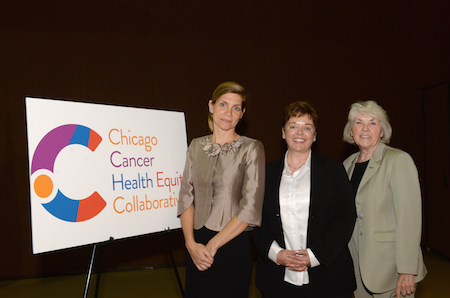 Chicago Cancer Health Equity Collaborative
Northeastern is part of a new $17.4 million grant from the National Cancer Institute that will help three Chicago universities work together with many of the city's underserved communities to foster meaningful cancer research, education, training and outreach. The five-year grant will support the creation of the Chicago Cancer Health Equity Collaborative, led by researchers from Northeastern Illinois University, the Robert H. Lurie Comprehensive Cancer Center of Northwestern University and the University of Illinois at Chicago. (From left: Principal investigators Christinia Ciecierski and Moira Stuart are pictured above with President Sharon Hahs at the Oct. 23 press conference.)
A grant for AGUA
The U.S. Department of Agriculture's National Institute of Food and Agriculture announced that a $275,000 Agriculture and Undergraduate Achievement grant has been awarded to Northeastern. The AGriculture and Undergraduate Achievement (AGUA) project will engage urban undergraduate students from underrepresented groups in research on topics of national and international significance with scientists who are experts in their fields. The program will launch in spring 2016 and is funded through fall 2019.
'Good Grief'
English Instructor Larry O. Dean has released his 13th solo album and his first since 2009, "Good Grief." "I grew up in a town with crummy radio, but I started reading about music that sounded much more interesting to me in magazines and fanzines, and that led me to seeking it out on my own," said Dean, a native of Flint, Mich. "I guess my need to discover has been a major component of my creative education."
And there's more!
In the media

On the road
The Office of International Programs represented Northeastern as one of 19 universities on a tour of South Asia to promote study options in the United States. The tour was organized by the United States Educational Foundation and Education USA, and so far has earned international media attention from Dispatch News Desk, The Nation, Pakistan Press, TVI, The Islamabad Scene, Dawn and the Express Tribune.
Also in the media ...
To do

Disability Awareness Days
American artist and activist Riva Lehrer, whose work focuses on issues of physical identity, especially in explorations of cultural depictions of disability, will present "Disability & Queer Identity" on Oct. 29 as part of Northeastern's second annual Disability Awareness Days, running Oct. 27-29.
Economic Inequality Initiative roundtable
Northeastern will host a roundtable event on Oct. 29 as part of the University's Economic Inequality Initiative, a partnership between the College of Arts and Sciences and the Division of Student Affairs. One of the primary objectives of the Initiative is to help students think about and take action to confront the complex causes of growing economic inequality.
Mark your calendar!
Sixth Annual CCICS Alumni Mixer, 10 a.m. Oct. 24, Carruthers Center
Diana Gabriel and Tricia Rumbolz showing, Oct. 26-Nov. 20, Fine Arts Gallery
NEIU Jazz Combos, 3:05 p.m. Oct. 27, Recital Hall
"The Hunting Ground" screening, 5 p.m. Oct. 27, Alumni Hall North
"Witchcraft Through the Ages" screening ($2/$5), 7 p.m. Oct. 28, Auditorium
Halloween Costume Challenge, 3 p.m. Oct. 29, Cafeteria
Guitar Showcase, 3:05 p.m. Oct. 29, Recital Hall
Celebrating the Creative Community, 3:30-7 pm. Center for College Access and Success
Student Talent Show, 7 p.m. Oct. 29, Auditorium
Thursday Night Live: Fat Kid, 10 p.m. Oct. 29, Student Lounge
#FollowFriday

ChicagoCHEC
Want to stay on top of Northeastern's participation in the new Chicago Cancer Health Equity Collaborative? Follow the collaborative's brand-new Facebook and Twitter accounts to get the latest details!
Do you have a story tip? Let the public relations office know!
Mike Hines, Director of Public Relations, m-hines@neiu.edu, (773) 442-4240