Northeastern Illinois University made its presence felt at a major rally for higher education in the state capital this week. We've got news on the day in Springfield, awards for Business students and a new Instagram account you definitely want to follow.
Around the Commons
To Springfield and back
Almost 40 members of the Northeastern community traveled to Springfield on Feb. 8 to participate in the Statehouse Rally to Save Higher Education, which was organized by the Illinois Coalition to Invest in Higher Education. Northeastern students, faculty, staff and alumni rallied with other universities and met with state legislators.
Business awards
The College of Business and Management Student Advisory Council (SAC) recently celebrated the induction of members of six clubs. M.B.A. student and SAC President Alicia Mendoza touched on themes of diversity and inclusion with her keynote speech before awards were handed out. Elizabeth Bahen, Jovanni L. Soto and Mendoza each won a $1,000 scholarship that was funded by proceeds from last year's Etiquette Gala. Business Instructor Patrick Delaney was named Outstanding Advisor, and Luis Valdez was named Recruiter of the Year.
Dating and relationships research
Facebook, tweets and love: Does technology impact our relationships? Help Northeastern professors find out! Click here to complete the online, anonymous, 5- to 10-minute DatingTech Survey and get a chance to win a $25 NEIU Campus Bookstore gift card. (Must be 18 years of age or older, and must have access to an internet-connected computer. 1:1000 raffle odds. No dating experience required.) Questions? Contact Dr. Adam Messinger or Dr. Rachel Birmingham.
And there's more!
Northeastern will be closed on Feb. 13 in recognition of Abraham Lincoln's birthday.
In the media
Negocios Now 40 Under 40
Three Northeastern alumni have been named to Negocios Now's 2017 Latino 40 Under 40 list of Chicago movers and shakers. The alumni on the Spanish-language business publication's list are:
Ana Laura Alvarado (B.A. '06 Justice Studies)
Rodrigo Garcia (B.S. '07 Finance)
Julia Hinojosa (B.A. '04 English)
Exploring gender identity
Northeastern alum Georgiann Davis (B.A. '04 Sociology) appears in the National Geographic Channel's new documentary, "Gender Revolution: A Journey With Katie Couric," which debuted Feb. 6. Now an assistant professor of Sociology at the University of Nevada, Las Vegas, Davis talks with Couric about intersex rights. "To me, the real issue is not how common it is but the way in which society views intersex," Davis says. The documentary will air again at 8 p.m. Central on Feb. 10.
Also in the media ...
To do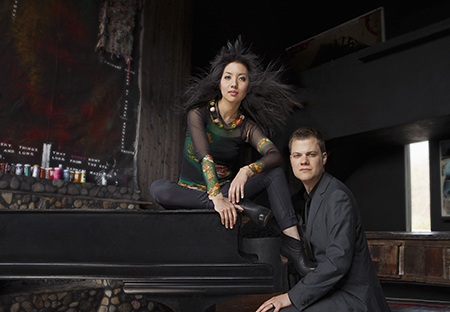 Jewel Box Series
Anderson & Roe Piano Duo will perform Feb. 17 as part of the Jewel Box Series. The duo's mission is clear: Make classical music a relevant and powerful force in society. Known for their adrenalized performances, original compositions and notorious music videos, Greg Anderson and Elizabeth Joy Roe are revolutionizing the piano duo experience for the 21st century.
Brown Bag Series
The College of Arts and Sciences continues its monthly Brown Bag Speaker Series with a Feb. 14 talk by Assistant Professor of Justice Studies Adam Messinger, who will discuss his new book on LGBTQ intimate partner violence. The event is scheduled for noon on Feb. 14 in Library Room 022.
Mark your calendar!
Chad Kouri exhibition, Feb. 14-March 17, Fine Arts Gallery
African and African American Dance Workshop, 3-5 p.m. Feb. 14, FA 141
Shades of Green Financial Aid Assistance, 5:30-7 p.m. Feb. 14, FA 104
"Puzzle of a Downfall Child" screening, 7:30 p.m. Feb. 15, Auditorium
Pandora's Box: Be Your Own Valentine, noon Feb. 16, Pedroso Center
"Dear White People" screening, 3 p.m. Feb. 16, Pedroso Center
Checking on My Financial Aid Status, 3-4 p.m. Feb. 16, The Nest
Know-Your-Rights Training, 3-5 p.m. Feb. 16, LWH 1001
Thursday Night Live: The Confetti Acai, 10 p.m. Feb. 16, Student Lounge
Chad Kouri artist reception, 6-9 p.m. Feb. 17, Fine Arts Gallery
#FollowFriday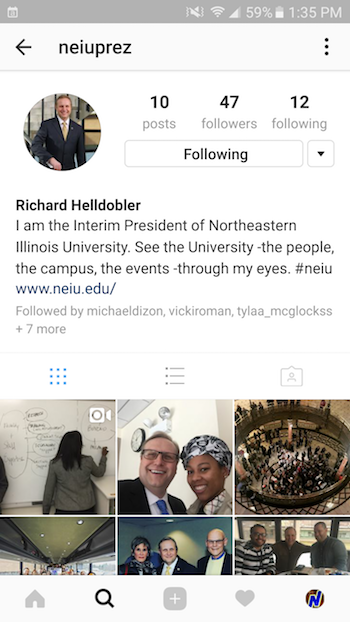 Interim President Richard Helldobler
Look who's on Instagram as @neiuprez! Check out Northeastern—the people, the campus, the events—through the eyes of the president. Be sure to leave a comment to say hello and—of course—tag him in your own photos.
Do you have a story tip? Let the public relations office know!
Mike Hines, Director of Public Relations, m-hines@neiu.edu, (773) 442-4240