Olympic champion Jackie Joyner-Kersee will headline the fourth installment of Northeastern Illinois University's Daniel L. Goodwin Distinguished Lecture Series next month. One hundred free tickets have been reserved for students, and discounted tickets are available to employees. Read about Joyner-Kersee's visit, the University's participation in the Bud Billiken Parade and more in this week's edition of Noteworthy at Northeastern.
Around the Commons
Goodwin Lecture
Three-time Olympic gold medal track and field athlete Jackie Joyner-Kersee (pictured above) will participate in a talk titled "An Evening With Jackie Joyner-Kersee" as Northeastern presents the fourth installment of the Daniel L. Goodwin Distinguished Lecture Series on Sept. 11. Tickets are available beginning today to students, employees, alumni and retirees, and they go on sale to the general public Aug. 13. Dubbed "The Greatest Female Athlete of the 20th Century" by Sports Illustrated, Joyner-Kersee is second to none. She won six Olympic medals (three gold, one silver, two bronze) and four World Champion titles over four consecutive Olympic Games. Both President Gloria J. Gibson and Joyner-Kersee were born in East St. Louis, Ill. In 1988, Joyner-Kersee established the Jackie Joyner-Kersee Foundation, which provides youth, adults and families with the resources to improve their quality of life with special attention directed to East St. Louis.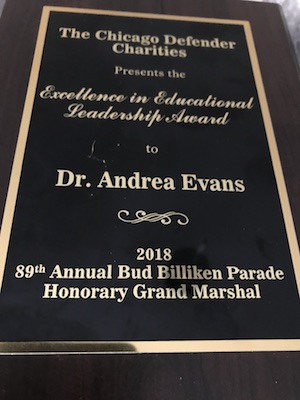 Honorary grand marshal
Jacob H. Carruthers Center for Inner City Studies Director Andrea Evans was presented with the Excellence in Educational Leadership Award by Chicago Defender Charities during its annual scholarship gala on Aug. 2. Evans will serve as an honorary grand marshal for the 89th Annual Bud Billiken Parade on Aug. 11, and will be joined by President Gloria J. Gibson. The theme for this year's parade is "Back to School | Back to Work | Back to Life | Back to Bud," and it will be broadcast live by ABC7 from 10 a.m.-12:30 p.m.
And there's more!
Northeastern will host a One Stop Enrollment Express from 10 a.m.-5:30 p.m. in Alumni Hall on Aug. 14. Departments from across the University will come together to help students prepare for the fall semester.
Assistant Professor of Mathematics Nabil Kahouadji delivered a talk titled "Isometric Immersions of Pseudo-Spherical Surfaces via PDEs" on Aug. 7 during the International Congress of Mathematicians in Rio de Janeiro, Brazil. Kahouadji earned a $3,300 travel grant from the National Science Foundation to fund his travel to the event. On Aug. 14, Kahouadji will give an invited talk in the geometry seminar at Universidade de Brasilia. 
Assistant Professor of Counselor Education Laura Tejada delivered a talk titled "Get Gramma Out of Session: Supervising Marriage and Family Therapy/Counseling Trainees in Individually-Mired Treatment Systems" with alumna Susan Schwendener (M.A. '15 Clinical Mental Health Counseling) on July 20 during the 17th Annual Oxford Family Counseling Institute at St. Hilda's College in Oxford, England. The event was sponsored by the International Association for Marriage and Family Counseling.
Assistant Professor of English Ryan Poll published an article in PopMatters titled "Social Media and Identity Formation in Bo Burnham's Film, 'Eighth Grade.'"
In the media
Chicago under the microscope
Exploring the issue of gun violence in Chicago, PBS invited Associate Professor of Educational Inquiry and Curriculum Studies Lance Williams onto the national broadcast of "Newshour" to discuss the problem. Williams pointed to school policy as one of the contributing factors. "From the early 2000s, too many young African-American males haven't been going to school, meaning that they don't have life prospects," he said. "They can't get jobs. They're self-medicated to deal with the stress in their community. And it's driving a lot of the violence." Williams appeared on WTTW's "Chicago Tonight" the next day to talk about the same issue. "A lot of these kids are … really depressed and have high anxiety, and that also makes them more vulnerable to engaging with violence-related behaviors," he said.
To do

Jewel Box Series
The Jewel Box Series, now in its 19th year, will return for the 2018-19 season with a lineup of diverse artists from all over the globe to perform in the acoustically superior Recital Hall and spacious Auditorium. The eight-concert series will begin Sept. 28, and offers music from a variety of genres through May 17, 2019. For the first time, the series also will feature an improv comedy group. "From big, elegant brass to grooving bluegrass, the 19th season of the Jewel Box Series encompasses variety and outstanding talent from around the world," Office of Cultural Events Director Christie Miller said.
Mark your calendar!
#FollowFriday
@neiulife on Instagram
Be sure to watch Instagram this weekend for snaps of the Northeastern presence in the 89th Annual Bud Billiken Parade. Then stay tuned for much more as we prepare for the start of the Fall 2018 semester!
Do you have a story tip? Let the Office of Public Relations know!
Mike Hines, Director of Strategic Communications, m-hines@neiu.edu, (773) 442-4240