Northeastern Illinois University's latest Daniel L. Goodwin Distinguished Lecture Series was a big hit with the visit of Erin Brockovich. Read more about the environmental activist's lecture, numerous student science awards and the College of Business and Management's work with older entrepreneurs in this week's edition of Noteworthy at Northeastern.
Around the Commons
'A time of disruption'
Northeastern hosted Erin Brockovich for the fifth installment of the Daniel L. Goodwin Distinguished Lecture Series. The environmental activist made famous by the Oscar-winning movie about her work on a lawsuit against Pacific Gas and Electric talked about her new work on connecting communities affected by cancer clusters and toxic contamination. "There is nothing wrong with disruption," Brockovich said. "It wakes you up. We are in a time of disruption. Don't be afraid of it. It gets you up off the couch. It gets you motivated." Before visiting Northeastern, Brockovich stopped by WTTW for an interview with "Chicago Tonight."
Awards at STEM symposium
Northeastern sent 17 students to the 2019 Spring Symposium in STEM in Lisle, Ill., on Feb. 22 and 23. The symposium was sponsored by the Illinois Louis Stokes Alliance for Minority Participation (ILSAMP). Nine students representing Biology, Chemistry, Earth Science, Environmental Science, Physics and Psychology earned awards at the symposium. They were:
Moriama Noda, first place for oral presentation in General Biology
Noemi Hernandez, third place for oral presentation in General Biology
Victoria Puccini, second place for oral presentation in Molecular Biology
Michael Vujnovich, tied for first-place poster presentation in General Biology
Jennifer Sansone and Yadira Alonzo, first place poster presentation in Mathematics
Derek Epiney, first-place poster presentation in Molecular Biology
Karl Amjad-Ali and Vincent Vangelista, tied for first-place poster presentation in Physics
Work for Yourself
The College of Business and Management has hosted five Work for Yourself@50+℠ workshops and plans to host three more in the coming months as part of a national grant from the AARP Foundation. In total, more than 80 community members have attended these events. The national grant initiative is designed to help vulnerable older adults, age 50 and older, understand the pros and cons of self-employment and entrepreneurship, and to support them through the early steps that can lead to success. Northeastern will host three upcoming workshops in March, April and May.
Illinois Writing Project
The Illinois Writing Project in the Daniel L. Goodwin College of Education is part of a team of seven writing project sites to be awarded a five-year, $14.7 million Education, Innovation and Research grant by the U.S. Department of Education. Northeastern will receive $600,000 of the grant for professional development of high school teachers in Chicago-area public schools. The mission of the Illinois Writing Project is to create opportunities for educators and students to build writing skills through workshops, presentations and conferences. It is one of nearly 200 National Writing Project sites in the United States.
And there's more!
In the media
Master swimmer
SWIMMER magazine featured alumna Heidi Musser, a member of the U.S. Masters Swimming club Chicago Swedish Fish Masters. Musser, who has been blind since birth, has compiled a list of accomplishments that include various triathlons and major open-water swims. "Heidi's a reminder of the ways sight can often serve as an inhibitor," Swedish Fish Head Coach Billy Cordero said. "When a sighted person looks over a big lake like Lake Michigan, it's easy to feel afraid. But Heidi doesn't worry about what she can't see." Said Musser: "I'm sometimes frightened while biking or running, but not while swimming. I started swimming practically before I could walk."
Also in the media ...
Student Government Association leaders Ashlei Ross and Issalma Franco appeared on CAN TV with Northeastern Chief of Staff Mike Dizon to talk about the University's diverse student experience.
To do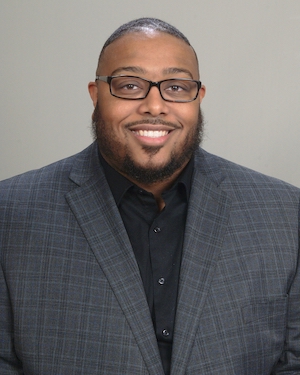 Dr. Jean B. Carlson Memorial Lectureship
The Daniel L. Goodwin College of Education will host the 7th Annual Dr. Jean B. Carlson Memorial Lectureship featuring professor, talk show and radio host, public speaker, author, and urban historian Daniel Ryan Davis titled "Finally, a Black Dude: How Academic Setting Impacts African American Students." The event, which is free and open to the public, will take place at 4:30 p.m. March 5 in the Auditorium. A reception will follow.
Womxn's Herstory Month
Northeastern will kick off Womxn's HERStory Month with a celebration from 3-5 p.m. March 5 in Village Square. The month will also include:
"The Vagina Monologues," 7:30 p.m. March 5, Stage Center Theatre
A Woman's Worth Conference, 1:40 p.m. March 7, Alumni Hall
SHEroes Celebration, 3 p.m. April 4, Golden Eagles
Mark your calendar!
#FollowFriday
Daniel L. Goodwin College of Education
The Daniel L. Goodwin College of Education announced a new grant this week and will bring in a major speaker next week. Follow all of the latest events and news on the Goodwin College's Facebook page!
Do you have a story tip? Let the Office of Public Relations know!
Mike Hines, Director of Strategic Communications, m-hines@neiu.edu, (773) 442-4240