President Sharon Hahs has a new title: President Emerita. After nearly 10 years at the helm, Northeastern Illinois University's fearless leader is retiring.
With this edition of Noteworthy at Northeastern, we celebrate the legacy and accomplishments of our chief cheerleader with a video tribute and, of course, the week's very best news from around the University.
Around the Commons
Thank you, President Hahs
Nearly three months after President Sharon Hahs announced her intent to retire at the end of September, the day has come. While she no longer will occupy the second floor of the Jerome M. Sachs Administrative Building, Hahs will remain an important part of Northeastern and its history. The Student Government Association passed a resolution praising Hahs, and the Board of Trustees renamed the Presidents Garden next to the Ronald Williams Library the Sharon K. Hahs Presidential Garden. Leadership now passes to Interim President Richard J. Helldobler, who was appointed to the position in July by unanimous vote of the Board of Trustees.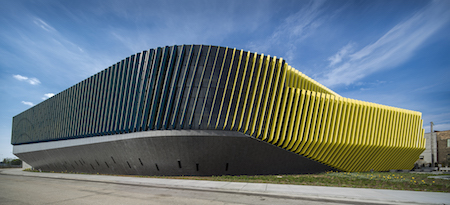 El Centro is golden
El Centro has been awarded LEED Gold certification! LEED, or Leadership in Energy and Environmental Design, developed by the U.S. Green Building Council, is the premier green building rating system program for buildings, homes and communities that are designed, constructed, maintained and operated for improved environmental and human health performance.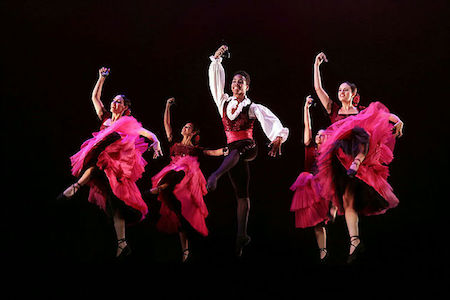 Love at first sight
The rumors are true: Spain is in love with the Ensemble Español Spanish Dance Theater. Northeastern's resident dance company is celebrating its 40th year of bringing traditional Spanish dance to American and international stages. But it wasn't until August that, for the very first time, the 40-member Ensemble packed up their costumes, shoes and fans and took their love and passion for their art to the stages of Spain. The 40th-year celebration ended Sept. 29 with the grand finale performance at the Auditorium Theatre at Roosevelt University in Chicago. (Above photo by Maria Alperi.)
Progress for ChicagoCHEC
Six separate research projects into cancer health in Chicago's underserved communities have been funded in the past year, the Chicago Cancer Health Equity Collaborative (ChicagoCHEC) announced at its First Annual Community Report and Symposium. The studies address disparities ranging from breast cancer among Hispanic women to prostate cancer in the African-American community. Led by researchers from Northeastern Illinois University, Robert H. Lurie Comprehensive Cancer Center of Northwestern University, and the University of Illinois at Chicago, ChicagoCHEC is a groundbreaking collaborative that fosters meaningful cancer research, education, training and outreach within the city's underserved communities. It is supported by a five-year, $17.4 million grant from the National Cancer Institute.
And there's more!
Fall Break is scheduled for Oct. 8-11. Classes will not meet on these dates but the University will remain open.
Associate Professor of Music Rose Sperrazza published an article, "How to Prepare Students to Move Into the Colorful World of the Clarion Register," on Dansr.
Beginning Oct. 3, the Student Food Pantry will move to its new home in E 050 near the Student Lounge.
The transcript and slides from President Sharon Hahs' State of the University Address on Sept. 22 are now online.
Check out the Alumni Association's photos from NEIU Weekend!
In the media
A focus on violence
Just a few weeks after appearing on the PBS program "NewsHour" to talk about Chicago violence, Associate Professor of Educational Inquiry and Curriculum Studies Lance Williams is back in the news—this time in an article for Slate. Williams specifically addressed the strategy of going after gang leaders. "It's like cutting the head off a snake—you leave the body in disarray and everyone begins to scramble for control over these small little areas," he said. "And that's where you get a lot of the violence, because the order is no longer there."
'Flamenco Passion'
Ensemble Español gave a brief preview of its Sept. 29 "Flamenco Passion" performance on WCIU's "You & Me" morning show. The Chicago Reader and the Daily Herald also listed the Sept. 29 on its recommendations for the week.
Also in the media ...
To do
#EarlyFAFSA
Northeastern will host four #EarlyFAFSA Completion Challenge events at three of its locations around Chicago, beginning Oct. 1 at El Centro. The Carruthers Center will host events on Oct. 5 and Oct. 6. High school students, current students and returning students, as well as their families, are welcome to attend. Under a new timeline, students can now apply for their 2017-18 aid beginning Oct. 1, 2016, using 2015 income data. The Main Campus will host a Completion Challenge event on Oct. 15.
Mark your calendar!
Millicent Kennedy and Rachelle Hill exhibition, through Oct. 21, Fine Arts Gallery
Black Homecoming/Welcome Black, 7 p.m. Sept. 30, Alumni Hall
Voice Studio Showcase, 7:30 p.m. Oct. 4, Recital Hall
"Real Women Have Curves" screening, 3:30 p.m. Oct. 5, Pedroso Center
"Okay America!" screening, 7:30 p.m. Oct. 5, Auditorium
Diversity Community Job and Volunteer Fair, noon-3 p.m. Oct. 6, Alumni Hall
Las Comadres womyn's group, noon-1 p.m. Oct. 6, Pedroso Center
Student Recital Hour, 3:05 p.m. Oct. 6, Recital Hall
LGTBQ History Month: Rainbow Reception, 3 p.m. Oct. 6, Pedroso Center
Thursday Night Live: The Peek-A-Boos, 10 p.m. Oct. 6, Student Lounge
#FollowFriday
Campus Recreation
Get moving! Follow NEIU Campus Recreation on Facebook and Snapchat and take part in their #HealthyLifestyleChallenge!
Do you have a story tip? Let the public relations office know!
Mike Hines, Director of Public Relations, m-hines@neiu.edu, (773) 442-4240