Northeastern Illinois University's Daniel L. Goodwin College of Education has had an exciting week! Read about this year's Lincoln Laureate scholar, a state honor for a Counseling Education faculty member and a new dual-enrollment teaching program with a suburban high school. All that news and more appears in this week's edition of Noteworthy at Northeastern.  
Around the Commons
Lincoln Laureate
Northeastern has selected Physical Education (K-12) major Miriam Varela as its 2019 Lincoln Academy Student Laureate. Every fall semester, the Lincoln Academy of Illinois honors one graduating senior from each university in the state who demonstrates leadership and service contributions on campus and beyond, academic success, and extracurricular achievements. Varela and other student laureates from around the state will be recognized during a Nov. 16 ceremony and luncheon at the Old State Capitol State Historic Site in Springfield, and will be awarded the Lincoln Academy Student Laureate Medallion, a certificate of achievement, and a monetary grant.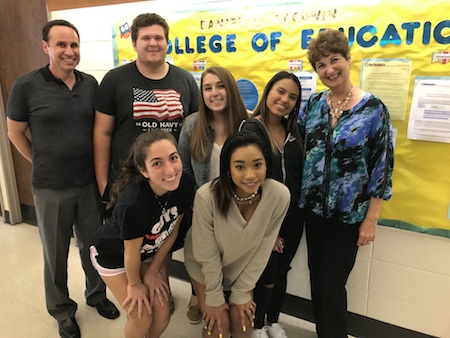 In the teaching pipeline
Northeastern has welcomed five high school students this fall as part of a dual-enrollment program with Ridgewood High School (RHS) in Norridge, Ill. All five students are interested in becoming educators and are enrolled in the Daniel L. Goodwin College of Education for one class. If the students pass, they will earn both high school and college credit. "The RHS students are extremely excited to be at the NEIU campus sitting in courses with our college-level students," Daniel L. Goodwin College of Education Dean Sandra Beyda-Lorie said. "We know they will benefit from the opportunity to grapple with issues of equity, inclusion and social justice that all future and current teachers face. In addition, the RHS teachers provide academic and wrap-around support to the students at the high school to ensure they are successful in achieving the learning outcomes of the college-level courses in which they are enrolled on campus."
Counselor Educator of the Year
The Association for Child and Adolescent Counseling in Illinois honored Associate Professor of Counselor Education Laura Tejada with the Counselor Educator of the Year award during the Illinois Counseling Association Conference on Nov. 8 in Skokie, Ill. The award "honors a counselor educator, supervisor, or trainer who has exhibited an exemplary record of educating counselors to work with children and adolescents."  
And there's more!
Associate Professor of Social Work Aimee Hilado Villalpando co-chaired the third convening of the Coalition of Immigrant Mental Health's conference on Nov. 8 in Chicago. She also served as a keynote speaker and ran a session on Mental Health 101.
The Independent student newspaper earned a fourth-place Best of Show Award in the four-year less than weekly newspaper category from the Associated College Press during the Fall National College Journalism Convention in Washington, D.C., on Nov. 3.  
In the media  
Addressing the violence
WTTW has launched a major online video series about gun violence in Chicago. For the "Firsthand" project, producers interviewed Professor of Urban Community Studies Lance Williams for the primary written story. Addressing therapy for young adults, he said, "It's almost like you're spinning your wheels: They get therapy during the day and are exposed to trauma on the weekends, and then they come back on Monday, and you have to start over. That's why you have to improve the actual communities so they're not living in these traumatic spaces." In one of the videos (at the 6:07 mark), documentary subject Reality Allah is shown meeting with Master of Social Work Program Director Troy Harden at the Carruthers Center as he explores his educational options. And in a panel discussion of experts, alumnus Eddie Bocanegra (B.A. '12 Social Work) talked about his journey from convict to violence interruption leader. In unrelated coverage, the Chicago Tribune mentioned Harden's contributions to developing the curriculum for the Metropolitan Peace Academy in a story about the organization's work with community outreach workers.  
Also in the media ...
The "Life Edge" podcast invited Professor Emeritus of Economics Edward Stuart to discuss his Trans-Siberian trip with a group of Northeastern alumni.  
To do
Eagle Fest
Northeastern will celebrate students' progress toward their degrees during Eagle Fest from 2-5 p.m. Nov. 21 in Alumni Hall. Students who have registered for their Spring 2020 classes are invited to participate in the food, games, music and fun! Class registration support will be available during the event and in Village Square from 10 a.m.-2 p.m. Nov. 18-21.
Jewel Box Series
Leyla McCalla will perform in the Recital Hall on Nov. 15 as part of the Jewel Box Series. "The Capitalist Blues" is McCalla's way of processing the current political environment, where many of the issues are financial, but they're rarely simply financial. The album is McCalla's third. Those three albums and McCalla's time as a member of the African-American string band The Carolina Chocolate Drops presented her vision in songs that revealed the realities that people lived, often expressed in metaphors.
'How to Hero, or the Subway Play'
Drawn from ancient mythology and featuring music, play, and audience interaction, Stage Center Theatre's production of "how to hero, or the subway play" takes us on a heartwarming and magical quest for our most precious lost things. Grappling with the recent loss of their father, two adventurous young siblings, Webster and Rory along with their best friend Madison, take on the journey of a lifetime in the New York City subway tunnels in order to locate their dad's words, loving memories, and the completeness that comes with the comfort of a parent's voice. In this production, Stage Center partners with Filament Theatre Ensemble. This production runs through Nov. 23.  
Coming next week!
Follow Northeastern on Instagram, Facebook, YouTube and Twitter! Do you have a story tip? Let the Office of Public Relations know at public-relations@neiu.edu.