It doesn't take much research to find great examples of research happening at Northeastern Illinois University. Just read the news from this week alone: We've got the latest on student presentations at a biomedical conference, a faculty member's new book on flipping college classrooms, another article published in an academic journal, student research on parasite ecology and plenty more in this week's edition of Noteworthy at Northeastern.
Around the Commons
Biomedical Research trip
Several students and faculty members attended the Annual Biomedical Research Conference for Minority Students in Tampa, Fla., from Nov. 9-12. Students presented posters or oral presentations on research they had performed either at Northeastern or over the summer during internships at other universities. The trip was largely supported by the MARC (Maximizing Access to Research Careers) program. Pictured above (from left): Dr. Jorge Cantu, Joseph Marsili, Anthony Smith, Kirsten Knapton, Dr. Breckie Church, Terry Blaszczak, Karen Segura, Ryan Borchert, Krista Lotesto, Gregory Tracy, Ayesha Mapara and Dr. Emina Stojkovic.
'The Flipped College Classroom'
Associate Professor of Health, Physical Education, Recreation and Athletics Jennifer Banas is a co-editor of a new book about the concept of flipped classrooms. "The Flipped College Classroom: Conceptualized and Re-Conceptualized" is Banas' first book as an editor or author. "Our book provides step-by-step directions for both skilled and new instructors on how to flip one's class to improve teaching and learning," Banas said. "We want to support faculty who are seeking to improve their instruction in ways that render it more effective, efficient and engaging."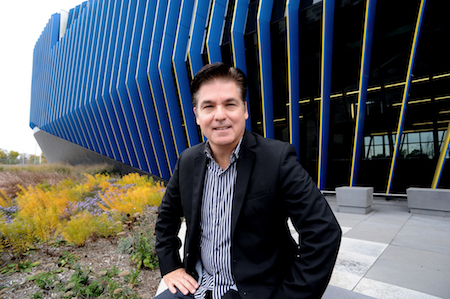 An uplifting award
Cubed featured El Centro architect Juan Moreno, one of six winners of its 2016 Groundbreakers awards that go to architects who are changing the way the built world functions. "My work is about uplifting," Moreno told Curbed. "So many people are doubted and underestimated. This is a chance for these communities not to be underestimated. They're places full of wonderful culture and history that most people don't dig into, that most people don't go into."
And there's more!
Northeastern will be closed from Nov. 24-27 in observance of the Thanksgiving holiday.
Three members of the faculty contributed an article in the Journal of School Health titled "Adolescent Healthcare Brokering: Prevalence, Experience, Impact, and Opportunities." The faculty members were James Ball and Jennifer Banas of the Department of Health, Physical Education, Recreation and Athletics, and Library Associate Professor Lisa Wallis.
Associate Professor of History Charles Steinwedel published an article with the NYU Jordan Center for the Advanced Study of Russia about the relationship between the Russian state and the Bashkir population.
Assistant Professor of Health, Physical Education, Recreation and Athletics Isidore Udoh will deliver two talks at the International Peace Research Association 26th General Conference in Freetown, Sierra Leone, on Nov. 30. The first talk is titled "Assessment of the Sources of Violent Conflicts and Strategies for Peacebuilding in Nigeria's Niger Delta." The second talk is titled "Minority Status, Marginalization, and the Proliferation of Armed Conflicts in Africa."
Ensemble Español Founder Dame Libby Komaiko will be honored during the Grateful4Her launch event on Nov. 21. Grateful4Her is a movement described as "a thank-you note to women everywhere."
In the media
'Why the Liberal Arts Still Matter'
In a story about the value of a liberal arts education, Crain's Chicago Business quoted Interim President Richard Helldobler, who pointed to the value of general education classes. "Courses in your college major may help you get the job," Helldobler told Crain's. "But the general education courses will help you keep it."
Parasite research
Wetlands and waterfowl conservation group Ducks Unlimited published a story about the work and research of Assistant Professor of Biology Sarah Orlofske and her students. The research into parasite ecology and the effects of waterfowl on local habitats is a collaboration between Northeastern, Ducks Unlimited and the Wisconsin Department of Natural Resources. "This is a tremendous learning opportunity for students from a very urban environment that haven't yet experienced seeing waterfowl up close," Orlofske said. "Hopefully the experience will lead to a greater appreciation for these important species and their habitats."
Also in the media ...
Inside Higher Ed reported that Interim President Richard Helldobler was one of 110 college and university presidents who signed a joint letter to President-elect Donald Trump urging him to forcefully "condemn and work to prevent the harassment, hate and acts of violence that are being perpetrated across our nation, sometimes in your name, which is now synonymous with our nation's highest office."
To do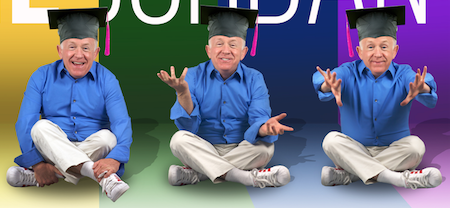 Leslie Jordan stand-up
Emmy Award-winning actor and comedian Leslie Jordan will perform his stand-up at Northeastern on Dec. 8 to conclude NEIU Gives Back Week. Proceeds will benefit a new scholarship for students who belong to the LGBTQ community. In its first year, NEIU Gives Back Week is being organized by the Student Government Association and co-sponsored by Student Leadership Development, French Club, Pre-Law Society, Pride Alliance, Theta Pi Sigma, Justice Studies Club, Sociology Club, Sigma Gamma Rho, Presidential Scholars, Slam Open Mic Club and Alpha Psi Lambda.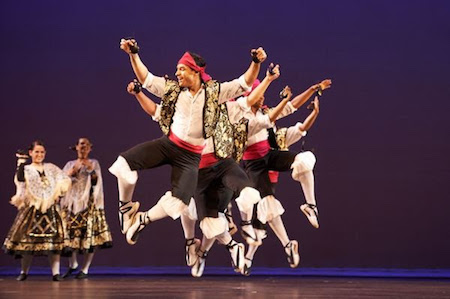 Family Holiday Concert
In response to growing demand, Ensemble Español will expand its acclaimed annual Family Holiday Concert to two performances in December. The Concierto Navideño will take place Dec. 16 and 17. The Ensemble's full company of dancers as well as the Ensemble Español Spanish Dance Youth Company will perform all three styles of Spanish dance: classical, folkloric/regional and traditional and contemporary flamenco. The concerts also will feature guest tenor Luis Galvez.
'The Laramie Project'
The Department of Communication, Media and Theatre's Children's Theatre Workshop will stage a special performance of "The Laramie Project" at 8:30 p.m. Dec. 6 in the Stage Centre Theatre. "The Laramie Project" examines the issues of class, economics, religion, education and non-traditional lifestyles through the raw responses to the 1998 killing of Matthew Shepard, a 21-year-old gay student at the University of Wyoming. The event is free and open to student, faculty and staff. For reservations, contact Ann Hartdegen at a-hartdegen@neiu.edu or 773-442-5971.
Miguel Fraga visit
Miguel Fraga, first secretary of the new embassy of the Republic of Cuba in Washington, D.C., will present "Imagining New Paths for U.S./ Cuba Relations." The event will take place from 4-5:30 p.m. Nov. 21 in the Golden Eagles room on the Main Campus.
Mark your calendar!
Fall Opera Scenes, 7 p.m. Nov. 18-19, Auditorium
Jewel Box Series: April Verch, 7:30 p.m. Nov. 18, Recital Hall
Woodwind Studios Showcase, 7:30 p.m. Nov. 21, Recital Hall
Piano Studio Showcase, 3:05 p.m. Nov. 22, Recital Hall
NEIU Orchestra, 7:30 p.m. Nov. 22, Auditorium
"Topkapi" screening, 7:30 p.m. Nov. 23, Auditorium
#FollowFriday
Student leaders
The Office of Student Leadership Development provides students with meaningful opportunities through co-curricular activities. They were extra busy helping others during Hunger and Homelessness Awareness Week! Follow them on Facebook to keep up with all the good work that they do.
Do you have a story tip? Let the public relations office know!
Mike Hines, Director of Public Relations, m-hines@neiu.edu, (773) 442-4240