Northeastern Illinois University's contingent of students and faculty has returned from the 2017 National Diversity in STEM Conference in Utah. Find out which student brought home an award for her Zika virus research, who won this year's Audrey Reynolds Distinguished Teaching Award and what Northeastern has on loan from NASA in this week's edition of Noteworthy at Northeastern.
Around the Commons
HLC accreditation
Following a stringent and exhaustive peer review process, Northeastern has received a Reaffirmation of Accreditation by the Higher Learning Commission (HLC). "The process of earning the reaffirmation of accreditation was both extensive and healthy. When Northeastern goes through this process every 10 years, our dedicated faculty and staff are re-inspired by our high academic standards and quality of our programs," Interim President Richard Helldobler said. "We are grateful for the reaffirmation of accreditation from HLC and will use it—along with our mission—to inspire new and current students as they pursue their academic goals at Northeastern." HLC determines whether an institution receives accreditation or reaffirmation of accreditation based on five criteria that include: mission, institutional effectiveness, teaching and assessment of student learning. HLC, which accredits degree-granting post-secondary educational institutions in the North Central region, is scheduled to conduct its next reaffirmation of Northeastern's accreditation in 2027-2028.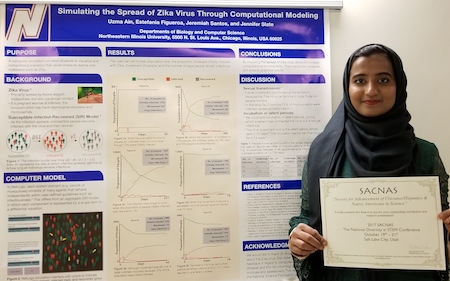 National Diversity in STEM Conference
Biology major Uzma Ain (pictured above) earned an award for best poster presentation in the area of Life Sciences at the 2017 National Diversity in STEM Conference that took place in Salt Lake City from Oct. 18-21. Under the direction of Biology Professor Jennifer Slate, Uzma worked with fellow students Jerry Santos and Estefania Figueroa to develop a computer model that predicts the spread of the Zika virus. They were joined by 25 other Northeastern students (many pictured in top photo) at the conference, sponsored by the Society for Advancement of Hispanics/Chicanos and Native Americans in Science. Selma Aburahmeh, Yadira Alonzo, David Alvarado, Rocio Avila, Lawannah Boyden, Oscar Coronel, Rashanda Elijio, Daniel Fitch, Kerald Gonzales, Noemi Hernandez, Jonathan Jurczak, Amena Khan, Alexia Landl, Jessica Lartey, Diana Maldonado, Jacob Manlucu, Jeremias Martinez, Shaima Patangia, Omar Payan, Jean-Pierre Raymond, Stefany Roman, Andrea Saavedra, Glenn Simpson, Ambrasia Warner and Haiyang Zhu attended with faculty members Jorge Cantu, Jean Hemzacek, Laura Sanders, Ken Voglesonger and Cindy Voisine. Northeastern's Student Center for Science Engagement provided funding for the students, along with grants awarded to Northeastern faculty from the National Science Foundation and the United States Department of Agriculture.
Audrey Reynolds Distinguished Teaching Award
Northeastern has selected Psychology Professor Maureen Wang Erber as the 2017 recipient of the Audrey Reynolds Distinguished Teaching Award. Professor Emerita of Linguistics Audrey Reynolds established the award to be given annually to a tenured member of the Northeastern faculty who best demonstrates distinguished teaching. "I am happy to see Dr. Erber recognized for her hard work and commitment to our students," Interim Provost Wamucii Njogu said. "She is the embodiment of the dedication that Northeastern faculty members have to our student body."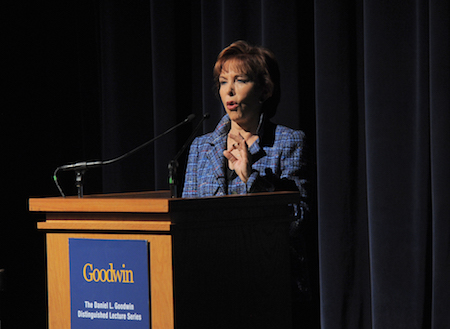 Goodwin Lecture
Nationally recognized financial expert Terry Savage delivered a talk titled "The Savage Truth on Money, Markets and the Economy" as Northeastern presented the second installment of the Daniel L. Goodwin Distinguished Lecture Series on Oct. 24. Savage, who was introduced by Goodwin, touched on topics including the inevitable bear markets, tax policy and government debt.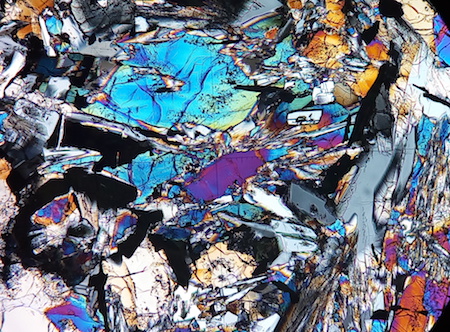 On loan from NASA 
The Department of Earth Science is currently housing a collection of moon and meteorite rock samples that are on loan from NASA. Northeastern has them through the efforts of Earth Science Instructor Jean Hemzacek, who is currently teaching a Mineralogy course. Hemzacek is among the small group of educators specially trained by NASA to meet the stringent requirements for security and care of these materials.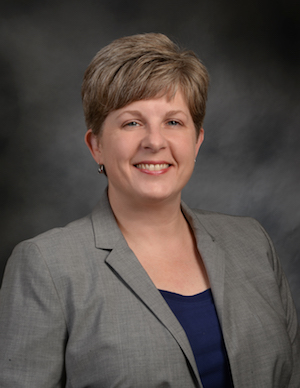 Campus mental health award
The Association for University and College Counseling Center Directors has presented Student Counseling and Career Services Director Susan Stock with the Scholarship Award for her excellence in promoting campus mental health with the January 2017 publication of her book, "College Student Mental Health: New Directions For Student Services."
TRIO honors and McNair encouragement
Interim President Richard Helldobler delivered the welcome speech and was presented with an award for supporting TRIO programs during the TRIO Regional Association, Educational Opportunity Association, Ronald E. McNair National Student Conference on Oct. 21 in Schaumburg. Above, Educational Opportunity Association President Valdis Zalite presents Helldobler with the award. Of the 260 McNair scholars in the audience, 22 of them were from Northeastern.
And there's more!
In the Media
The Chicago Reader referenced the Oct. 31 screening of "The Seventh Victim" in the Auditorium among its must-see movies for Halloween.
The Daily Herald reported that Music Instructor Brian Torosian will perform a solo guitar recital for the McHenry County College Second Sunday Concert Series on Nov. 12.
The Am-Pol Eagle reported that Department of Mathematics Chair Lidia Filus participated in Poland President Andrzej Duda's visit to The Kosciuszko Foundation in New York on Sept. 20.
To do
Fitness Fest
The Health and Physical Education student organization will host Fitness Fest in the P.E. Complex from 9:30 a.m.-1 p.m. Nov. 4. Fitness Fest will offer classes in yoga, Zumba and high-intensity interval training taught by local instructors. It will also include vendors with promotions, clothing, organic/herbal drinks, food and coffee. The event is free, though donations to the student organization will be accepted. Advance registration is preferred.
Mark your calendar!
"Urban Constructs" exhibition, through Nov. 17, Fine Arts Gallery
"This is Our Youth," Oct. 27 at 7:30 p.m., and Oct. 28 at 2 p.m. and 7:30 p.m., Stage Center Theatre
"The Seventh Victim" screening, 7:30 p.m. Oct. 31, Auditorium
Thursday Night Live: RASH, 5 p.m. Nov. 4, Student Lounge
#FollowFriday
NEIU Students
If you are a current student, be sure to follow NEIU Students on Facebook to stay up to date on events, deadlines and tips for making the most of your time at Northeastern.
Do you have a story tip? Let the public relations office know!
Mike Hines, Director of Public Relations, m-hines@neiu.edu, (773) 442-4240