Northeastern Illinois University celebrated the accomplishments of the latest group of graduates during Commencement. Relive this year's celebration, view photos from the ceremony, and read about a new program called La Conexión in this week's edition of Noteworthy at Northeastern.
Around the Commons
'No single story'
Activist, lawyer and immigration law scholar Maria Woltjen encouraged students to take ownership of their personal stories during Northeastern's Commencement ceremony. Northeastern awarded Woltjen an honorary Doctor of Humane Letters in recognition of her achievements. Among her many accomplishments, Woltjen is the founder and Executive Director of The Young Center for Immigrant Children's Rights at the University of Chicago Law School. "Each person you meet has a story," Woltjen said. "Each of you, the Class of 2019, no doubt, has made a remarkable journey to get here today. It's what made this country so extraordinary. There is no single story. There is no single narrative."
Emeriti awards
Northeastern has awarded emeritus status to seven retiring faculty members who were honored during Commencement. Northeastern awards the prestigious status to eligible retiring faculty members upon the recommendation of the department or program, with the concurrence of the dean and the provost, and with the approval of the University president
ASPIRA partnership
Northeastern and ASPIRA of Illinois (ASPIRA) have agreed to partner on a program that will ensure ASPIRA students are recruited to Northeastern, apply to Northeastern, and are supported in their post-secondary experiences at Northeastern. Called La Conexión, the program launched with the first ASPIRA students ("Aspirantes") signing their commitment to attend Northeastern this fall. Through La Conexión, Northeastern and ASPIRA will collaborate on enrollment and student success, explore avenues for current ASPIRA teachers to obtain endorsements through Northeastern's Daniel L. Goodwin College of Education, and create an alumni network for individuals who are graduates of both Northeastern and ASPIRA.
Teacher appreciation
For Teacher Appreciation Week, Northeastern's Center for College Access and Success published a documentary about Madeline Kobayashi (M.S.I. '14 Secondary Education: Language Arts), a Golden Apple Award-winning alumna who has been working with CCAS's Professional Development team to develop an Inquiry and Design-based curriculum.
And there's more!
Northeastern alumna Jean Matelski Boulware (B.A. '13 Psychology) co-authored an article titled "The Effects of Mindfulness Training on Wisdom in Elementary School Teachers" for the Journal of Education, Society, and Behavioural Science.
In the media
Graduating at 90
90-year-old graduate Bob Dwyer earned a standing ovation when he crossed the stage at Commencement to collect his bachelor's degree in Interdisciplinary Studies. His story moved the crowd—and attracted a crowd. The local CBS, NBC and ABC affiliates all covered Dwyer's accomplishment, as did WGN-TV and WBEZ. The story was so compelling that it was shared in news broadcasts, print publications and online stories around the country.
To do
Jewel Box Series
The Andrew Collins Trio will perform in the Recital Hall on May 17 to conclude the 2018-19 season of the Jewel Box Series. Collins co-founded noteworthy Canadian bands such as the Creaking Tree String Quartet, the Foggy Hogtown Boys and, more recently, his namesake Trio. The prolific, robust performer—comfortable on mandolin, fiddle, guitar, mandola and mandocello—composes, produces, arranges, writes and teaches across multiple genres, including a popular collision of folk, jazz, bluegrass, celtic and classical.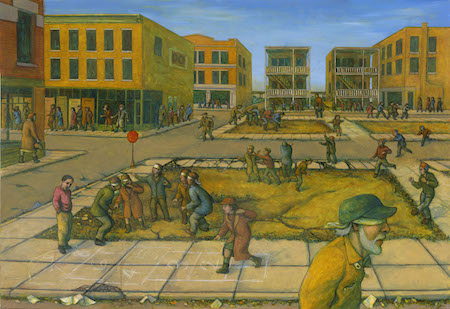 'Leo Segedin's Chicago'
The School of Art + Design will celebrate painting alumnus and Northeastern Professor Emeritus of Art Leopold Segedin with an exhibition titled "Leo Segedin's Chicago: Games, Trains, and Planes." The exhibition will be on view in the Link Gallery from May 22 through June 15, with a closing reception and book signing on from 5:30-7:30 p.m. June 15.
Coming next week!
#FollowFriday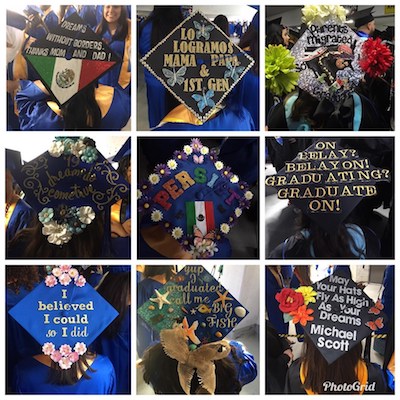 Insta Eagles
Northeastern is always busy on Instagram during Commencement ceremonies! Check out snaps from the latest #NEIUgrad ceremony and much more!
Do you have a story tip? Let the Office of Public Relations know!
Mike Hines, Director of Strategic Communications, m-hines@neiu.edu, (773) 442-4240