Northeastern Illinois University is an active and engaged participant in the Chicago community, and the College of Business and Management, College of Education and Office of Alumni Relations reinforced that commitment once again with this week's news. Read about how Northeastern students, faculty and staff are helping low-income families, plus more on the latest honors and appearances in the media.
Around the Commons
Helping low-income families
Northeastern's College of Business and Management returned an estimated $729,630 in 2014 tax refunds to low-income families through its partnership with Ladder Up, the organization announced. During the most recent tax season, 57 volunteers from Northeastern participated in Ladder Up's Tax Assistance Program.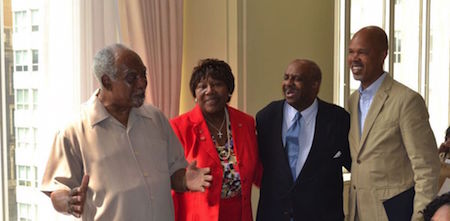 Congressman's award
Carruthers Center Associate Professor Lance Williams has received the Outstanding Administrator Award from U.S. Rep. Danny K. Davis and the Congressional Black Caucus Foundation. The award was given at the 19th Annual Outstanding Education Recognition Awards Ceremony held at Rush University Medical Center on July 18.
Backpacks for kids in need
Northeastern's Office of Alumni Relations and College of Education have teamed up to collect backpacks for 150 children from Cornerstone Community Outreach who are without permanent housing. The backpacks will be distributed Aug. 12 at the Cornerstone Community Outreach Center.
And there's more!
Educational Inquiry and Curriculum Studies Professor Erica Meiners has been named a 2015 Soros Justice Fellow. Collaborating closely with a colleague, Meiners will write a series of articles that aim to deepen understanding and generate conversation about sex laws, sex offender management and the people the laws affect.
The College of Business and Management will host a graduate programs open house on July 28 for current students, prospective students and alumni.
University of San Francisco School of Education Dean Kevin Kumashiro will be this year's Carlson Lectureship speaker on Nov. 3, the College of Education has announced.
In the media

African 'Gold Rush'
Dallas L. Browne (B.A. '65 Elementary Education) was profiled by the Telegraph newspaper of Alton, Ill., after releasing a new book, "Culture: The Soul of Africa and the Coming Gold Rush." "[Africa is] growing a massive middle class of engineers, geologists, accountants, physicists, computer scientists, etc., who are beginning to manufacture everything we can imagine, and they desire as much as we do," Browne said.
Also in the media ...
To do
Night out in the Parks
Ensemble Español will perform in the Chicago Park District's Night Out in the Parks event July 30 at Douglas Park. The free performance is scheduled for 6:30-7:15 p.m.
Mark your calendar!
#FollowFriday
University police
You have the right to remain social. The Northeastern Illinois University Police Department works hard to keep all Northeastern locations safe and secure. Like their Facebook page for important community alerts, safety tips and more. 
Do you have a story tip? Let the public relations office know!
Mike Hines, director of public relations, m-hines@neiu.edu, (773) 442-4240