It never gets old, does it? Hundreds of graduates participated in Northeastern Illinois University's Commencement ceremony on May 9. Whether you missed it or were there and want to relive the magic, we've got all the videos, stories and photos you need. 
Around the Commons       
'A more perfect union'
One of the nation's leaders of the same-sex marriage movement, Commencement speaker Evan Wolfson (top photo) encouraged graduates to embrace individual differences, acknowledge societal flaws and work together to build a better future for all. "The story of America, our country, is that despite its flaws and imperfections, its falling short of its promise, we the people can form a more perfect union," Wolfson said. Northeastern awarded Wolfson an honorary Doctor of Humane Letters in recognition of his achievements.
Check out more from Commencement and related events:
And there's more!
Thomas J. Tobin, coordinator of learning technologies in the Center for Teaching and Learning, will speak at the 15th Annual Symposium on Teaching and Learning: Universal Design for All Learners on May 17-19 at Simon Fraser University in Burnaby, British Columbia. The title of Tobin's keynote is "Reach Everyone and Teach Everyone with Universal Design for Learning."
Interim Director of El Centro Maria Luna-Duarte co-wrote a report on the Student ACCESS Bill with Professor Roberto G. Gonzales of the Harvard University Graduate School of Education and three other colleagues from Chicago.
The Chicago Chamber Music Festival at Northeastern is now accepting applications for the July 30-Aug. 6 immersion program for talented pre-collegiate musicians.

On May 11, Northeastern hosted an Alumni Advocacy Day in Springfield. Members of the University's administration and Alumni Advocacy Committee met with key appropriations and higher education lawmakers as well as NEIU alumni serving in the general assembly to discuss the importance of adequate funding for our FY16 and FY17 budgets.
In the media

Never stop learning
At age 84, Jerry Pollard became the oldest person to earn a first bachelor's degree from Northeastern since at least 1961. "When I retired, I thought, 'I don't have any hobbies. What am I going to do?' So I decided to go back to school," Pollard told the Chicago Tribune. "I thought an education never hurts. It's about time." The story resonated in Chicago, and was quickly covered by ABC, CBS and NBC, all of which sent cameras to film Pollard receiving his diploma at Commencement.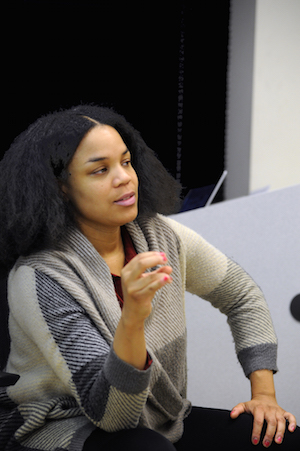 The Mash finale
Kimya Barden, assistant professor of Educational Inquiry and Curriculum Studies, was the last faculty member of the academic year to be featured in Northeastern's partnership with The Mash, the Chicago Tribune's weekly publication for teens. Barden answered questions about test anxiety, studying in groups versus studying alone and making friends in college.
Also in the media ...
To do

A Chicago debut
Brazil's Quinta Essentia Recorder Quartet will make their Chicago debut on May 20 as part of the Jewel Box Series. Quinta Essentia is one of the leading chamber music ensembles in Brazil and one of the few groups highlighting the recorder in different musical realms.
Mark your calendar!
Vocal Showcase, 7:30 p.m. May 17, Recital Hall
#FollowFriday
On the big screen
Whether you weren't at Commencement or you want to relive the experience, check out the #NEIUgrad images that flashed across the big screen!
Do you have a story tip? Let the public relations office know!
Mike Hines, Director of Public Relations, m-hines@neiu.edu, (773) 442-4240