The week began with another inspirational Commencement ceremony—this one featuring the legendary Rita Moreno as speaker—and ended with the groundbreaking for Northeastern Illinois University's first residence hall. Relive the week with photos, a video of Moreno's speech and much more!
Around the Commons
Commencement with Rita Moreno
With her signature style, passion and flair, award-winning entertainer Rita Moreno encouraged graduates to continue learning and evolving throughout their lives during the Northeastern Commencement ceremony at UIC Pavilion. "Surround yourself with those who love and support you, who believe in you," said Moreno, who also received an honorary doctorate degree. "Don't ever let anyone interfere with your dream or your focus or your vision. It belongs to you." (Also be sure to check out another video of Commencement!)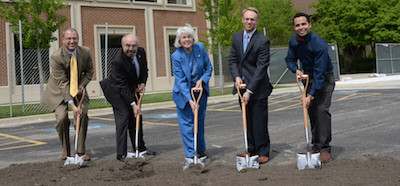 Coming in 2016: Student housing!
With a ceremonial scoop of the shovels, Northeastern broke ground May 14 on the first residence hall in the University's history. "Today marks a milestone in our commitment to student life and to student success, inviting both our current students and additional students from near and far to join our special university," President Sharon Hahs said. "Student housing complements our excellent academic programs, fosters a greater sense of community for our students, and strengthens our transformative educational experience for all."
An honor for the dean
College of Education Dean Maureen Gillette was named one of the nation's 30 most influential education deans by Mometrix Test Preparation. Mometrix created the list by analyzing state and national awards and honors, education program rankings, individual degree program rankings and the level of pay received by graduated teachers from the schools examined.
A published professor
Associate Professor of Mathematics Tanya Cofer's article "Mathematical Explanatory Strategies Employed by Prospective Secondary Teachers" has been published in the Springer's International Journal of Research in Undergraduate Mathematics Education.
And there's more!
Reminder: Northeastern will be closed Monday, May 25, in observance of Memorial Day.
The McCormick Foundation, in partnership with Illinois Campus Compact, has awarded Northeastern an $8,000 2014-2015 McCormick Strategic Civic Leader Fellows grant.
El Centro architect Juan Moreno received the PAD MMXIV Gold Medal from the Consulate General of Colombia in Chicago and the Society of Architects of Colombia in New York on May 14. The event took place at El Centro, of course.
Northeastern is seeking proposals through June 15 for a mural near the El Centro location in the Avondale neighborhood.
Assistant Professor of English Julie Iromuanya's new book, "Mr. and Mrs. Doctor," made the Modern Maiasaura 52 Books in 52 Weeks list.
Center for Teaching and Learning Coordinator of Learning Technologies Thomas Tobin delivered the keynote address at the Roane State Community College Ed Tech Academy on May 12-13 in Oak Ridge, Tenn.
Assistant Professor of Special Education Mickie Wong-Lo will serve on the editorial board for the Chicago International Conference on Education on May 26-27.
In the media
All about Rita Moreno
NBC Chicago, CBS Chicago, Telemundo, Hoy and The Associated Press all covered Rita Moreno's appearance as Northeastern's Commencement speaker. "Education is everything, speaking from the point of view of someone who never finished high school," Moreno said at a morning press conference.
Teaching through music
KUAF radio in Arkansas aired a 15-minute interview with Associate Professor of Secondary Education Tim Duggan. He talked about how music can help students learn and played some of his own songs.
Also in the media ...
To do

Jewel Box Series
Critically acclaimed bluegrass band Frank Solivan & Dirty Kitchen Band will perform at Northeastern on Friday, May 15. Frank Solivan & Dirty Kitchen Band integrate bluegrass and newgrass with singing and songwriting to craft a sound that is unique to this genre. The Examiner listed the event in its roundup of top musical acts.
Mark your calendar!
#FollowFriday
Commencement rewind
Whether you saw the #NEIUgrad slide show on the big screen at Commencement or not, you can relive it now! Check out the fun, funny and heartfelt messages from the graduates as well as their families and friends.
Do you have a story tip? Let the public relations office know!
Mike Hines, director of public relations, m-hines@neiu.edu, (773) 442-4240