Commencement is coming! Northeastern Illinois University will recognize speaker and LGBT rights leader Evan Wolfson with an honorary doctorate degree, but he's not the only happy story of the day. Be sure to read the inspirational stories of Carly Hall and John Perrin, who have earned their bachelor's and master's degrees, respectively.
Read those stories and lots more in this edition of Noteworthy at Northeastern. And if you can't attend Commencement, be sure to tune in to the live-stream broadcast at 4 p.m. May 9 at neiu.edu.
Around the Commons       

A model Math student
In addition to her eagerness to teach math one day, University Honors Scholar Carly Hall has seized the opportunity at Northeastern to apply her math knowledge to research projects. As part of her Student Center for Science Engagement internship, Hall joined a multidisciplinary team of Biology, Psychology and Mathematics students who worked on a behavioral neuroscience project using zebrafish as a model organism.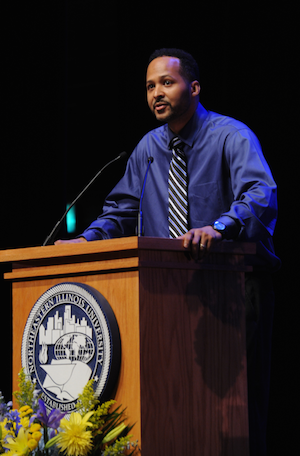 'You will WIN'
John Perrin, who earned a perfect 4.0 GPA on the way to his Master of Arts in Special Education, said one inspirational quote that he stuck on his wall, in his daily planner and on his laptop helped keep him focused on the journey. The quote: "If you NEVER give up, you will WIN."
RCA assistantships announced
The College of Graduate Studies and Research, together with the Research and Creative Activities Advisory Group, has awarded the Graduate Dean's Research and Creative Activities Assistantships for the 2016-17 academic year. Find out which students and faculty members will participate in the 2016-17 assistantships. (And check out who participated in the inaugural 2015-16 program!)
Advocacy in Springfield
President Sharon Hahs was joined on May 4 by Vice President for Finance and Administration Michael Pierick and Executive Director of Government Relations Suleyma Perez in Springfield, where she testified before the Illinois House higher education committee to describe how receiving stopgap funding has affected Northeastern.
And there's more!
In the media
In the Polish news
The Polish media showed up for the Kosciuszko Foundation Lecture, "Wills as Tools of Power in the Late Medieval Urban Community of Krakow," by KF fellow Jakub Wysmulek of the University of Warsaw and the Polish Academy of Sciences. The event, hosted by the Polish and European Academic Center for Exchange and Research and the Department of World Languages and Cultures, was covered by Polvision (beginning at 16:12) and the Polish Daily News.
Also in the media ...
Crain's Chicago Business picked the Northwest Chicago Film Socieity's May 11 screening of "The Naked Dawn" in the Auditorium among its top cultural event picks.
The Seaside Courier of Carlsbad, Calif., reported that Benjamin Churchill (M.A. '08 Educational Leadership: School Leadership) has been hired as the superintendent for the Carlsbad Unified School District.
To do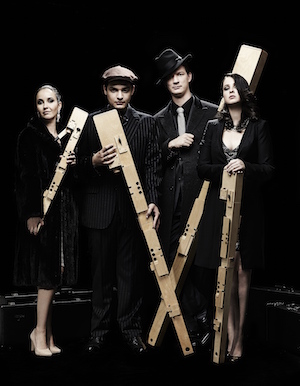 A Chicago debut
Brazil's Quinta Essentia Recorder Quartet will make their Chicago debut on May 20 as part of the Jewel Box Series. Quinta Essentia is one of the leading chamber music ensembles in Brazil and one of the few groups highlighting the recorder in different musical realms.
Mark your calendar!
#FollowFriday
#NEIUgrad
We got the hashtag trending in Chicago for the Commencement ceremony in December. Let's do it again! Before you post it, tweet it or share it—tag it! Tag your Commencement pics and congratulatory messages with #NEIUgrad for a chance to be seen on the big screen at Commencement!
Do you have a story tip? Let the public relations office know!
Mike Hines, Director of Public Relations, m-hines@neiu.edu, (773) 442-4240