Here we go: Northeastern Illinois University will celebrate the latest graduates during Commencement on Monday! Among the graduates are five students in a program that has quickly earned a national reputation for success. Read all about the MARC U-STAR Program scholars, the faculty members who have earned emeritus status and a high-profile conference that took place at El Centro in this week's edition of Noteworthy at Northeastern.
Around the Commons
Building a national reputation
Launched in 2014, Northeastern's National Institutes of Health MARC (Maximizing Access to Research Careers) U-STAR Program has been an undeniable success. To date, every student who has entered has earned a bachelor's degree. Seven of the nine total graduates from the past three years have entered Ph.D. degree programs, with the remaining two currently in the application process. Once those two have committed to Ph.D. programs, the 100 percent rate of getting MARC trainees into Ph.D. programs will put Northeastern well ahead of the 29 percent national average for MARC programs. Read more about this year's graduates and how Northeastern's program has become nationally visible to premier research universities such as Harvard, Indiana University and Michigan State that visit campus to recruit for their doctoral programs.
Emeriti faculty
Northeastern has awarded emeritus status to six retiring faculty members who will be honored during Commencement. Northeastern awards the prestigious status to eligible retiring faculty members upon the recommendation of the department or program, with the concurrence of the dean and the provost, and with the approval of the University president.
STEM education conference
U.S. Sen. Dick Durbin (pictured above with Acting President Wamucii Njogu and El Centro Interim Director Maria Luna-Duarte) delivered opening remarks for the Catalyzing Progress in Undergraduate STEM Education with Insights from Midwestern HSIs Conference at El Centro on May 3. Durbin addressed the importance of improving access to Science, Technology, Engineering and Mathematics education for all, including immigrants and people affected by the DREAM Act. More than 130 educators from 10 states attended the two-day conference that was funded in part by a grant from the National Science Foundation (NSF). One of the conference's major goals was to provide input to the NSF as it develops a new program designed especially to improve undergraduate STEM education at Hispanic-Serving Institutions. The conference featured keynote speaker Sylvia Hurtado from UCLA, experts in STEM workforce trends and Northeastern faculty, students and alumni who presented seven of the 25 breakout sessions.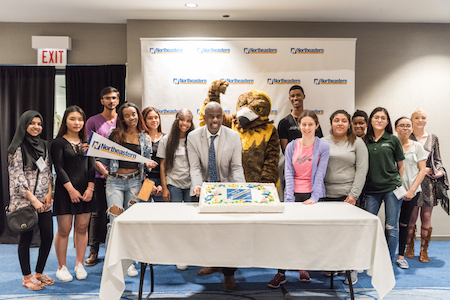 Admitted Student Celebration
The Office of Undergraduate Admissions hosted the Admitted Student Celebration on May 2 to recognize and welcome those incoming freshmen who plan to start their Northeastern education in the fall. Twenty-seven students and their families participated in the event, which provided them a platform to meet and connect with representatives from the University community. Admitted students also had the opportunity to celebrate by having their first photo with Goldie. The celebration attracted students from Chicago Public Schools and suburban high schools.
Critics' Choice Award
The American Educational Studies Association has honored Professor of Educational Inquiry and Curriculum Studies Erica Meiners with a Critics' Choice Award for her book "For the Children? Protecting Innocence in a Carceral State." On May 1, Meiners delivered a lecture with the same title as her book at Brooklyn College in New York as part of the Children's Studies 25th Anniversary Social Justice for Children Lecture Series.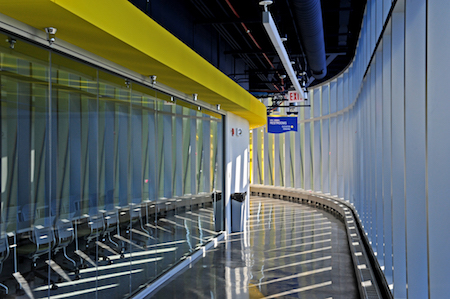 A great place
The Illinois Council of the American Institute of Architects (AIA Illinois) has named El Centro one of Illinois' 200 Great Places in honor of the state's bicentennial this year. Nominations came from architects from all parts of the state and were selected by AIA regional chapters. Nominations were weighed against criteria including the AIA's "10 Principles of Livable Communities." They must be publicly accessible, pedestrian-friendly, designed on a human scale, and provide vibrant public spaces, among other requirements. AIA Illinois' Illinois Great Places recognition program was created in 2007 to commemorate AIA's 150th anniversary and was designed to broadly include the "built environment," which includes civil, landscape and engineering places, as well as architecture.
An advocate for students
University Registrar Daniel Weber has published articles in two recent books. The chapter "Informal Mentoring," which first was published in the College & University journal in 2017, appears in the book "Mentorship in Higher Education: Practical Advice and Leadership Theories." The chapter "LGBTQ Students" appears in the book "Recruiting and Retaining a Diverse Student Body."
And there's more!
Signup is now open for the University Open House on June 6.
Assistant Professor of Human Resource Development Russell Wartalski and Associate Professor of Teacher Education Rachel Adeodu each gave presentations during the Global Conference on Education and Research from April 17-20 in Las Vegas. Wartalski's talk was titled "First-Generation Adult Learners' Transition Experiences to Formal Education: A Qualitative Exploration," and Adeodu's session was titled "The Role of Non-Governmental Organizations in Promoting Early Childhood Care and Development Education in Nigeria."
In the media
Chicago's old and odd laws
Did you know Chicago used to have a law on the books prohibiting flying kites in the middle of the street? That is one of the many amusing factoids highlighted in the latest Curious City piece from WBEZ that was included in an "All Things Considered" broadcast. Associate Professor of History Joshua Salzmann was one of the experts interviewed for the story. "You would look at a lot of these laws and think they're strange or archaic, because they certainly don't match the Chicago we live in today," he said.
Also in the media ...
Chicago Tribune movie critic Michael Phillips selected the Chicago Film Society's Aug. 1 screening of "The Wild Party" in the Auditorium among his 10 movies to see in Chicago this summer.
To do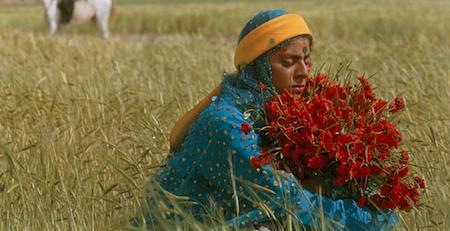 Chicago Film Society
This summer marks the 10th season of Northeastern's collaboration with the Chicago Film Society, which has announced its coming schedule. Highlights of the summer series include "Buck and the Preacher" (Sidney Poitier's 1972 directorial debut), "Gabbeh" (a landmark of Iranian cinema directed by Mohsen Makhmalbaf, pictured above), "The Wild Party" (a 1929 Dorothy Arzner film starring Clara Bow), and "Lady in the Dark" (a Technicolor musical starring Ginger Rogers and Ray Milland directed by Mitchell Leisen). Tickets cost $2 with a Northeastern ID and $7 for the general public. All screenings begin at 7:30 p.m. They are presented by the Chicago Film Society and sponsored by the Department of Communication, Media and Theatre.
Mark your calendar!
Thursday Night Live: Fran, 10 p.m. May 3, Student Lounge
#FollowFriday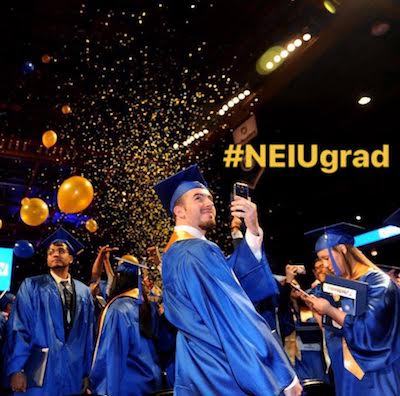 #NEIUgrad
We've gotten this hashtag trending in Chicago during several Commencement ceremonies. Let's do it again! Before you post it, tweet it or share it—tag it! Tag your Commencement pics and congratulatory messages with #NEIUgrad for a chance to be seen on the big screen at Commencement! And don't forget: If you can't be there, Commencement will be streamed live at neiu.edu.
Do you have a story tip? Let the public relations office know!
Mike Hines, Director of Public Relations and Web Communications, m-hines@neiu.edu, (773) 442-4240