Congratulations to Northeastern Illinois University's latest graduates! We've got stories and photos from Commencement, plus news on a new book and a professor who was featured by The Washington Post in this week's edition of Noteworthy at Northeastern.
Around the Commons
A call for civic engagement
Chicago lawyer and civic leader Valerie B. Jarrett, the longest-serving senior adviser to President Barack Obama, encouraged graduates to stay civically engaged, embrace diversity and think globally during Commencement at UIC Pavilion. "We must ask ourselves: What should be our responsibilities to one another and one nation to other nations?" Jarrett said. "We simply can't afford to pull back because the times are challenging or to isolate ourselves from each other or from the world." Northeastern awarded Jarrett an honorary Doctor of Humane Letters in recognition of her achievements. Be sure to check out photos from Commencement and last month's Academic Honors ceremony.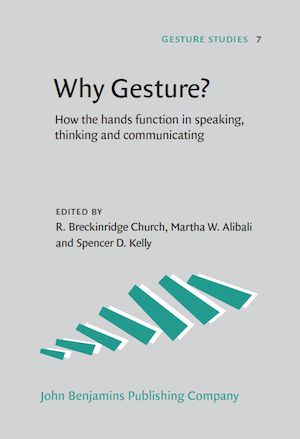 'Why Gesture?'
Psychology Professor Breckie Church has co-edited a new book, "Why Gesture?" In the book Church and her co-editors, University of Wisconsin-Madison Professor of Psychology Martha Alibali and Colgate University Professor of Psychology and Neuroscience Spencer Kelly, examine the function of gesture in speaking, thinking and communicating. "This book is an edited volume of the some of the foremost authorities on gesture—hand movements that represent our thoughts and information conveyed in our speech," Church said. "It could be used as a textbook but is a scientific collection of original research."
Arbor Day rewind
Northeastern celebrated Arbor Day on April 25 in the University Commons with a tree-planting demonstration, a tree giveaway and more. Check out the festivities—and learn about what makes Northeastern so green—in the video above!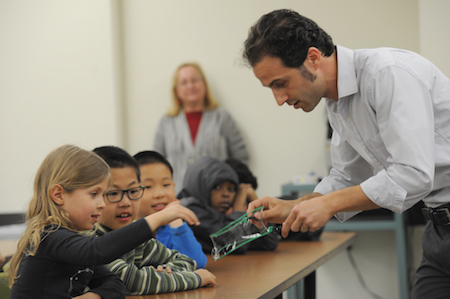 Math for everyone
The Department of Mathematics celebrated Mathematics and Statistics Awareness Month in April by giving children mathematical "wow" moments using soap bubbles. Forty children and their Northeastern parents (students, faculty and staff) joined Assistant Professor of Mathematics Nabil Kahouadji for a hands-on activity using soap bubbles to introduce and illustrate beautiful and complex geometric objects.
Back in Springfield
Interim President Richard Helldobler and Trustees Carlos Azcoitia, Jonathan Stein, Bob Biggins and George Vukotich were joined by several members of the Alumni Advisory Board for Alumni Advocacy Day in Springfield, where they met with legislators to advocate for swift and adequate funding for the University and public higher education in Illinois.
And there's more!
In the media
Addressing intimate-partner violence
Assistant Professor of Justice Studies and Women's and Gender Studies Adam Messinger continues to draw national attention for his first book, "LGBTQ Intimate Partner Violence: Lessons for Policy, Practice, and Research." In a Washington Post story about the book, Messinger addressed the differences in treating LGBTQ victims. " 'We're not going to treat you any differently' on the surface sounds great—it's an anti-discrimination approach and I appreciate that," Messinger told The Washington Post. "But it also oftentimes leads to services that are just ill-fitting, because they don't reach the unique nature of [intimate-partner violence]."
Also in the media ...
The Journal & Topics newspaper and the Daily Herald reported that Associate Professor of Educational Inquiry and Curriculum Studies Katy Smith was scheduled to speak at a letter of intent signing ceremony for Educator Prep, a partnership with District 214 that prepares high school students to become teachers.
To do
Mark your calendar!
Community College Juried Student Exhibition, through May 19, Fine Arts Gallery
Chicago Clarinet Ensemble 10th Anniversary Concert, 7:30 p.m. May 12, Auditorium
"Linda" screening, 7:30 p.m. May 16, Auditorium
Dr. Ronald Combs Studio Showcase, 7:30 p.m. May 16, Recital Hall
Thursday Night Live: Woongi, 10 p.m. May 18, Student Lounge
#FollowFriday
Alumni Association
You don't have to be a graduate to follow along with the Alumni Association. Plug into the Northeastern network on Facebook and Twitter to get all the latest news, events and benefits!
Do you have a story tip? Let the public relations office know!
Mike Hines, Director of Public Relations, m-hines@neiu.edu, (773) 442-4240