It's that time of year again! Northeastern Illinois University will celebrate the latest class of graduating students during Commencement on Sunday. Read about how to watch, who was invited to read at the Poetry Foundation and more in this week's edition of Noteworthy at Northeastern.
Around the Commons
Commencement is coming!
Distinguished Alumnus Award winner Billy Ocasio will be the featured speaker during Commencement on Dec. 16. If you can't be there in person, watch the ceremony live as it streams online at neiu.edu. Get ready by checking out photos from the Nov. 29 Master's Hooding (above) and Academic Honors ceremonies.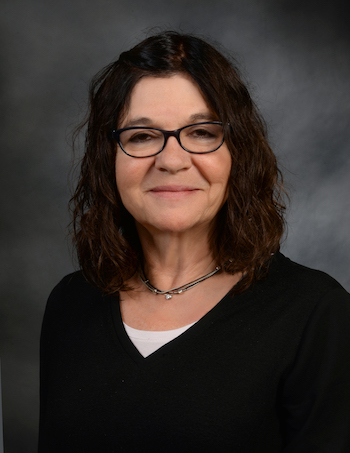 Professor Emerita
Northeastern has awarded emeritus status to retiring Chemistry Professor Ana Fraiman. She will be honored during Commencement on Dec. 16. Northeastern awards the prestigious status to eligible retiring faculty members upon the recommendation of the department or program, with the concurrence of the dean and the provost, and with the approval of the University president.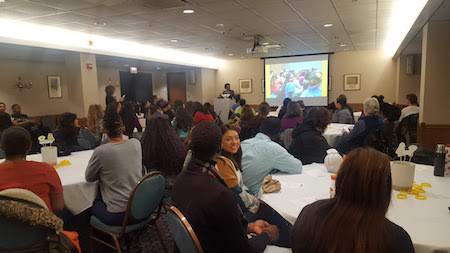 FYE celebration
The First-Year Experience (FYE) Program celebrated students' successful completion of their FYE/Seminar course and first semester of college in a ceremony that took place Dec. 6 in Golden Eagles. More than 120 people attended, including students, their families, faculty, staff and President Gloria J. Gibson, who congratulated attendees and award recipients. More than 40 awards were distributed. Dance Instructor Rachel Burton; Sociology and Women's and Gender Studies Instructor Brooke Johnson; Accounting, Business Law and Finance Instructor Darka Powers; and English Instructor Christine Simokaitis were presented with FYE Faculty of the Year Awards. Cesar Favela was the recipient of the Outstanding Peer Mentor Award. Northeastern's Title V grant sponsored this inaugural event, which was organized by Jessie Miller, Northeastern's Title V Student Success and Retention Coordinator.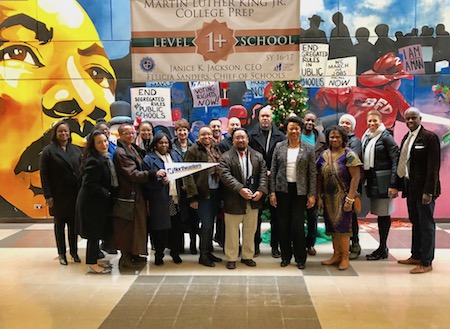 South Side tour
Northeastern President Gloria J. Gibson and a number of university faculty and staff visited six Chicago public high schools on Dec. 7 in an effort to increase enrollment and retention of African-American students. The initiative, spearheaded by the Carruthers Center for Inner City Studies Director Andrea Evans and African/African American Studies Program Coordinator Sharon Bethea, was conducted to establish partnerships with students, teachers and administrators in the Bronzeville and Hyde Park neighborhoods. Students and CPS staff at Dunbar, Phillips, King, Chicago Military Academy, Kenwood and Hyde Park shared their concerns and gave feedback about Northeastern and higher education in general, which led to many exciting possibilities.
And there's more!
Crain's Chicago Business published an op-ed that was co-authored by Associate Professor of History Joshua Salzmann about the economic future of the Midwest.
In the media
The Chicago Tribune featured Master of Science in Instruction in Secondary Education Language Arts graduate Anna Treesara in a holiday survival guide for introverts story.
Journal & Topics published a story about the 25th Annual Toy-ful Celebration concert that will take place Dec. 15 in Glenview. Among the performers will be the Glenview Concert Band, directed by Northeastern alumnus Greg Wojcik (B.A. '80 Secondary Education-Music).
To do
Poetry Foundation reading Northeastern students Kathryn Hudson and Natalia Rokita will join English Instructors Olivia Cronk and Larry O. Dean for a reading of various original pieces at the Poetry Foundation at 7 p.m. Dec. 18. The free event is part of the Poetry Foundation's Open Door series, which aims to showcase local writing programs and provide a space for new poets to share their work. Generally, a writing instructor and a current or former student share the stage. This is the first time Northeastern is featured for an entire evening of poetry.
#FollowFriday
#NEIUgrad
We've gotten this hashtag trending in Chicago during several Commencement ceremonies. Let's do it again! Before you post it, tweet it or share it—tag it! Tag your Commencement pics and congratulatory messages with #NEIUgrad. And don't forget: If you can't be there, Commencement will be streamed live at neiu.edu.
Do you have a story tip? Let the Office of Public Relations know!
Mike Hines, Director of Strategic Communications, m-hines@neiu.edu, (773) 442-4240