Northeastern Illinois University has completed the expansion of the Pedroso Center, hired a new vice president for Student Affairs, opened a Student Food Pantry ... oh, and Commencement is only one week away. Catch up on all of that news and more!
Around the Commons
NEIU Student Pantry
Beginning on Dec. 7, Northeastern will open a pantry for enrolled students. The NEIU Student Pantry will be open twice a week and will supply non-perishable food items and toiletries via donations from members of both the University community and the public.
Pedroso Center expansion
Northeastern officially opened its expanded Angelina Pedroso Center for Diversity and Intercultural Affairs during a ribbon-cutting ceremony on Nov. 30. Watch the video above to see what the ceremony's official speakers had to say about the project, as well as comments from students. (Pictured above, from left: Student Government Association President Nicholas Martinez, Angelina Pedroso and President Sharon Hahs.)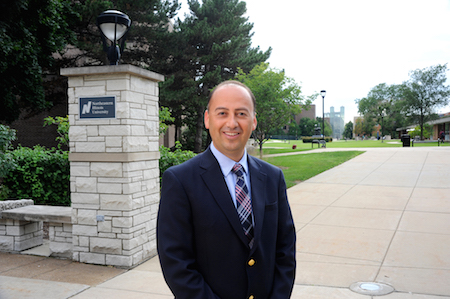 A new vice president
Daniel López Jr. has been hired as the next Vice President for Student Affairs. López, who currently serves as associate vice president for Student Affairs, has more than 20 years of demonstrated success in higher education administration in both academic and student support services. His appointment will take effect on Jan. 1, 2016.
A consulate scholarship donation
The Consulate General of Mexico in Chicago, the Institute of Mexicans Abroad Becas Programa and Juntos Podemos (Together We Can) have awarded Northeastern Illinois University a $13,000 contribution that will be used for scholarships for students of Mexican descent, including those who are recipients of Deferred Action for Childhood Arrivals.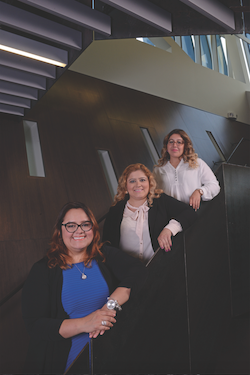 Legacy Family: The Luna sisters
The Luna sisters have always been encouraged to excel and pursue their educations. "Our parents always taught us the importance of higher education, even though they only had high school diplomas," said Maria Luna-Duarte, interim executive director of El Centro. Maria was the family's trailblazer to Northeastern. Her sister, Claudia Luna, earned her bachelor's in Spanish and Social Work in 2012, and she will begin pursuing her master's in Social Work next year. The youngest of the three sisters, Jennifer Luna, is currently pursuing her bachelor's in Sociology. Read more of our newest Legacy Family feature.
We beat the Giving Tuesday goal
Thanks to the generosity of more than 60 donors, the NEIU Foundation exceeded its Giving Tuesday goal of $5,000 with a total of $6,684. The number was a significant increase from last year's total of $4,839.
And there's more!
Department of World Languages and Cultures Administrative Aide Jeanette Hernández has received the prestigious Christifideles, an award given by the Archdiocese of Chicago to a layperson who "demonstrates faithfulness and dedication to ministry."
In the media
Research recognized
The Chicago Tribune cited a 1971 master's thesis written by Northeastern alumna Dorothy D. Burnett in a high-profile series about a pianist and his brothers overcoming a brutal attack by their father when they were children. The thesis was titled "Traumatic Brain Injury in Three Brothers: Their Rehabilitation, Adjustment and Present Lives."
Also in the media ...
To do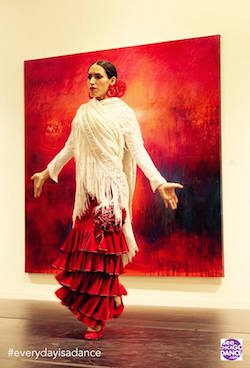 ENSEMBLE ESPAÑOL HOLIDAY CONCERTS
Ensemble Español will present its annual Family Holiday Concert Series and Concierto Familiar in December. The Concierto Familiar will take place Dec. 18 at 7:30 p.m. in the Auditorium on the Main Campus. The Ensemble's full company of 40 dancers will perform the dances of Spain in all three styles of Spanish dance.
Mark your calendar!
Senior Guitar Recital, 1 p.m. Dec. 5, Recital Hall
Ruth Page's "The Nutcracker" ($10-$25), 7 p.m. Dec. 5 and 1 and 5 p.m. Dec. 6, Auditorium
NEIU Percussion Ensemble and Studio Showcase, 7:30 p.m. Dec. 7, Recital Hall
"Tiger Shark" screening ($2, $5), 7 p.m. Dec. 9, Auditorium
Thursday Night Live: Skull Club Revival, 10 p.m. Dec. 10, Student Lounge
Community Music Program Recital, 11 a.m. Dec. 12, Recital Hall
Commencement, 2 p.m. Dec. 13, UIC Pavilion
#FollowFriday
Pedroso Center
At last! After months of construction, the expanded Angelina Pedroso Center for Diversity and Intercultural Affairs is now open and ready to continue its mission as a welcoming space for all. Follow the Pedroso Center on Facebook, or stop by and say hi!
Do you have a story tip? Let the public relations office know!
Mike Hines, Director of Public Relations, m-hines@neiu.edu, (773) 442-4240