Northeastern Illinois University's College of Business and Management is having quite a week. Not only is Northeastern the co-academic lead of the NSHMBA Conference & Career Expo, where President Sharon Hahs received an award on Oct. 8, but the College of Business and Management also announced plans for a major competition in partnership with U.S. Sen. Mark Kirk. Read about the entrepreneurial competition and lots more fun and exciting events that are coming to Northeastern!
Around the Commons
Big money, big competition
The College of Business and Management, in collaboration with the office of U.S. Sen. Mark Kirk, will host The Entrepreneur, a business plan competition with a $2,500 top prize. The competition will culminate in an event Nov. 20, when the top five finalists will present their business plans to a panel of judges. Sen. Kirk is expected to attend.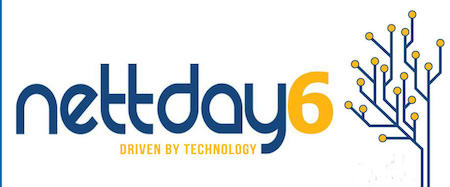 NETT Day
George Vukotich from 1871 and Keith Wakeman from SuperBetter will deliver the keynote addresses during Northeastern's sixth annual NETT Day on Oct. 15. NETT Day, which is free and open to the public, celebrates technology, the ways in which we interact with it, and how we use it to improve society. Since 2010, Northeastern has hosted NETT Day, which also offers workshops and panel discussions about human interaction and technology.
Talent Search comes to CCAS
The Council for Opportunity in Education (COE) has selected the Center for College Access and Success, in collaboration with COE and Illinois TRIO, to host the National TRIO Educational Talent Search 50 Year Anniversary. The celebration consists of two events—an Oct. 16 alumni networking event at CCAS and a College Access and STEM Fair at Northeastern on Oct. 17.

(Dis)ability Awareness Days
Artist and activist Riva Lehrer will present "Disability & Queer Identity" on Oct. 29 as part of the second annual Disability Awareness Days. Titled "Breaking the Ice," the three-day event produced by the Office of Student Disability Services will take place Oct. 27-29 and will include workshops, an art exhibition and a fully booked (Dis)ability Project Training session.
Our Chance to Dance
Ensemble Español will launch the Our Chance to Dance Youth Festival, taking place Oct. 17-23. Collaborating dance programs and companies include the Joel Hall Dance Youth Company, Natya Dance Theater Youth Ensemble, Ballet Chicago and the Red Clay Dance Company. The closing concert will take place at 7:30 p.m. Oct. 23 at Northeastern.
Great news on student loan repayment
For the sixth consecutive year, Northeastern has beaten the national and state three-year student borrower default rate, according to official annual data released by the federal government. Northeastern's rate fell to 6.1 percent from 6.7 percent, well below the national rate of 14.7 percent and the state rate of 14.1 percent. The average amount borrowed per student ($12,909 per Common Data Set) keeps Northeastern ranked high among institutions graduating students with the least amount of loan debt.
And there's more!
In the media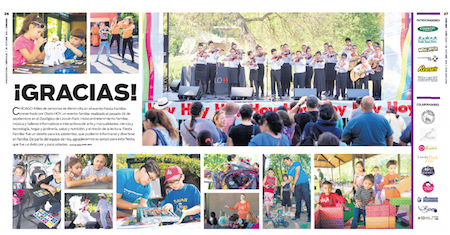 At the zoo
Hoy highlighted TRIO UBMS and 21st CCLC Pathways from the Center for College Access and Success in a two-page spread about the Sept. 26 Fiesta Familiar event at Lincoln Park Zoo.
Also in the media ...
WBEZ interviewed El Centro architect Juan Moreno about balancing old and new ideas in Chicago architecture.
AASCU highlighted Northeastern's student election workers on its blog.
Chicagoist highlighted the Oct. 28 screening of "Witchcraft Through the Ages" among its list of the best Halloween horror movie screenings in Chicago.
To do
Art in Response to Violence
Northeastern will host the 6th International Art in Response to Violence Conference on Oct. 22. Scholars and artists will demonstrate and discuss diverse ways of using the arts to express, document and heal the experiences of those who have been affected by violence.
Peace Fire
Eskimo-Kalaallit elder Angaangaq Angakkorsuaq will visit Northeastern on Oct. 15 to conduct a Peace Fire ceremony. The free event will take place from 6:30-9 p.m. at Northeastern's Peace Fire Circle, located north of the Physical Education building.
CCAS and the arts
For the first time, the Center for College Access and Success has been accepted as a participant in Chicago Artists Month (CAM). As a platform for independently produced events and programs in all disciplines, CAM highlights creative activity in Chicago. CCAS will host a free exhibition and four free workshops.
Mark your calendar!
"Becky Shaw," Oct. 9 at 7:30 p.m. and Oct. 10 at 2 and 7:30 p.m., Stage Center Theatre
Rainbow Kick-Off Party, 11:30 a.m. Oct. 12, Student Union 214
LGBT and Latino Identities, 4:15 p.m. Oct. 12, B 152
"Out in the Night" screening, 3 p.m. Oct. 13, Alumni Hall
Student Recital, 3:05 p.m. Oct. 13, Recital Hall
"Illusion Travels By Street Car" screening, 7 p.m. Oct. 13, Auditorium
Voice Showcase, 7:30 p.m. Oct. 13, Recital Hall
Impact of Gentrification and Displacement on Different Racial and Ethnic Communities in Chicago, 6 p.m. Oct. 14, El Centro
Love Your Body Day, 4:15 p.m. Oct. 15, Student Union 003
Noche de la Familia, 6:30 p.m. Oct. 15, El Centro
NEIU Wind Ensemble, 7:30 p.m. Oct. 15, Auditorium
Thursday Night Live: Mooner, 10 p.m. Oct. 15, Student Lounge
Chicago Woodwind Ensemble Competition, 3 p.m. Oct. 17, Steinberg Fine Arts Center
Jewel Box Series: Doreen's Jazz New Orleans ($17.50-$25), 7:30 p.m. Oct. 16, Auditorium
#FollowFriday
#ThankAProf
We all have a professor to whom we owe a big thank you. Who is yours? Share your thanks on social media with #ThankAProf now until Thank-A-Professor Day on Oct. 15, or post a note on the Thank-A-Professor board in Village Square. 
Do you have a story tip? Let the public relations office know!
Mike Hines, Director of Public Relations, m-hines@neiu.edu, (773) 442-4240