Got your pencils ready? Excellent! Another academic year kicks off with lots of good news to share. Read about six students' summer research fellowships with ChicagoCHEC, new faculty publications and more.
Around the Commons
The fellowship of a lifetime
As the start of a new academic year arrives, six students will bring the summer fellowship learning experiences of a lifetime back to class with them. The Chicago Cancer Health Equity Collaborative Research Fellows Program provided a diverse and talented cohort of 16 students from Northeastern, Northwestern University, the University of Illinois at Chicago and the City Colleges of Chicago with eight weeks of full-time, hands-on learning from some of the nation's leading researchers. "I want to be an advocate for people and bridge gaps caused by health care disparities," recent Economics graduate Rut Ortiz (pictured above) said. "I fully believe that health care is fundamental human right, so I want to stand against elitist systems and stand for the minority demographics that are negatively affected by them."
33rd Triennial Congress
Justice Studies and Women's & Gender Studies Professor Nancy Matthews gave a talk at the 33rd Triennial Congress of the Women's International League for Peace and Freedom (WILPF) on July 29 in Chicago. She was joined by Justice Studies alumnus and current graduate student Berhane Hailemichael on a panel titled Women Forced to Flee about refugee issues. Hailemichael shared his insights as a former child soldier in the Eritrean war for independence and as a photojournalist before coming to the United States as a refugee. Among other Northeastern participants in the Congress were Andrew Moreno, who got involved with WILPF last spring after taking a class taught by Matthews and attending the WILPF delegation to the United Nations meeting on the Commission on the Status of Women. Moreno also spoke at the Congress about this experience and is continuing work to organize a local chapter of the 100-year-old organization whose first president was Chicago's Jane Addams.
And there's more!
In the media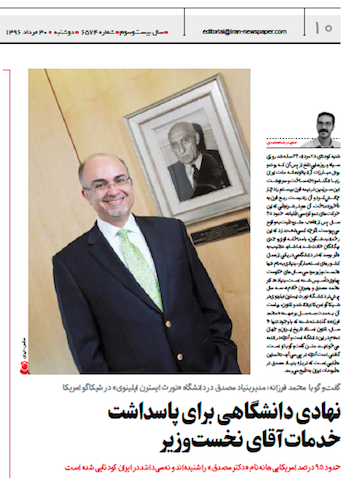 Remembering Mohammad Mossadegh
Aug. 19 marked the anniversary of the British/American coup in Iran in 1953 that overthrew the government of Prime Minister Mohammad Mossadegh. To mark the occasion, Associate Professor of History Mateo Farzaneh was featured in Iran newspaper, where he talked about the history of Northeastern's Mossadegh Servant Leader Hall Fund and the role of President Emerita Sharon Hahs, as well as plans for the Mossadegh Initiative and Mossadegh as a historical figure in the United States. He emphasized the fact that some of the principles Iranians celebrated as virtues of Dr. Mossadegh are indeed principles that Americans value and cherish as well. This was a first for any Iranian newspaper to discuss academic institutions and scholarships related to Iranians in the United States. Farzaneh also appeared on WBEZ's "Worldview" to talk about the role of the United States and United Kingdom in the coup.
Eclipse fever
As eclipse fever reached its peak, "CBS This Morning" and the BBC were the latest high-profile news outlets to interview President Emerita Sharon Hahs and her husband, Billy, about their love of eclipses. About 60 friends and family joined Sharon and Billy in Missouri to watch the eclipse.
Also in the media ...
The Chicago Tribune published a story about current Northeastern master's student and undergraduate alumnus Franklin Ortega Palaguachi (B.A. '16 Latina/o and Latin American Studies), who has been awarded Oakton Community College's Living Diversity Award.
To do
Chicago Film Society Fall 2017 season
The Chicago Film Society has announced its Fall 2017 schedule of movies that will be shown on the Main Campus. "Autumn Leaves" will open the series on Sept. 6 with a special introduction from Chicago Reader and Cine-File contributor Ben Sachs. The fall selection will include "To Each His Own," "One Potato, Two Potato," "Monte Carlo: The Silent Version" and "It's Great to Be Alive;" all films that are currently unavailable on DVD or Blu-ray.
Mark your calendar!
"Gold Diggers of 1935" screening, 7:30 p.m. Aug. 30, Auditorium
Thursday Night Live: Impossible!!, 10 p.m. Aug. 31, Student Lounge
#FollowFriday
Attention, students!
If you are a currently enrolled student, the NEIU Students account on Facebook is a must-follow to stay up to date on events, deadlines and tips for making the most of your time at Northeastern Illinois University.
Do you have a story tip? Let the public relations office know!
Mike Hines, Director of Public Relations, m-hines@neiu.edu, (773) 442-4240