What a week! Northeastern Illinois University handed out five major awards, accomplished the Goodwin Gift Challenge goal, earned a major federal grant and saw one of its professors draw national recognition from NBC News for his work with future education leaders. Read all about those stories and more in this week's edition of Noteworthy at Northeastern.
Around the Commons
NEIU Weekend rewind
An estimated 1,000 people participated in NEIU Weekend, which started with Fall Fest and ended with a triumphant Golden Gala. Here are a few of the highlights:
McNair Scholars Program grant
The United States Department of Education has awarded Northeastern a five-year, $1,161,325 Ronald E. McNair Postbaccalaureate Achievement Program grant. Beginning Oct. 1, the grant will continue support of Northeastern's McNair Scholars Program, which prepares first-generation students, low-income students and students from underrepresented groups for doctoral studies through involvement in research and other scholarly activities. The goal is to increase the attainment of Ph.D. degrees by students from underrepresented segments of society.
From the Philippines
Northeastern hosted two superintendents from the Manila public school system and the chair of De La Salle University's Department of English and Applied Linguistics on Sept. 18. The visitors from the Philippines visited Chicago under the auspices of the Department of State's International Visitor Leadership Program. Among other goals, they came to explore a range of perspectives on public, private and mixed educational models through discussions with American curriculum specialists, educators, students, school administrators and school boards. Drs. Monisit, Plata and Tortola met with Interim Provost Wamucii Njogu and exchanged ideas with Associate Dean of the Daniel L. Goodwin College of Education Alberto Lopez and Literacy, Leadership and Development Department Chair Howard Bultinck, during which they expressed great interest in Northeastern teacher and principal preparation models.
Yes, we voted
Northeastern's student body voted at a rate of 60 percent—9.6 percent higher than the 50.4 percent voting rate for all institutions—in 2016, according to the results of a recent study released by the National Study of Learning, Voting and Engagement. More than 1,000 colleges and universities signed up to receive their voting rates for the 2012, 2014 and 2016 federal elections. The 2016 figure reflects a 12.5 percent increase over Northeastern's 2012 voting rate of 47.5 percent.
And there's more!
In the media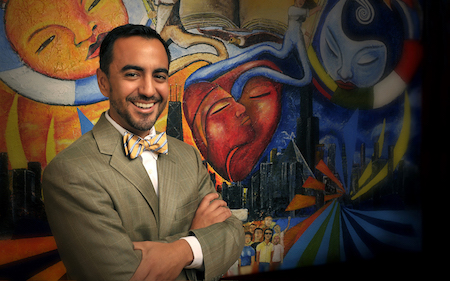 'The Higher Ed Guru'
Joining an astronaut, a supermodel and a celebrity chef, Associate Professor Francisco Gaytán was named to the #NBCLatino20 as The Higher Ed Guru. Gaytán, who recently was appointed Provost's Fellow for Student Success and Retention, was featured by NBC News for his work with the ENLACE Leadership Institute. "Working with first-generation college students is the way to be the change you want to see," Gaytán told NBC News. "It's all about 'Once you get the resources for making it, now share it with other people.' That's what motivates me, the information sharing that has a really direct and immediate impact."
Violence and trauma
As part of its Every Other Hour series of stories on Chicago gun violence, WBEZ approached Assistant Professor of Educational Inquiry and Curriculum Studies Kimya Barden for her expertise on trauma. "There's this assumption that because in certain areas in Chicago with this concentrated crime rate—that folks just get used to it, folks killing each other," Barden told WBEZ. "They're used to hearing about it. And that's just not the case."
'Lessons learned by moonlight'
Double alumnus John Vukmirovich (B.A. '82 English; M.A. '85 English) penned a tribute to the beginning of fall semester for the Sun-Times, relating his personal story about his experiences at Northeastern. "Education is what you make of it, no matter where you go to get it," Vukmirovich wrote. "You might attend the most ivy-covered of universities, yet emerge no more well educated than your counterpart from a public institution. Or less."
Sugar and slavery
As the debate over Cook County's sugary drink tax continues, Sociology Instructor Josef Ben Levi was quoted in The Chicago Reporter about the connection between sugar and slavery, and connections to modern health. "The very foundation of France and its control of what became Haiti had to do with sugar," he told The Chicago Reporter. "When Europeans got hold of sugar, they just freaked out."
Also in the media ...
To do
Jewel Box Series
Rhythm Future Quartet will perform Sept. 29 to open the new season of Northeastern's Jewel Box Series. The acoustic jazz ensemble has a straightforward agenda: to keep the spirit of Gypsy jazz alive and expanding in today's musical universe. The virtuosic foursome, named for a Django Reinhardt tune, offers up a newly minted sound influenced by the classic Hot Club of France, yet wholly contemporary.
ChicagoCHEC Community Forum
Candace Henley, 36, will fulfill a promise to spread the word about the dangers of colon cancer today as she delivers the keynote speech at a community forum led by the Chicago Cancer Health Equity Collaborative (ChicagoCHEC), a National Cancer Institute-funded initiative to reduce cancer inequities in Chicago's low-income neighborhoods. The forum will provide a detailed look at the ongoing work of the ChicagoCHEC partnership, led by researchers, educators and clinicians from Northeastern Illinois University, the Robert H. Lurie Comprehensive Cancer Center of Northwestern University and the University of Illinois at Chicago.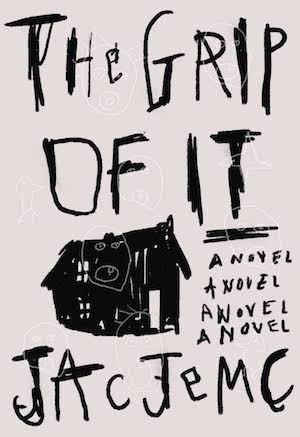 The 82 Express
As part of its minor in Creative Writing, the Department of English continues its reading series called The 82 into its second year. This year's first event (or sub-event called The 82 Express) is an intimate reading with one writer, Jac Jemc, at 4 p.m. Sept. 25 in FA 107. Jemc will read from his novel "The Grip of It," about a young couple haunted by their new home.
Mark your calendar!
#FollowFriday
ChicagoCHEC
Want to stay on top of Northeastern's participation in the Chicago Cancer Health Equity Collaborative? Follow the collaborative's Facebook and Twitter accounts to get the latest details!
Do you have a story tip? Let the public relations office know!
Mike Hines, Director of Public Relations, m-hines@neiu.edu, (773) 442-4240