Northeastern Illinois University's faculty, staff, students and alumni are racking up awards like they're the Chicago Cubs. Before you tune in to the remaining World Series games, check out the honors and much more!
Around the Commons       
Audrey Reynolds Distinguished Teaching Award
Chemistry Professor Ana Fraiman has been named Northeastern's 2016 recipient of the Audrey Reynolds Distinguished Teaching Award. Professor Emerita of Linguistics Audrey Reynolds established the award to be given annually to a tenured member of the Northeastern faculty who best demonstrates distinguished teaching. As the award recipient, Fraiman will receive $5,000 and will give a presentation regarding teaching during the Spring 2017 semester.
Back from SACNAS
More than 25 representatives from Northeastern's Departments of Biology, Chemistry, Computer Science, Earth Science and Psychology have returned from the Society for Advancement of Hispanics/Chicanos and Native Americans in Science conference on Oct. 13-15 in Long Beach, Calif. The students joined more than 4,000 attendees as they presented posters of their summer research and met with academic, agency and industry representatives to develop their contacts for continuing their careers once they graduate. The Student Center for Science Engagement was represented by students Marilyn Alam, Aly Cervantes, Elizabeth DiNello, James Harvey, Jean Konan, Alexandra Lopez, Joseph Marsili, Kayla Martinez-Soto, Mark Mau, Saulius Miniotas, Andy Mistak, Azucena Rosano, Charlotte Salameh, Mariya Stefinko. Northeastern's USDA-funded AGriculture and Undergraduate Achievement project was represented by students Patricia Leon, Eric Rivas, Mindy Smith, Ryan Solis, Phil Szyjka and Daniela Tapia. And the NEIUSTAR program was represented by students Giovanni Monterroso and Jessica Silvestri. The students were joined by faculty members Jean Hemzacek, Joel Olfelt, Laura Sanders, Marcelo Sztainberg and Ken Voglesonger.
4th Annual Genocide Research Symposium
Northeastern will host the 4th Annual Genocide Research Symposium on Nov. 1. Titled "Human Rights and Genocide in Africa and the Diaspora," the symposium is free and open to the public. Researcher and expert in African genocide Kurt Mills will deliver a speech titled "Impediments to Stopping Atrocities in Africa and Beyond." Obang Metho, executive director of the Solidarity Movement for a New Ethiopia, will deliver a speech titled "A Journey From the Solitary Darkness of Crimes Against Humanity and Genocide to the Embrace of the 'Other.'"
Early voting at Northeastern
As the nation gears up for the General Election on Nov. 8, two Northeastern locations will serve as early voting sites for Chicago residents who want to register or cast their ballots in advance. Early voting is currently underway at El Centro through Nov. 7. Hours for El Centro voting are listed online. Early voting will also be available on the Main Campus in SU-003 from Nov. 2-4. It will be open between 10 a.m. and 5 p.m. during all three days.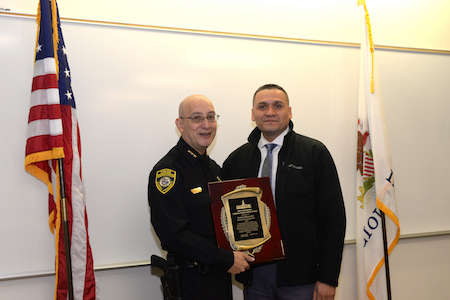 Lifetime award
University Police Chief John Escalante has been presented with the Hispanic Illinois State Law Enforcement Association's 2016 Lifetime Achievement Award. The award was presented by Northeastern alumnus and HISLEA President Hector Alejandre on Oct. 21. Escalante spent 30 years with the Chicago Police Department—including four months as interim superintendent—before retiring from CPD and taking his current position at Northeastern in September 2016.
Writing awards
Department of English Chair Tim Libretti and student Terri Albano have both won International Labor Communications Association Labor Media Awards for their work in People's World. Libretti won first place for Writing: Best Series: National/International, and Albano earned second-place awards for news writing and feature writing and an honorable mention for longform audio.
And there's more!
Northeastern hosted the 19th Annual Polish-American Heritage Celebration on Oct. 27.
Wil Maheia (B.A. '92 Board of Governors and Environmental Studies) has won Oceana's Belize 2016 Ocean Hero Award for his efforts to protect sustainable fishing in southern Belize. (Check out the video.)
In the media
The Herald & Review of Decatur reported that Assistant Professor of Social Work Aimee Hilado participated in a panel discussion about the role of conversation in early childhood development.
The Newton (Iowa) Daily News reported that Dave Zahn (B.A. '89 Art and Secondary Education: Art) will be featured in the Iowa Sculpture Festival.
PRI interviewed Alaa Basatneh (B.A. '15 Political Science) for a story about the U.S. Census Bureau's controversial proposal to add "Middle Eastern or North African descent" to its list of choices for ethnicity or race.
To do
Our Chance to Dance
Ensemble Español Spanish Dance Youth Company will perform in the Our Chance to Dance Youth Festival on Nov. 5 in the Auditorium. The concert program will feature performances by local dance companies ChiArts, Chicago Lights Dance Academy, Kuumba Lynx and Move Me Soul.
Mark your calendar!
Tyler Bohm exhition, through Nov. 18, Fine Arts Gallery
Food Truck Friday, 4-7 p.m. Oct. 28, Lots D and J
Senior Piano Recital, 7:30 p.m. Oct. 28, Recital Hall
NEIU Faculty Recital, 3:05 p.m. Nov. 1, Recital Hall
Day of the Dead celebration, 5-8 p.m. Nov. 1, The Nest
"A Face in the Crowd" screening, 7:30 p.m. Nov. 1, Auditorium
Senior Horn Recital, 4:30 p.m. Nov. 2, Recital Hall
Las Comadres womyn's group, noon Nov. 3, Pedroso Center
NEIU Varsity Big Band, 7:30 p.m. Nov. 3, Auditorium
Micro Recital, 7:30 p.m. Nov. 4, Auditorium
#FollowFriday
The Arts at NEIU
What's your pleasure? From music and dance to theater and film, the Arts at NEIU has something for everyone. Follow along on Facebook and Instagram for exciting event listings like the Nov. 18 Jewel Box Series performance by April Verch and the ever-popular holiday ballet The Nutcracker!
Do you have a story tip? Let the public relations office know!
Mike Hines, Director of Public Relations, m-hines@neiu.edu, (773) 442-4240