A Northeastern Illinois University Biology major and an Education professor each have been honored for their incredible work.
Read more about their awards, the next Jewel Box Series performance and a Northeastern-themed pumpkin-carving challenge in this week's edition of Noteworthy at Northeastern!
Around the Commons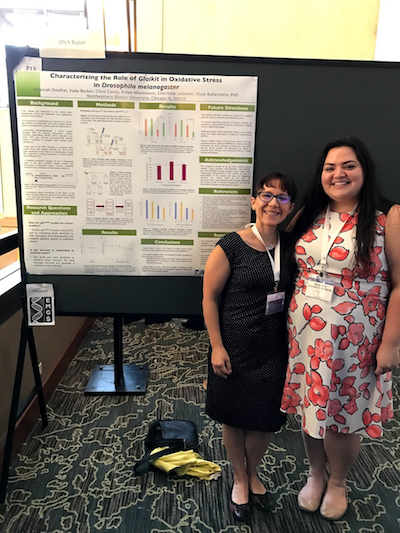 Award winner!
Biology major Debbie Onofrei won second place for best student poster during the Environmental Mutagenesis and Genomics Society's national meeting from Sept. 22-26 in San Antonio, Texas. Onofrei was joined by Assistant Professor of Biology Elyse Bolterstein to present their research. Onofrei's poster was titled "Characterizing the Role of Glaikit in Oxidative Stress in Drosophila melanogaster." Onofrei, who will graduate in December, attended the meeting with the assistance of a Student Travel Award from the NEIU Foundation.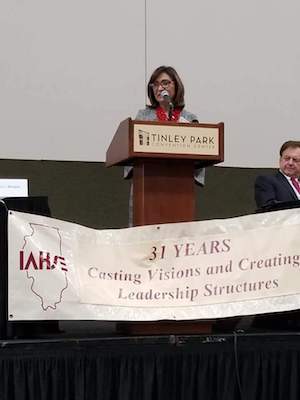 More awards!
The Illinois Association of Hispanic State Employees presented Professor of Literacy, Leadership and Development Ana Gil Garcia with the Hilda Lopez-Arce Heroine Award during its 31st annual conference on Sept. 28. The award is presented to individuals who exhibit leadership qualities and who contribute to the Latino community. Gil Garcia works in the Latino communities, especially in the educational leadership field in which she advocates for Latino leadership parity and equity. Gil Garcia also will be recognized by the Break the Silence Foundation during its Oct. 19 Purple Gala for the community work she does in Chicago for victims, survivors and families affected by domestic violence.
And there's more!
In the media
To do
Jewel Box Series
The Akropolis Reed Quintet will perform as part of the Jewel Box Series at 7:30 p.m. Oct. 19 in the Recital Hall. The group was founded in 2009 at the University of Michigan and is the first ensemble of its makeup to win a Fischoff Gold Medal (2014), Grand Prize at the Plowman and MTNA national competitions, and six national chamber music prizes in total.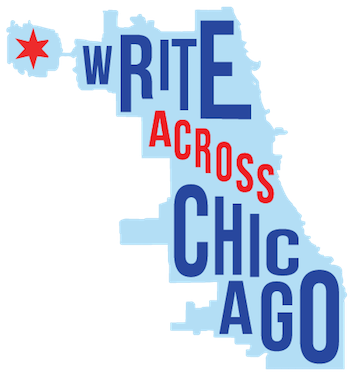 Write Across Chicago
The Illinois Writing Project in the Daniel L. Goodwin College of Education will celebrate Write Across Chicago, an October program of writing groups across the city, on Nov. 1 at the Harold Washington Library. RSVP is required for this free event.  Many people in the 50 groups at library branches, businesses, schools and community organizations throughout the city will share their stories in small clusters. A panel discussion on the power of writing to bring people together will follow. 
Early voting
Two Northeastern locations will serve as early voting sites for Chicago residents who want to register or cast their ballots in advance of the Nov. 6 election. Early voting will begin Oct. 22 at El Centro and run through Nov. 5. Hours for El Centro voting are listed online. Early voting will also be available on the Main Campus in SU 003 from Oct. 31-Nov. 2. It will be open between 10 a.m. and 5 p.m. during all three days.
Mark your calendar!
#FollowFriday
#NEIUpumpkin
Celebrate the spirit of Halloween and your #NEIUspirit too! Download four custom stencils at neiu.edu/pumpkin and show us your jack-o'-lantern skills on Instagram. Tag your pics with #NEIUpumpkin so we can see your handiwork.
Do you have a story tip? Let the Office of Public Relations know!
Mike Hines, Director of Strategic Communications, m-hines@neiu.edu, (773) 442-4240