Like we said last week, Northeastern Illinois University is filled with so many inspirational stories. This week, we highlight a Finance major who wants to use his education to help lift his family and his community. Read about Steve Deeloo and much more in this week's edition of Noteworthy at Northeastern.
Around the Commons
Business for the people
Money is important to Steve Deeloo (pictured above). Really important. It's a value Deeloo developed growing up with his family in Iraq with little to get by—and then living for nine years together as refugees in Jordan. For Deeloo, money isn't about being rich—it's about freedom and survival. Now on the verge of becoming the first member of his family to earn a college degree, Deeloo is proud of what his education can do for his family and his community. Read about Deeloo's journey as he moves closer to earning his Bachelor of Science in Finance from Northeastern later this year.
Kane Scholarship Golf Event results
The 46th Annual Chuck Kane Scholarship Golf Event raised $20,165 on June 18. Legendary Chicago Cubs catcher Randy Hundley attended the event as the featured speaker—along with his friend and Northeastern alumnus John St. Augustine (B.A. '92 University Without Walls). With an endowment of $444,723, the scholarship has provided support for more than 150 students. Fourteen more scholarships will be awarded before the end of this year. View photos from this year's event.
And there's more!
Northeastern will host a One Stop Enrollment Express from 10 a.m.-5:30 p.m. in Alumni Hall on July 18. Departments from across the University will come together to help students prepare for the fall semester.
Northeastern ranked 49th on the Best Value Schools list of Top Colleges For Older Students.
In the media
Metropolitan Peace Academy
The first class of students have graduated from the Metropolitan Peace Academy, a violence prevention training program that was featured by Block Club Chicago. Curriculum for the academy was developed by Northeastern Master of Social Work Director Troy Harden. "The attempt here is to professionalize the field of community outreach because it is among the toughest jobs in the city and yet there is no formalized training using the best available sciences and practices from across the country," he told Block Club.
Immigrant anxiety
"What's happening?" That's a question Hannah Bonifacius often hears from the students in her classes at World Relief Chicago, a refugee and immigrant resettlement nonprofit. Bonifacius, a Northeastern student in the Teaching English to Speakers of Other Languages master's program, spoke with NPR about the fear among immigrant communities in the current political climate. "Our current climate is affecting their mental health, for sure," she told NPR.
Also in the media ...
Military.com featured alumnus Scott Plunkett (B.A. '14 Communication, Media and Theatre) in a story about Code Platoon, an intense coding program for military veterans.
The Chicago Tribune published a story about the death of accomplished naturalist and animal expert Garon Fyffe. He earned his Bachelor of Arts in Geography from Northeastern in 1972.
To do
High School Band Camp
The Department of Music and Dance will host its first Summer High School Band Camp from July 22-27. Northeastern faculty, staff, students and alumni will work together to provide a weeklong day camp with a spectacular experience. Registrants may use promo code BCscholar100 to receive a full tuition scholarship. The University community is invited to the camp's final concert at 5 p.m. July 27 in the Auditorium.
Poetry as Intercultural Response
Joanna Radwańska-Williams will deliver a lecture titled "'Recollected in Tranquility': Poetry as Intercultural Response" at 6 p.m. July 12 in Fine Arts room 203. Radwańska-Williams serves as English Adviser to the Board of Management of Macao Polytechnic Institute, supervises the Fulbright English Teaching Assistants Program, and coaches the English Debating Team. She is also the General Editor of the journal Intercultural Communication Studies. The lecture will examine Dr. Radwańska-Williams' creative process through a reading and analysis of several original poems, written either in English or simultaneously in Polish and English.
Mark your calendar!
"The Landlord" screening, 7:30 p.m. July 11, Auditorium
Thursday Night Live: The Anti-Tumpz, 10 p.m. July 12, Student Lounge
#FollowFriday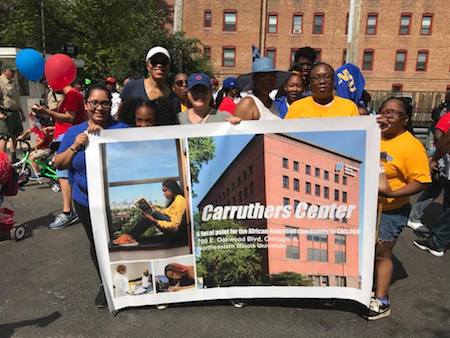 Carruthers Center
The Jacob H. Carruthers Center for Inner City Studies was well represented at the 4th on 53rd Independence Day Parade in Hyde Park. Follow along on Facebook for more photos, events and news from the Bronzeville location!
Do you have a story tip? Let the public relations office know!
Mike Hines, Director of Public Relations and Web Communications, m-hines@neiu.edu, (773) 442-4240