The National Science Foundation continues to fund important research taking place at Northeastern Illinois University. The latest three-year grant will back a study coming out of the Department of Latina/o and Latin American Studies. Read more about the grant, a high-profile visitor from Poland and more in this week's edition of Noteworthy at Northeastern.
Around the Commons
A grant to study social cohesion
The National Science Foundation has awarded Northeastern a three-year, $149,934 grant to fund Associate Professor of Latino and Latin American Studies Victor Ortiz's comparative research into the nature and magnitude of social cohesion of Latino and non-Latino residents of the Chicago suburb of Yorkville. The study will use surveys, interviews and field observations to draw its conclusions.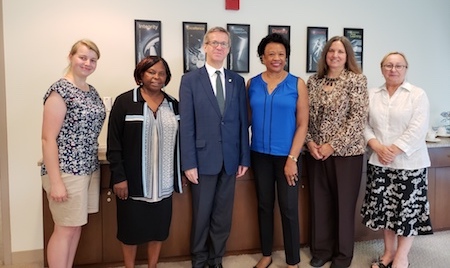 A visit from Poland
The Office of International Programs facilitated a visit by Jacek Prokop, Vice Rector of International Relations and head of the Department of Business Economics at SGH Warsaw School of Economics, on July 19. Prokop was joined by his daughter, Monica, who was an exchange student to Northeastern in 2014. The purpose of Prokop's visit was to further develop the long-standing partnership between Northeastern and SGH. Prokop's presence at Northeastern followed a recent visit by Cris Toffolo, Interim Director of the Office of International Programs, to SGH in March, and visits in previous years by Provost Wamucii Njogu and others. While at Northeastern, Prokop gave a lecture titled "A Theory of Cartel Formation - Policy Implications" to a microeconomics class taught by Assistant Professor of Economics Hardik Marfatia. The talk was attended by Piotr Janicki, Consul General of the Consulate General of the Republic of Poland in Chicago. It was jointly sponsored by Northeastern's Department of Economics and the Polish and European Academic Center for Exchange and Research (PEACER), which was formed and has been led for many years by Department of Mathematics Chair Lidia Filus. (Pictured above, from left: Monica Prokop, Wamucii Njogu, Jacek Prokop, Gloria Gibson, Cris Toffolo and Lidia Filus.)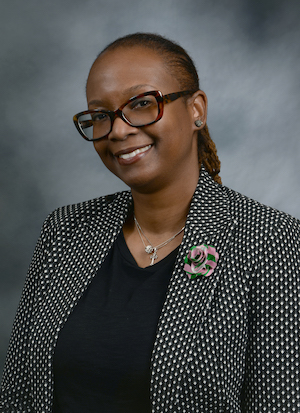 National board president
Northeastern Director of Scholarships Michelle Morrow was recently installed as president of the national board for the Association of Black Women in Higher Education (ABWHE). Since its founding in 1978, ABWHE has sought to "serve as a forum for developing strategies to improve the quality of education of Black people, with particular emphasis on encouraging Black youth to take full advantage of available educational opportunities. ABWHE is committed to aiding Black women in the academy in fulfilling their own aspirations as well as encouraging Black youth to pursue their education." During the upcoming months, ABWHE will focus on administering its scholarship, membership and chapter growth, executing signature programs, including professional development activities, and planning its next national conference in 2019 in Minnesota.
And there's more!
For the first time on a Saturday, Northeastern will host a One Stop Enrollment Express from 10 a.m.-2 p.m. in Alumni Hall on Aug. 4. Departments from across the University will come together to help students prepare for the fall semester. Another One Stop Enrollment Express is planned for Aug. 14.
In the media
WBEZ's "Worldview" invited Associate Professor of History Mateo Farzaneh to talk about the latest developments in Iran's relationship with the United States.
To do
Mark your calendar!
#FollowFriday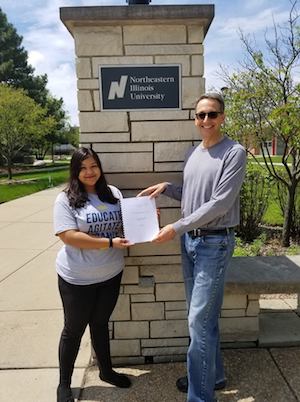 University Honors Program
There's always something to celebrate in the University Honors Program! Follow along on Facebook to see the program's regular posts celebrating the accomplishments of its students. In the above photo, Honors graduate Lizbeth Rosas poses with Anthropology Professor and Honors Program Coordinator Jon Hageman.
Do you have a story tip? Let the Office of Public Relations know!
Mike Hines, Director of Strategic Communications, m-hines@neiu.edu, (773) 442-4240