Northeastern Illinois University will have new leader for the next two months, until Gloria Gibson arrives to take over as president. Read about Wamucii Njogu's appointment as acting president, Associate Professor of Biology Aaron Schirmer's new research that has attracted international attention, and a new program in the Daniel L. Goodwin College of Education. It's all in this week's edition of Noteworthy at Northeastern.
Around the Commons
Acting president
The Northeastern Board of Trustees has named Wamucii Njogu acting president of the University for the period of April 1 through May 31, 2018. Earlier this month, the Board appointed Dr. Gloria J. Gibson president effective June 1, 2018. Njogu has been serving as Northeastern's acting provost since July 1, 2017. In addition to her duties as acting provost, Njogu has served as co-chair of the Forward 150 program prioritization initiative.
INTERNATIONAL COVERAGE OF RESEARCH
Colleges and universities should consider the circadian rhythms of their students when they schedule classes, and those students should consider their own cycles of activity when they register for classes, according to research published by Associate Professor of Biology Aaron Schirmer in the journal Scientific Reports. The article was co-authored by Benjamin Smarr, a postdoctoral fellow in the Kriegsfeld lab at the University of California, Berkeley. The research has received international attention, whith coverage from Inside Higher Ed, The Sydney Morning Herald, the Daily Mail, CTV, Hindustan Times, Tech Times, Genetic Engineering & Biotechnology News, The Heath Site, the Miami Herald, IFLScience and Phys.org.
A new program
The Illinois Board of Higher Education has approved a new Master of Arts in Teaching in Secondary Education. Beginning Fall 2018, the Daniel L. Goodwin College of Education will offer the NCATE-accredited graduate program through its Department of Educational Inquiry and Curriculum Studies. The 37-credit-hour program is designed for students who wish to teach the following subjects in grades 9–12: English Language Arts, Math, History and Science (Biology, Physics, Chemistry and Earth Science). Also launching in Fall 2018 is a revamped Teacher Licensure Program (TLP), consisting of 31 credits of graduate-level coursework.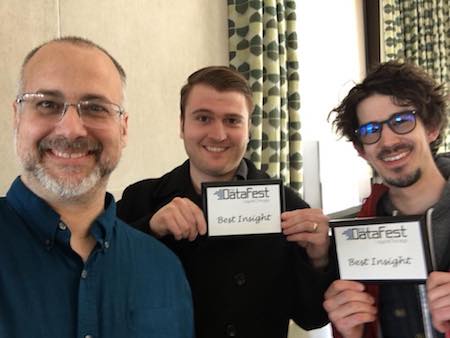 DataFest winners
Economics majors Jonathan Paddock and Matthew Waszak (pictured above with Economics Chair Michael Wenz) earned the prize for Best Insight during DataFest 2018 at Loyola University Chicago on March 23-25. DataFest is a competition organized by the American Statistical Association at universities across the country. Students are given a large dataset from a major corporation on Friday evening, then apply their data science skills to compete in categories including Best Visualization and Best Use of External Data. Paddock and Waszak teamed with Loyola student Katie Busse to earn the prize for Best Insight at this year's competition. This is the third year Loyola has hosted a DataFest event and the first year Northeastern has sent a team.
Midwest Sociological Society presentations
Professor Brett Stockdill, two Sociology alumni and a current sociology student all presented during a session titled "Interlocking Inequalities and Public Health" at the Midwest Sociological Society Annual Meeting in Minneapolis on March 24. Brandon Hooks (Sociology major) presented "Mental Health, Stigma, Race, and Gender in Higher Education"; Patricia Morales (Sociology alumna, 2017; currently in the University of Illinois, Chicago master's program in Latin American and Latinx Studies) presented "Mutually-beneficial Relationships: A Content Analysis of Latina Profiles on a Paid-dating Website"; Stockdill (Professor of Sociology, Latinx and Latin American Studies, and Women's and Gender Studies) presented "Teaching the Sociology of HIV/AIDS: Intersectional Inequalities and Activism"; and Anne Wallace (Sociology alumna, 2017) presented "Environmental Racism Chicago-Style: Snorting Up the Petcoke."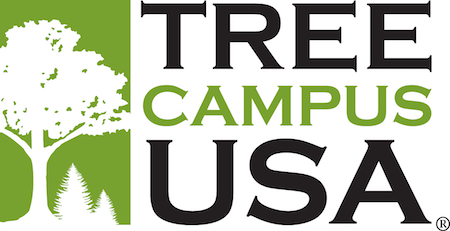 Tree Campus USA
The Arbor Day Foundation has honored Northeastern with 2017 Tree Campus USA recognition for its commitment to effective urban forest management. This is the third consecutive year Northeastern has earned the honor. To obtain this distinction, the University has met the five core standards for sustainable campus forestry required by Tree Campus USA: establishment of a tree advisory committee, evidence of a campus tree care plan, dedicated annual expenditures for its campus tree program, an Arbor Day observance and the sponsorship of student service-learning projects.
And there's more!
In the media
Maine event
Assistant Professor of Biology Cindy Voisine participated in an interview with WCAI, a local NPR station in her home state of Maine, about her academic journey, her current research and her commitment to Northeastern's students. "We work with undergraduates, and we have a master's degree program," Voisine told WCAI. "This has allowed me the flexibility to pursue a lot of different projects, and the projects that I'm selecting are the ones that appeal to the students I am serving."
Also in the media ...
To do
Black Student Consensus
The Division of Student Affairs will host a Black Student Consensus event from 5-7 p.m. April 4 in BBH 101. The event is an opportunity for black students to come together and express to each other, staff and faculty what their experience has been at the University.
Learning and Leading Week
TRIO Student Support Services will host Learning and Leading Week from April 2-6. The event offers daily workshops on a variety of topics, including financial literacy, goal setting, personal wellness, library services and career opportunities. All sessions are open to the University community and will take place outside Room 412 in the Ronald Williams Library.
Green Initiative Conference
Northeastern alumnus Aaron Durnbaugh will serve as the keynote speaker during the 3rd Annual Green Initiative Conference at 5:40 p.m. April 3 in Alumni Hall. Durnbaugh is the Director of Sustainability in Loyola University Chicago's Institute of Environmental Sustainability, where he builds innovation and efficiency into the university's programs and student experience focusing on water protection, energy conservation and mission-driven sustainability action. The full conference will run from 10 a.m.-7 p.m. and feature a film screening, speakers and a discussion panel
Mark your calendar!
Annual Juried Student Art Exhibition, March 26-April 27, Fine Arts Gallery
"What is the Meaning of Slavery?" by Desmond Jagmohan, 3 p.m. April 3, Recital Hall
Community Conversations: Maintaining Our Affordable and Inclusive Communities Through Workforce Housing Strategies, 6:30 p.m. April 3, Student Union 003
Puccini's Sour Angelica & Gianni Schicchi opera, 7:30 p.m. April 4-7, Auditorium
Salute to Graduates, 11 a.m.-3 p.m. April 4 and 3 p.m.-7 p.m. April 5, Alumni Hall
Financial literacy workshop, 3 p.m. April 5, BBH 102
#FollowFriday
Goodwin College
The Daniel L. Goodwin College of Education is busy with events and announcements. Stay up to date on the latest coming from the Goodwin College on Facebook!
Do you have a story tip? Let the public relations office know!
Mike Hines, Director of Public Relations and Web Communications, m-hines@neiu.edu, (773) 442-4240