Northeastern Illinois University created the Office of Community and Professional Education (CAPE) program in 2014, and it's safe to say there's a real buzz these days around the program that offers a wide variety of non-credit courses and workshops.
That buzz comes in the form of a series of beekeeping classes taught by alumna Moneen Jones, founder of the Midwestern Master Beekeeper Program (MMBP). The first class, offered in February, was a near sell-out, and seats are filling up fast for the next in the series on March 31.
While beekeeping can be a hobby, it can be much more than that. The job of beekeeping has become increasingly important due to an alarming collapse in colonies over the past four to five years.
"One in three bites of food is dependent on honeybees," Jones said. "Our survival is dependent on the honeybees surviving."
Jones knows her stuff. She earned a Master of Arts in Geography and Environmental Studies and a Master of Science in Biology from Northeastern Illinois University, both in 2006. She went on to earn her Ph.D. in Entomology from the University of Illinois.
"We need to bring in new people to take over positions to work with identifying honeybee diseases," said Jones, who now lives in southeast Missouri. "You can also make a good side living with honeybee colonies."
The MMBP certification program consists of six levels: Beginner Beekeeper, Apprentice Beekeeper, Journeyman Beekeeper, Junior Master Beekeeper, Master Trainer and Master Beekeeper. By the end of this first course, individuals are able to help experienced beekeepers in the management of hives.
Jones had students ranging in age from teens to retirees in her Beginner Beekeeper class on Feb. 24, and only two of them had any beekeeping experience. That class focused on pollinators and beekeeping history, while the apprentice-level class on March 31 will focus on hive health and management. Look for more courses from MMBP to be added to the CAPE schedule in the coming year.
Beyond beekeeping, CAPE offers non-credit classes and workshops to members of the community in subject areas such as professional development, business and technology, arts and culture, and test preparation.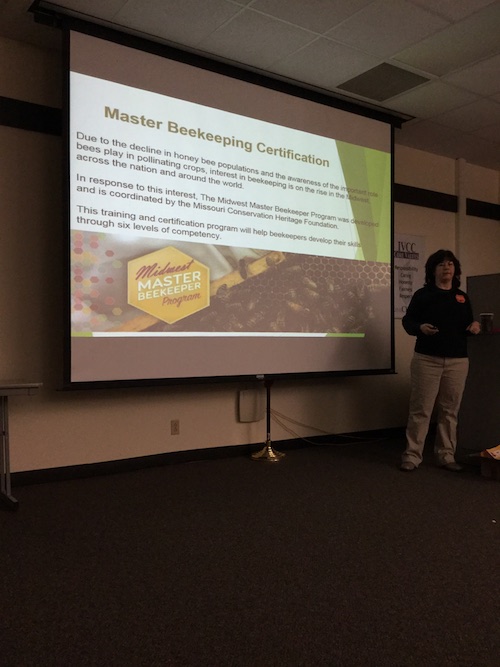 Moneen Jones teaches a beekeeping class.